The Horizons team features many influential Twitter users. This curates a wealth of insights, knowledge, and information about transformation in health and care from other thought leaders across the world.
(Tip: to read an article or watch a video mentioned in a tweet, click on the red text. To view the original tweet, click on the image).
Show your support of the NHS for its 70th birthday by adding a Twibbon to your Twitter profile.


New Website
The team is proud to unveil its new website:



#ProjectA
#ProjectA, a new 12 month project to improve ambulance services involving frontline staff, and patients launched on 28 June:
The launch was outstanding, with 150 NHS ambulance staff. More than 500 change ideas were shared, culminating in 16 films of big ideas (made by teams who'd never made films before). See the films here. The online ideas channel will be live on 12 July.
There was a huge buzz, and brilliant levels of enthusiasm and energy during the day: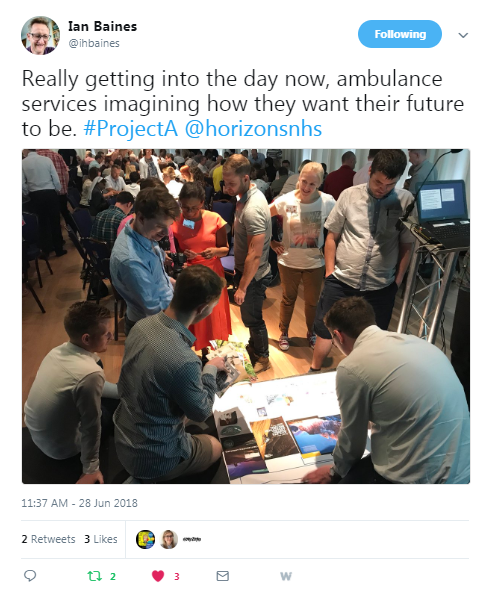 Ian has written a blog about the launch:
Events
Elsewhere in London on the same day, Kathryn, Olly, and Zoe supported the Personalised Care Collaborative:
Helen, Ian, Sasha, and Paul supported the Birmingham and Solihull CCG at their Building a Brilliant Culture event.
Zoe supported the London Clinical Networks with training about energy for change and thinking differently to improve care, quality, and teams:
Kathryn and Kate spoke at Civil Service Live in Blackpool:
Dom was at the Digital Healthcare conference this week presenting on Artificial Intelligence in healthcare and how it can impact patient outcomes in the future. You can find the slides here.
There was a packed theatre for Dom's session 'how will AI in healthcare impact patient outcomes in the future'.
What happened at the recent Transform Alliance Unconference? @DomCushnan and @KathrynPerera explain here.
Transforming the Perceptions of Nursing and Midwifery
Are you joining in with the #futuremidwifery #futurenursing July challenge by writing a blog? Looking for some tips? Leigh Kendall has some advice to get you started.
Here's a sketchnote to inspire you to tell your stories:
Resources
The original white paper "The new era of thinking & practice in change & transformation" was published four years ago and was one of the most downloaded papers in NHS history. It's now being rewritten/refreshed by Horizons, led by Peter Hunter.
Why, as leaders & change agents, we need to operate at the edge: "Out on the edge you see all kinds of things you can't see from the centre .... big, undreamed-of things - the people on the edge see them first." Read more here.
A conscious leader is defined by Ayelet Baron as a leader who facilitates creativity, innovative thinking, and an environment where people feel genuinely valued, and as a result productivity and positive outcomes are likely to increase. Read more here.
Sethi Simon is taking time out from the upward trajectory of his NHS leadership career to learn from other healthcare leaders globally.
Don Berwick and his 10 notions of effective spread (of change and improvement).
A methodology for taking innovations in the public sector to scale. A new article from Deloitte Insights.
The first national report on the state of "collaboration readiness" has been published; the extent to which system leaders have the capability to deliver services collaboratively. STPs/ICSs might want to study the readiness index. Read more here.
Criticising (analysing, evaluating, managing risk) has become the "way we do things" in many organisations at the expense of creativity. We can learn from the maker movement that is sweeping the world & celebrates the potential of making & creating things. Read more here.
Ideas for a culture of excellence from a recent Tom Peters interview. My favourites are "embracing new technology is incredibly important, but excellence is human" & "enthusiasm may be inversely related to decibels. Pay attention to introverts"
Story and narrative is how you plant a future vision. What's your why? What are you trying to achieve? It's social movement thinking: by clearly articulating these things others will join you and together you'll achieve your vision.
Four steps to take to overcome the fear of failure. Fear typically holds us back far more than failure does. Read more here.
When it comes to training that works, the motivation of learners is more important than their ability to learn. We need to think more about motivation when it comes to mandatory training & "sheep dip" approaches to training at scale. Read more here.
One of the big themes in future directions for learning and development is microlearning - learning in small, specific bursts. Here's a great slide deck on microlearning from JD Dillon.
Could you benefit from a coach? Or a mentor? What's the difference anyway? Rosanna explains in this blog post.
The Myers Briggs Type Indicator is like Marmite; some people find it life-changing and others dismiss it as faddish and ungrounded. Here's an interesting take on the history of MBTI by Merve Emre. Her book on the topic comes out in September.
Education at its highest level is about helping students find their joy. Our job as leaders in health and care is helping our teams find their joy in work. Read more here.
"The human stuff is the basis of 'digital learning transformations'. The technology platforms are secondary" says Paul Jocelyn.
Test the gender diversity of your Twitter feed: it's a way of helping avoid echo chambers. Leigh shared her results which you can see if you click on the image below. You can try the test too here.
Be a brave human on social media, not a soulless robot. You can read more here.
Some advice from Brene Brown made even more profound through this sketchnote by Sherrill Knezel. "People are hard to hate close up. Move in." This can be applied to many different contexts.
unknown

x

500
More posts by NHS Horizons
Recent posts from NHS Horizons Insights