The Horizons team features many influential Twitter users. This curates a wealth of insights, knowledge, and information about transformation in health and care from other thought leaders across the world.
(Tip: to read an article or watch a video mentioned in a tweet, click on the red text. To view the original tweet, click on the image).
#ProjectA
The fourth of the five tweet #ProjectA tweet chats was held on Wednesday evening. Thank you to the 104 people who took the time to join in and share ideas about partnership working.
Nursing
Wise words about nursing that are more than a century old - and pressure sores remain an issue today. The fundamental principles of nursing are timeless; the essentials of good nursing care never change despite technological advances.
A beautiful video of a nurse singing to her dying patient.
"Care homes & their staff should not be afraid to embark on ambitious & creative projects. Staff time and funding are, of course, considerations– but so much can be achieved by allowing them to provide a vibrant, enriching home for residents." Read more.
Events
Members of the team helped facilitate an event at Addenbrooke's Hospital earlier this week, helping the teams problem solve and create actions for emergency escalation processes.
Zoe shared this reflection after hearing some patient stories during the Addenbrooke's event.
Ian attended a brilliant session at Birmingham and Solihull CCG helping to build their values and organisational development strategy.


Change
The nature of scale is changing fundamentally and it means we have to rethink how we go about change. Read more here.
Change only spreads in organisations because of internal influencers. Read more here.
Phil Hadridge identifies the four preconditions for system transformation; curiosity, holism, honesty and hope. Read more here.
"No matter what people tell you, words and ideas can change the world." Robin Williams.
Give yourself permission to stop, breathe, and LISTEN for the story!
Change starts with me and ends with we!
Wellbeing
19 Things That Show Workplace Compassion for Healthcare Staff - this has been posted as an idea on the #ProjectA ideas platform.
A thread about anxiety, and how Leigh manages her symptoms:
How to be happier at work. This illustration is a small part of an inspiring infographic. Read more here.
"The secret of success is making your vocation your vacation." - Mark Twain
Leadership
Helen shared this insightful white paper on making sense of the multiple faces of leadership. Read more here.
An article on building leadership resilience by strengthening our CORE (control, ownership, reach, endurance). Read more here.
"Superbosses" are kind of leaders that nurture people who work with them and help them achieve more than they thought possible. Read more here.
Helpful paper via @TJcoats which "suggests that if the prime motivation for overnight consultant working is improved waiting time metrics, the consultant workforce within our study site may be more usefully deployed at other times"
Development
This article explains how OD practitioners in the English National Health Service are using action research to move beyond Diagnostic and Dialogic OD to a new paradigm. Read more here.
Six skills for leading from the "middle zone". Read more here.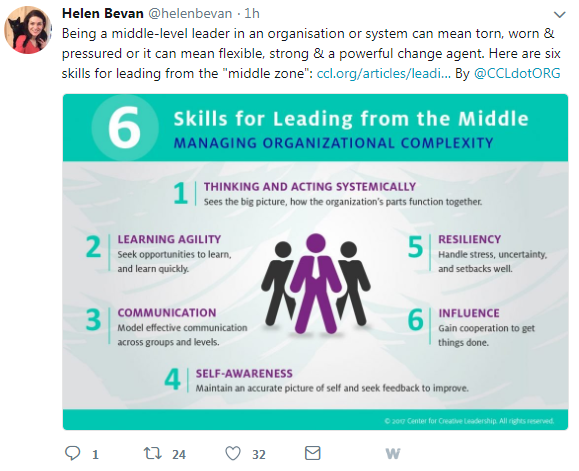 How to close the behaviour gaps needed for brilliant virtual meetings. Read more here.
This is the "marker movement" era: across the globe, millions of people aren't waiting for experts to solve their problems, they're designing their own solutions. Creativity, crafts and DIY are booming. As leaders, we need to be makers too. Read more here.
A helpful briefing on how strategy and tactics are different and why it matters. Read more here.
Community
Bev shared this blog by a transplant recipient about her experience of competing in the recent Transplant Games.
The recipient of a kidney transplant blogs about her experience of the Transplant Games:
Are you a member of the Q community? You can find fellow members to learn and collaborate with via this list
unknown

x

500
More posts by NHS Horizons
Recent posts from NHS Horizons Insights