The Horizons team features many influential Twitter users. This curates a wealth of insights, knowledge, and information about transformation in health and care from other thought leaders across the world.
(Tip: to read an article or watch a video mentioned in a tweet, click on the red text. To view the original tweet, click on the image).
School for Change Agents
Do you want to rock the boat, without falling out...? Join our energised global community! Here are the dates for the 2019 sessions. If you're not available on Thursday afternoons, recordings will be available. It's free to join and to take part in! You can sign up here:
#ProjectA
There are loads of benefits to collaborating virtually - reduced travel time, building networks, sharing ideas with new people. If you would like to be involved in helping #ProjectA develop virtual collaboration, or help with any of the other collaboratives, you are very welcome! Find out more here:
Many ambulance staff are actively engaged in #ProjectA:
The brilliant work everyone involved in #ProjectA has done was mentioned in the IHI Forum presentation by Helen, Zoe, and Kathryn. Find out how you can get involved:
Nursing Now England
Nursing Now England launched on 10th December, with many Ambassadors taking part on the stage, in the room, via the livestream, and on Twitter. Read Bev's blog with more information, and a link to the recording:
See photos of the Nursing Now Ambassadors taken at the launch event:
Nurse Charlotte Hall was energised by the launch event:
This 'nurse' doesn't have a voice, because it's made of Lego. If you're not made of Lego, you do have a voice - Nursing Now England is here to help you use your voice to transform perceptions, gain influence, create change. Sign up now!
Let's make nursing about skills and qualities rather than about gender - can anyone help get a male Lego nurse? Watch Jamie Waterall's video.
Following the launch of Nursing Now England, Doncaster CCG will work with nurses and midwives across the borough to strengthn their voice and ensure their leadership is recognised at every level. Read more.

In the UK, only 27% of nurses think their profession is fairly portrayed in the media, yet 96% of the population trust nurses. It's why nurses need to speak up about their brilliant profession.
Many of the nursing challenges we face in the UK are replicated in other countries.
At the IHI Forum more than 200 nurses were asked to identify possible actions in support of Nursing Now in the form of '30 Day Challenges'. Here's the summary of their ideas:

The time is now...to strengthen our ambition for the world. Nursing is the centre of transformation.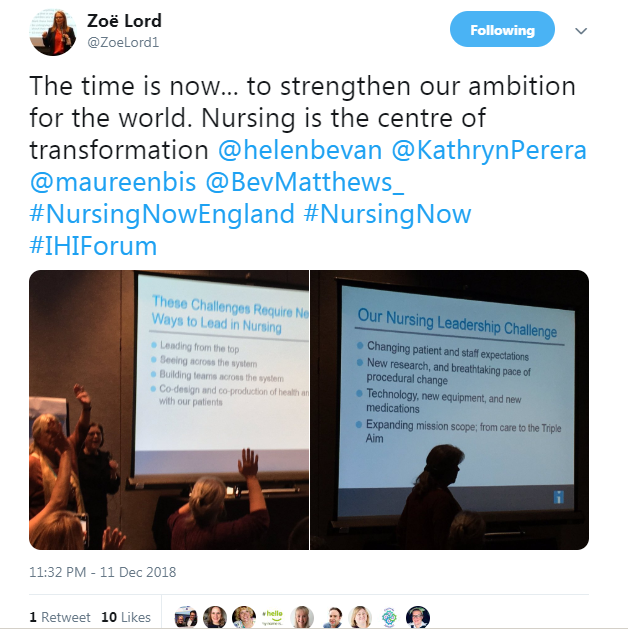 "Nursing is your choice and your future". Read Kate's post for her daughter who is hoping to become a student nurse after her A-levels.

Interested in a career in nursing, or know someone who is? Watch this schools' webinar to inspire the next generation of nurses.
Nursing Now England Ambassador Ellie met her old teacher, who expressed disappointment that she's studying to be a nurse. January's 30 Day Challenge is about inspiring teachers and young people, and showing them the opportunities available in a career in nursing.
Nursing Now England Ambassador Angela shared her story of how her experience led to The Nursing and Midwifery Council redrafting her retirement letter for nurses leaving the Register. It now reflects the contribution of nurses during their often life long career.
Future Midwifery
Are you a midwife? If you'd like to help shape the Transforming Perceptions of Midwifery programme please sign up to an event on 23 January 2019:
Jacqueline Dunkley-Bent spoke at the launch of Nursing Now England, and said the forthcoming #FutureMidwifery campaign is the opportunity for midwives to reclaim the narrative of midwifery from what the media says they do.

Wellbeing
Ask, Listen, Commit, Improve, Repeat...what are your examples of building joy at work?
Insight for building the case for relaxing in the workplace and how to thrive in a VUCA (volatile, uncertain, complex, and ambiguous) workplace.
If you're writing a Christmas card to a bereaved parent, please don't be afraid to mention their child.
'Spiritset' is the unique identity that each of us has that struggles for expression. Read more.
The IHI refreshed its values: love is explicitly included as an organisational value. We shouldn't be afraid to talk about love. It drives what we do individually and collectively in our sector.
"If it's good enough for Donobedian, it's good enough for us."
Life isn't black and white. Life isn't always clear-cut one or the other. Life is full of contradictions, and contradicting human emotions are OK.
IHI Forum
Zoe felt privileged to be co-presenting at the IHI Forum with Helen and Kathryn on 'How to be a brilliant change agent'.
Here's the final slide from Helen, Zoe, and Kathryn's 'How to be a brilliant change agent' workshop. We can all build our own agency:
See the whole slidedeck from the workshop:
Two years ago, the term 'agency' was rarely used. Now it's popping up all over the place.
Kathryn, Zoe, and Helen used 'Transformations' cards to open their workshop as a way to open up participants' personal narratives:
Workshop participants enjoyed using the transformation cards.
Kathryn led a table at the unconference as part of the Change Agent workshop about resilience.
Helen shared the work of the #endPJparalysis campaign.
Many aspects of the modern operating theatre were 'first' from Scotland.
The power of patient stories and the difference they can make.
Don Berwick outlined the conditions of daily life that underpin the social determinants of health and lead to massive inequities in health. We need to focus on health, not healthcare.
Kathryn discussed 'How to Make Healthcare Work' with Dr Don Berwick and Professor Marshall Ganz at Harvard University recently. You can listen to the audio-recording.
Fascinating reflections by Kathryn on leadership, community organising, and innovation in healthcare.

The team co-wrote a practical guide to large-scale change that's free to download:
Making Change Happen
Three principles for organisational effectiveness in the new era of change:
Helen loved the story "How I learned to manage rebel employees (without upsetting everyone else)."
Interdependence is a big topic: positive relationships where people are dependent on each other and collaborate towards collective goals. This powerful article shows how this applies to relationships in health and care.
Eight hard arguments on culture for people who think this is fluffy, woolly, soft stuff:
The effect effect: calling something an 'effect' gives it greater credibility. Beware this bias!
On 24 January Helen is delivering a webinar 'Leading change and improvement in a world that is changing fast'. Book here. (Please note the time is in Canada).
Learning
To close the gap between what we know and what we do, we need to rethink how we share knowledge. We need to focus not just on the 'what' but the 'how' and the 'why'. Here's the model for knowledge sharing for improvement ('closing the knowing/doing gap').
The most important factor in our ability to share collective knowledge to get to action is our ability to create the spaces where people can have conversations:
Knowledge sharing between kindergarten children and older people in Scotland. This is what the children said:
Rethinking how we share knowledge:
We're stronger together and want to close the gap between what we know and what we do.
Are you a superconnector?
We are strong advocates of scientific rigour and evidence but this isn't enough. We must embrace other kinds of knowledge.
The biggest breakthroughs happen when people with common purpose come together to share tacit knowledge:
The myth that there are different learning styles is increasingly discredited. By promoting a 'dominant learning styles' mentality, we're actually limiting learners with self-fulfilling prophecies. Read more:
Diversity
The Imagination Age: why we need neurodiversity.
Sarah Brooke created this Imagination Age sketchnote in response to the above.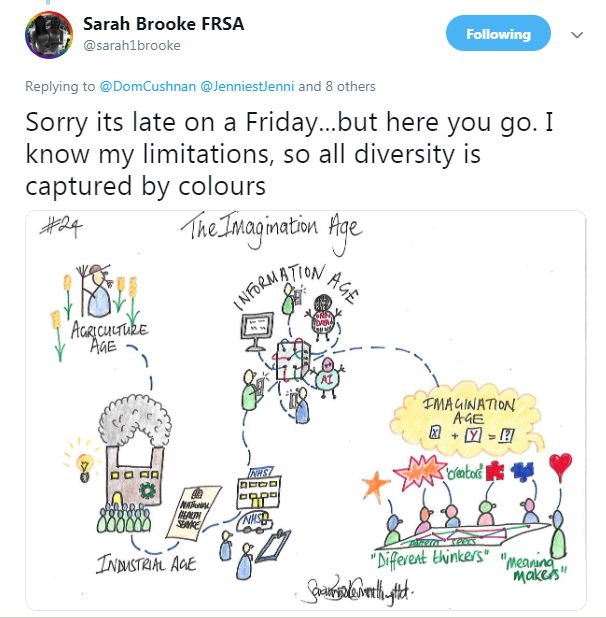 Best practice is created by the few not the many, and those few are not diverse.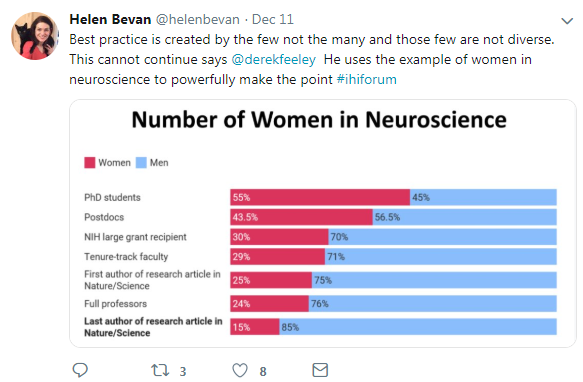 The key factors in selecting speakers should be skill, expertise, and scientific contribution. Unless we focus on diversity, an abundance of evidence shows selection will be influenced on race and gender.
These word clouds of online language drive home the differences in our personality traits that guide our behaviour. Here are the language differences between people who are extroverted vs. introverted.

Leadership
Leaders - "if you want to be taken seriously by your crowd, taking them seriously is a good place to start". From the New Power book by Henry Timms and Jeremy Heimans.
December's #FemaleLeadersat50 is nurse and midwife Evette Roberts.
True leadership is located in personal honesty; vulnerabilities need to be as accepted and understood as strengths. Asking for help is a strength, not a weakness.
unknown

x

500
More posts by NHS Horizons
Recent posts from NHS Horizons Insights