The Horizons team features many influential Twitter users. This curates a wealth of insights, knowledge, and information about transformation in health and care from other thought leaders across the world. (Tip: to read an article or watch a video mentioned in a tweet, click on the red text. To view the original tweet, click on the image).
The Team
Bev has been curating the @NHS account this week!
Bev has been sharing lots of insights about the team and our work via the account.
Sasha attended @ACP_Pathologist Hot Topics Day in Birmingham, and shared some challenges of change in complex and chaotic environments.
Leigh spoke about social media influence at the TB Nurse Leaders conference. More about that in the Nursing Now England section below!
Helen is featured in the list of 'most influential women in HR':
Helen spoke at the Senior Women in Policing 2019 conference #SWiP19, to share her experience of being a change agent.
The talk was well received, many participants asked about the School for Change Agents afterwards, hoping to sign up.
If you're interested in what Helen shared, here is the link to her presentation:The School for Change Agents
'If we choose to feel passionate and do nothing, you have chosen to do nothing"...Watch this short animation on Activism by Nobel Peace Prize winner Jody Williams, read Leigh's blog, then sign up to The School for Change Agents!
Many participants have been gearing up for this year's school!
It's so great to see School alumni returning: we have a great community of change agents here.
Wherever you are in the world, whatever line of work you do, whichever sector you are in; if you want to change, and want to meet like-minded people, come join us at the School for Change Agents.
An effective change agent is not a trouble maker - they are a rebel, as School alumni Leeanne says!
Nursing Now England
An inspiring blog from Bev about returning to practice as a nurse years after letting her official right to practice lapse to work in other NHS roles. It's never too late for a nurse of working age to undertake training to practice again: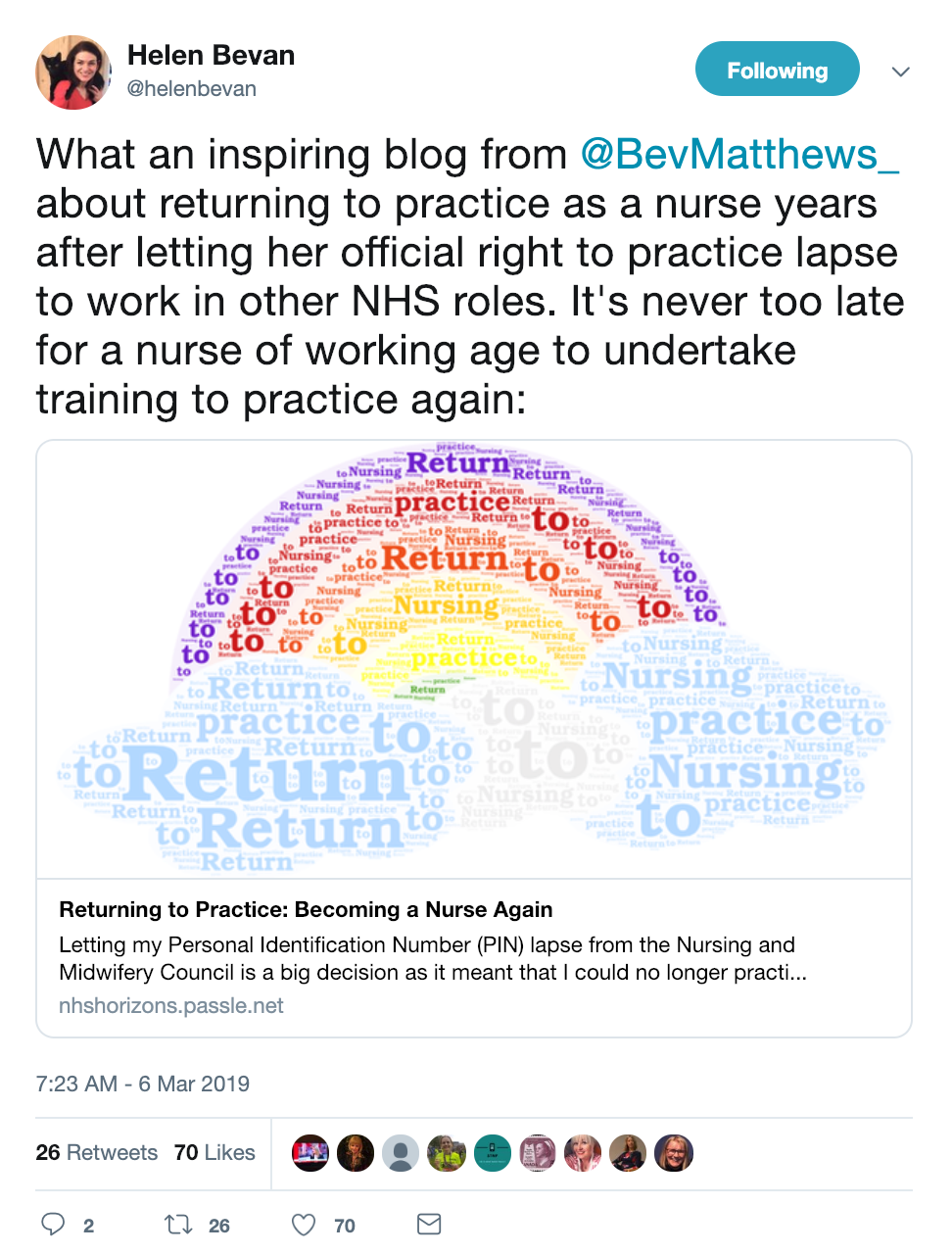 Bev and Leigh spoke at the TB Nurses Leadership workshops in London and Leeds.
During Leigh and Bev's visit to the TB nurses leaders conference, they shared with the nurses about how social media helps transcend hierarchies to work with old power and new power.
Leigh also did a social media masterclass on social media at the conference, helping TB nurses to get more active and engaged with social media!
The March 30-Day Challenge is to run a randomised coffee trial. Read Zoe's post to learn more about how having a cup of coffee can make a difference!
Zoë spoke about running Randomised Coffee Trials during this week's Ambassadors' Forum.
Ambassadors are looking forward to getting involved with RCTs!
To support the gender neutral mini uniforms campaign, the Horizons team invited their own children to try out the uniform. Have a read of Bev's blog and check out the beautiful smiles of the young Horizons fellows!
Horizons' colleague Olly raised a valuable question: why we don't have a good children's book about nurses yet?
Ambassadors are continuing the school visit challenge:
Ambassador Natalie wrote about her school visit:
A big shout out to all the wonderful staff in all nursing professions, thank you! Read this post to know about the breadth of opportunities available in a nursing career.
Ambassador Lauren wrote a blog on work/life balance.
Ambassador Emma, welcome to the community!
Ambassador Zara reminds us we should recognise those who make a difference to our NHS. Make a nomination to the NHS Parliamentary Awards:
#Project A
#ProjectA had an event focusing on staff wellbeing in London this week.
Gill from London Ambulance Service and Sasha from South Western Ambulance Service set the tone for the event:
Helen was the facilitator of the day.
We had three amazing speakers to share new knowledge and tools to help improve staff wellbeing.
The principles across each talk were very similar: compassion, making time and sensitive to differing needs.
Fiona Meechan from College of Policing introduced this great toolkit for supporting staff's wellbeing: Oscar Kilo.
We were introduced to some amazing work that has been done in policing.
It's great to see our speakers enjoyed the event as well as the participants!
We're really grateful to Esther for introducing the concept of moral injury to us, it will help us understand how to support our frontline staff better.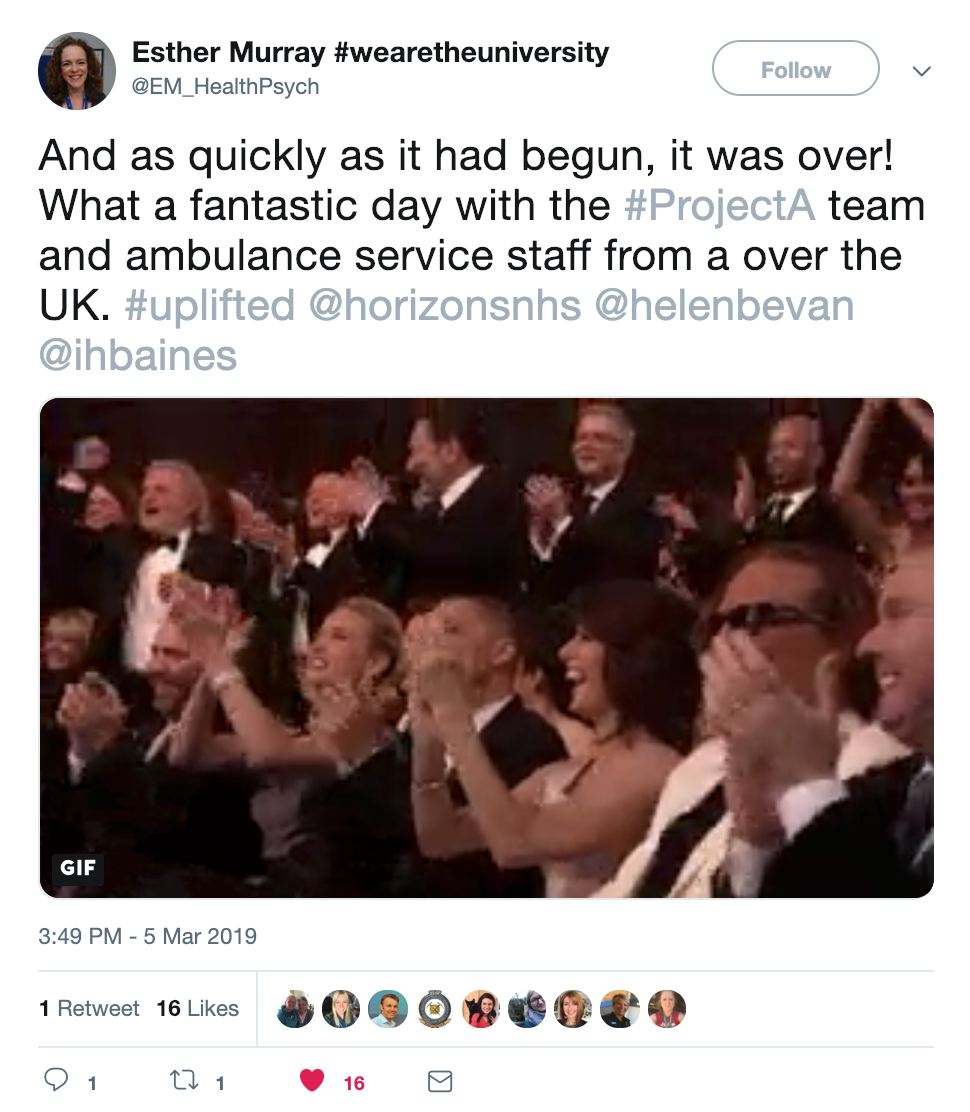 Moral injury and its negative impact should be make more aware of. Its principles are discussed in this paper:
Find out more about moral injury:
Jason Killens (WAST CEO) is really starting to put some 'muscle' behind the frontline's desires from the Wellbeing ADE.
Our day ended with a short but deep reflection from John:
It made the Horizons team so happy to see our participants walking away feeling empowered by the knowledge and hopeful for improving the service.
Read Ian's blog of the wellbeing event. Elle Todd, who spoke at the mental health event shared the blog reminding people how important wellbeing is to everyone.
Speaking of the mental health event, here's Ian's blog from that day!
Last but not least, #ProjectA Directory of Good Ideas is still open for submissions!
Wellbeing
Does wellbeing at work, work?
Stop apologising, start thanking!
Brilliant tips from @Haypsych about (re)building your confidence at work...
We all make mistakes...focus on self-compassion, rather than shame.
During her visit to the Senior Women in Policing 2019 conference, Helen went to Andy Rhodes's talk on how to support staff wellbeing in policing.
Andy described a 'resilience prescription', showing the desired characteristics of a mindset that can improve the ability to cope with a policing environment. It is linked to culture; we create the conditions for people to be cynical and accept cynicism.
Improving Healthcare
We need culture change to make sure personalised care happens for everyone, read more in Catherine's blog.
We need new thinking if we're going to create breakthrough change in health & care delivery.
Helen's quote of the week:
An interesting article from Canada on innovative approaches to prevent people falling & responding to people who fall.
Change and Transformation
A brilliant sketchnote by Sarah Brooke showing that to be transformational, public policy needs to focus on humans.
Understanding tribal psychology when influencing change: read come join my tribe.
How To Be Different, Not Better.
How do we spread knowledge for improvement? In the old days, we used centre-out and "out & in" models, creating improvement toolkits & best practice databases. Now, we share knowledge through big virtual communities of change agents...Read more about 3 styles of knowledge flow.
Leadership, Teams and workplace
A beautiful exposition of systems leadership. When Helen read this, she stopped for a few seconds to reflect on how a future health and healthcare system might be led in this way.
When people are learning something new, they may need step-by-step instruction. Our preference as leaders may be to use a coaching style but it doesn't work for every situation. Sometimes people just need directing...
A challenge to business schools and leadership educators: educating for uncertainty.
Unproductive meetings can have a high cost in economic terms & in the way they crush the human spirit... Here are 4 simple ways to resolve boring and unproductive meetings.
How can we make meeting more productive? Here is a powerful "check out" of meetings practice:
Technology
Horizons is a big fan of using technology to save time and money. Here's our weekly Huddle- a great way to have meetings with colleagues from all over the country!
Interesting article on facial emotions research and facial recognition AI - with a reminder that emotions are complex...and that all models are wrong, but some are useful.
Resources
An awesome sketchnote by Leigh, summarising 10 things fab teams do!
Success stories are not one-size-fits-all...
unknown

x

500
More posts by NHS Horizons
Recent posts from NHS Horizons Insights