The Horizons team features many influential Twitter users. This curates a wealth of insights, knowledge, and information about transformation in health and care from other thought leaders across the world. (Tip: to read an article or watch a video mentioned in a tweet, click on the red text. To view the original tweet, click on the image).
#OurNHSPeople
Would you like to help make the NHS the best place to work? Join #OurNHSPeople tweet chat with Issar Prerana (@Prerana_Issar) and Navina Evans (@NavinaEvans) on Monday at 7pm. The questions we'll be asking are below. Everyone is welcome to join! We look forward to seeing you there.
The School for Change Agents
Congratulations to everyone that finished The School for Change Agents and are now official Change Agents. We're so happy that you've enjoyed the course as much as we have, see you next year!
What skills do you need to be a change agent in a complex world? Have a read of this summary blog by Leigh Kendall.
#EndPJparalysis
It's the Global #EndPJparalysis Online Summit next week 10th-12th July with an array of speakers from around the world. Zoe is speaking at 2pm (BST) on Thursday about enabling and sustaining large scale change. If you'd like to join, you can view the programme here.
As part of the #endPJparalysis 2019 virtual summit, we're hosting a global #RandomisedCoffeeTrial to help the community to connect, share knowledge and experiences. Join here.
Helen has registered for the global #EndPJparalysis online summit. Connect with people across the world who are passionate about giving those in hospital the best recovery & life chances. It's happening next week (10th-12th July) & it's free. All welcome, sign up here.
Diversity and Inclusion
"It isn't only the managers and senior members of staff's responsibility to address inclusion and diversity but also each and every one of us". Read the blog written by Zarah (@Zarahmowhabuth) - which is timely to our conversations about diversity.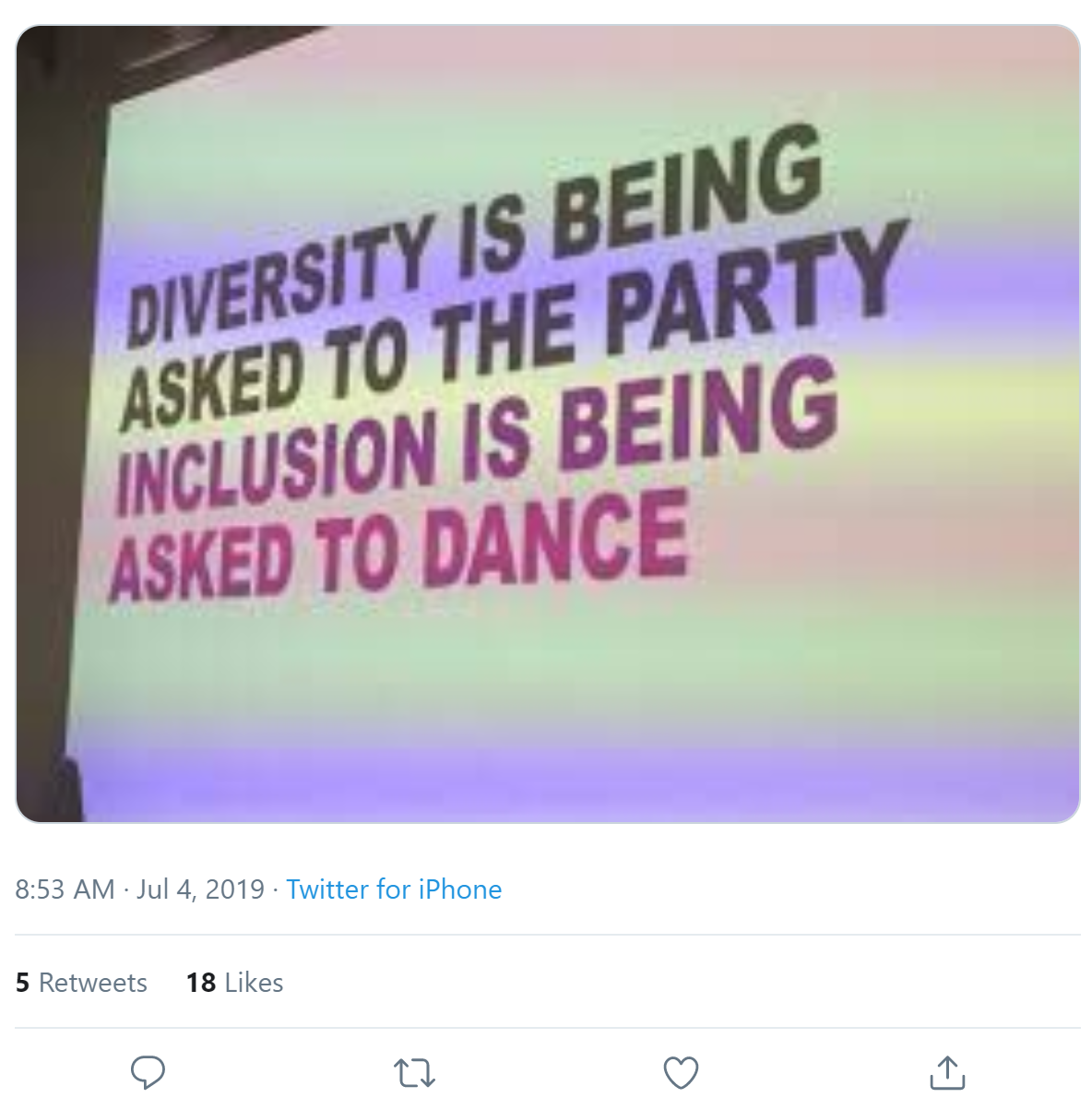 Olly helped by captioning this important video raising awareness of the dangers to children of button batteries to make it accessible to people who are deaf and have hearing impairment.
Useful quick tips for improving diversity & inclusion 1) Self-awareness: recognising bias. We're hardwired to favour those who are like us 2) Managing emotions 3) Empathy - understanding others' perspectives
MIT research suggests that having class-diversity in teams ("social class transitioners" coming from humble backgrounds) is particularly valuable. Helen shared that as she is the daughter of a NHS Domestic Assistant (mum) & sailmaker (dad), she can relate to this. Read more here.
Great #personalisedcare graphic showing a shift in relationships between people and heath & care professionals e.g. FROM feeling powerless against a health & care system TO working in partnership with health & care professionals, sharing power
#ProjectA
On 19 September there will be a event about diversity in UK ambulance services. We held the first design call this week.
Bo Escritt joined the call, and tweeted "Valuing difference in the ambulance sector...Dare to be bold & fearless in thought & action to create new realities."
Claire Vaughan tweeted to say that during the design call our conversation our thinking moved from Project D for Diversity to D for Difference, and how we celebrate and value difference. What are people's thoughts?
Following from Ian's tweet (included in Bo's comment above) Victoria said she's been thinking about the power of vulnerability - how can we encourage and create safe spaces for vulnerability to happen and with it courage, compassion, empathy, acceptance and safety?
Bev reflected on the design call: the key components to accelerated design are: 1) How? Right process 2) What & why? Right information 3) Who? Right participants 4) Where? Right environment.
Demonstrating the power of connections: Nick and Dan are looking at East of England Ambulance falls strategy and looking to learn from the Wales Ambulance Service falls framework that has spread through#ProjectA
The 2018-19 Yorkshire Ambulance Service Quality Improvement Fellows have finished their year's fellowship but will continue on as QI Advisors supporting this year's cohort and using their skills and experience to support QI projects across the Trust and nationally as part of #ProjectA.
Interested in improving ambulance services? Get inspired by the work of improvementNEAS and Care NEAS in their short film. Click here to watch.
Ian and Lynsey are pulling together a schedule of open 'improvement' and learn zoom showcases for ambulance services.
Please see the fab patient improvement initiative on End of Life Care, click here to find out more.
Nursing Now England
"... it is only recently I got involved with Twitter. Since signing up, my eyes have been opened to a whole new world of nursing- I feel like I've been upgraded!" Click here to read the ambassador blog.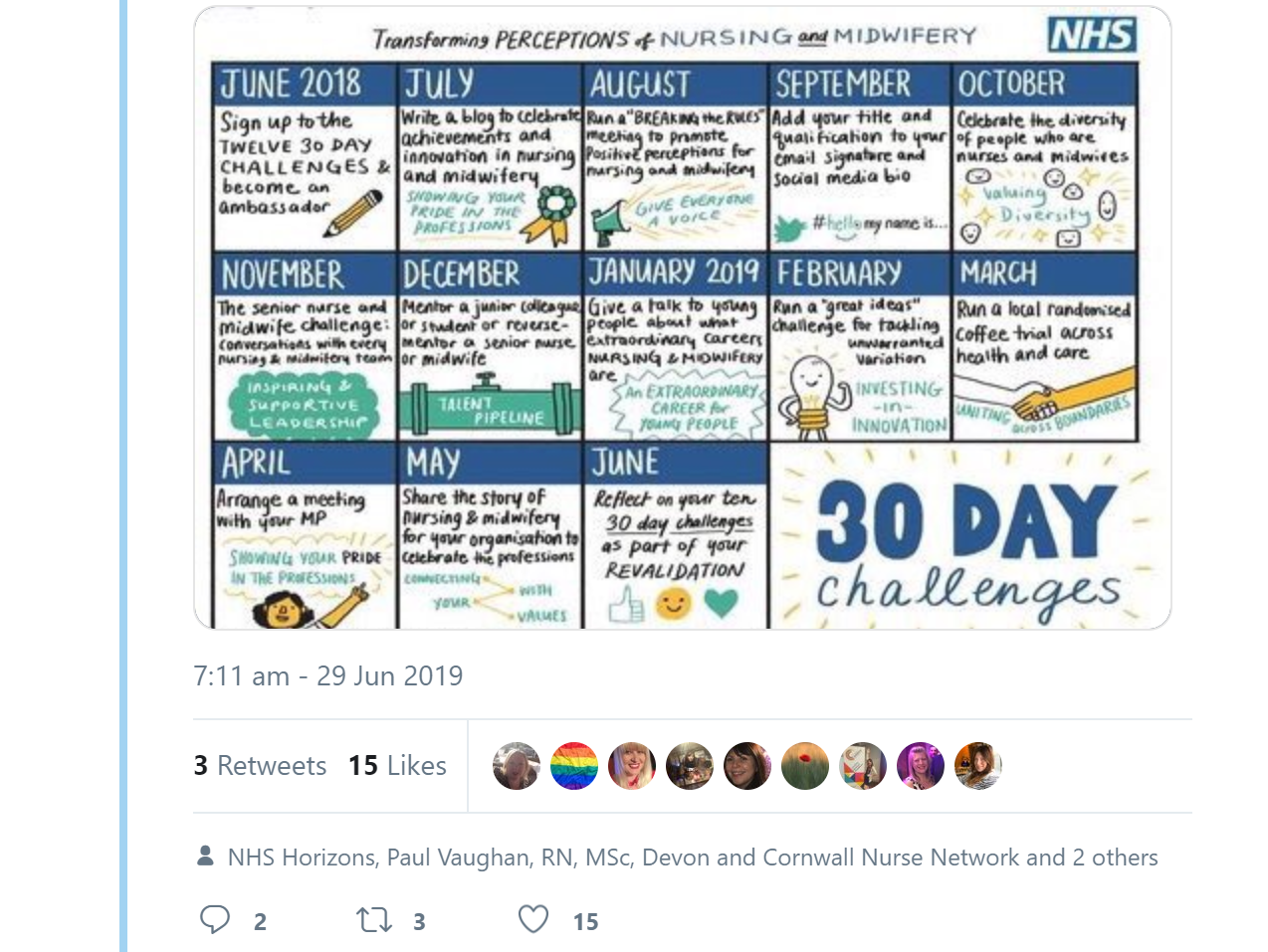 A big congratulations to Zara (@Zar_head) for having such a great response to her blog posts, all thanks to her first 30 day challenge blog.
"One of my key priorities is to empower all nurses, midwives and care staff to be involved in shared decision-making and collective leadership within their organisations. Every single one of us has experience and influence that can be used to effect change."
Now is the time for nurse leaders to mobilise & take their power; to make a profound difference to health & healthcare globally & for the rest of the world to listen. A new report & recommendations from Nursing Now, click here to read.
Bev is looking forward to being part of the #returntopractice collaboration. Click the picture to find out more.
Wellbeing
Managing a person's fluid balance accurately is important. Albert's Campaign is a simple but effective improvement approach at Morecambe Bay NHSTrust.
The Horizons team will help to play a part in #NHSWarOnWaste by championing virtual meeting and workshops so much less travel is needed. Follow NHSWOW (@nhswow) to find out more about fighting the climate crisis.
Love this. It shows how a simple re framing can help change your thinking - and help build your confidence in so many ways.
Why does rule 1 tend to be approximately eleventy gazillion times easier than rule 2?
Leigh attended #BabyLossHourLive on Tuesday. There was a lot of interest in a bereavement card Leigh created for the St Georges Hospital, - click here for the info. Feel free to use this resource but please mention #HugosLegacy if you do so.
Social Media, Networks, and Spread
How to have meaningful work conversations on Twitter & other social/online channels. A detailed and insightful piece, read here.
It's brilliant to see that the British Journal of Surgery is publishing a monthly summary of its Twitter life (& interactions).This is where the world is headed. Social media is not a fad & you can't fight progress. Click here to read more.
If you're interested in social media analytics for measuring influence, impact, and networks, here's a really useful overview of the available tools.
Communities are built on connections. Better connections usually provide better opportunities. If you're leading a community or weaving a network. Read 'Building Communities through Network Weaving' here.
Diane has written a fantastic blog about spread, outlining helpful lenses to help understand and inform our approaches to spreading innovation and improvement. Click here to read.
A really lovely human, humorous way of dealing with a spat. Great example of enabling social media teams to engage (not just broadcast) as is appropriate for each case, rather than corporate identikit responses. To be humans, not robots
Leadership
When we redesign complex health & care services, we often overlook the fundamental issue of power in relationships between people. We must call out power asymmetry, whether between people & their clinicians or senior leaders & front line staff. Click here for more info.
What's the role of the change leader of the future? There are six aspects ("the six Cs"). I can see this role emerging in health click here& care.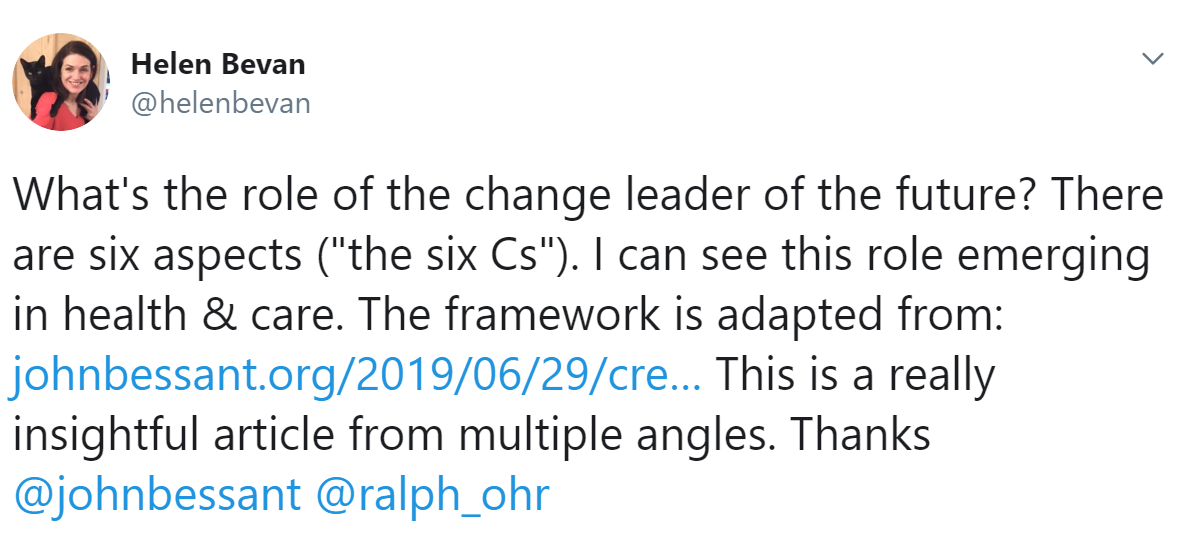 In health & care, we're moving from a focus on independent organisations to a focus on inter-dependent ecosystems. This requires profound changes in the ways that we manage and lead. This article offers insights. Read more here.
New thinking coming out of Ashridge Executive Education on the "intelligences" that leaders need for a complex, inter-dependent world: 1. Ego-intelligence (with/within boundaries); 2. Eco-intelligence (between boundaries); 3. Intuitive-intelligence (beyond boundaries). Click here to read.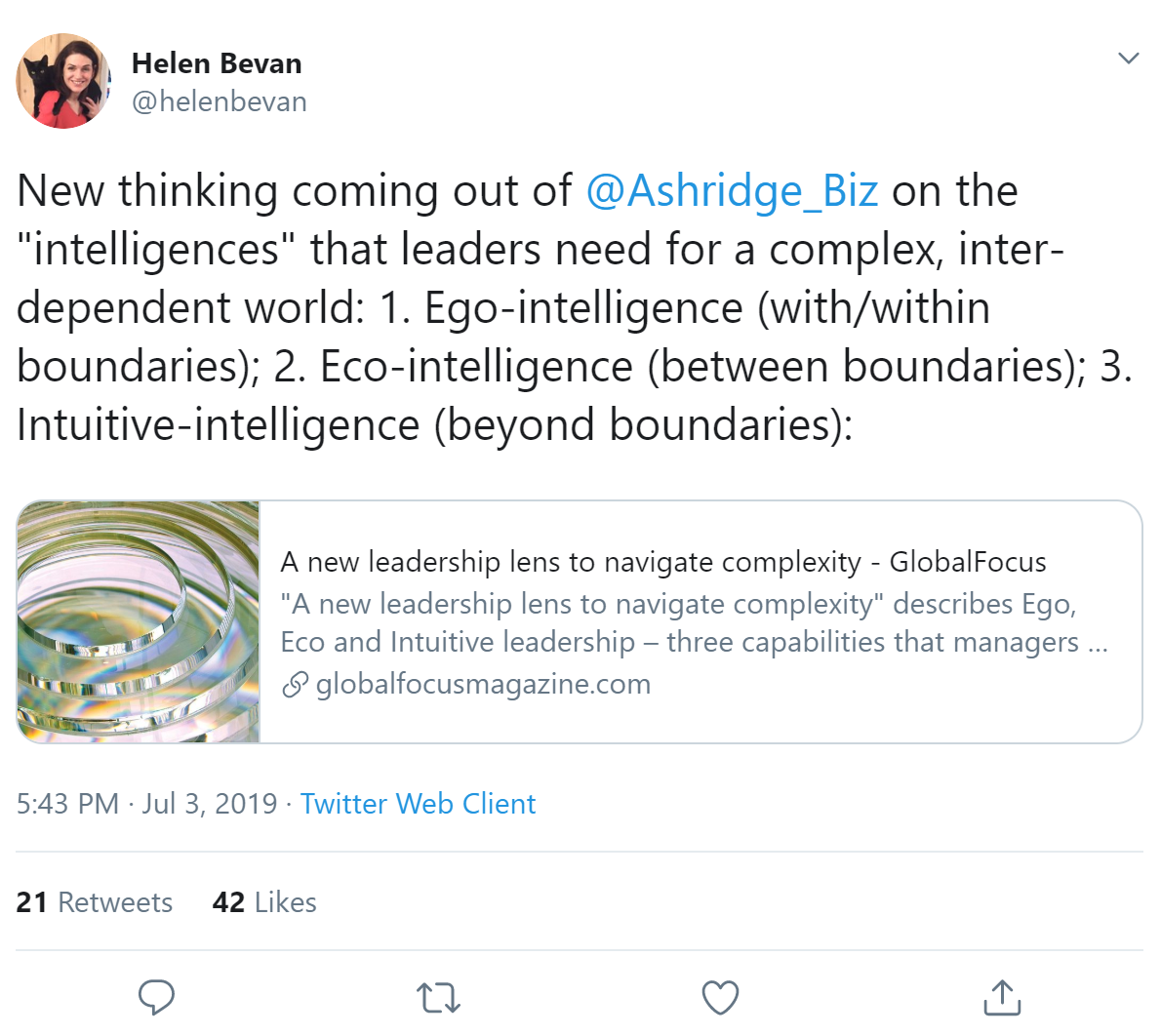 Organisational leaders in health & care can contribute to improvement in terms of their processes (a systematic approach to quality), their leadership & underlying features such as giving time & resources for improvement. Read here.
"Meetings are a great place to flex some muscle for people with big egos, & a terrible place for people who have great ideas but not much status." A bit harsh perhaps, but some fresh ideas here for reinventing meetings. Read more here.
Too often when we restructure organisations, we don't take enough account of the impact on social connections. If restructuring happens at the same time as digital transformation etc, it might be too much churn for people. Click here to find out more.
And finally...
Helen had one-to-one tuition this week from Leigh on using graphics package called Canva. It's part of Helen's mission to keep up in the visual age! They created a plethora of new presentation slides as part of the training, the image below shows one of Helen's favourites.
unknown

x

500
More posts by NHS Horizons
Recent posts from NHS Horizons Insights