The Horizons team features many influential Twitter users. This curates a wealth of insights, knowledge, and information about transformation in health and care from other thought leaders across the world. (Tip: to read an article or watch a video mentioned in a tweet, click on the red text. To view the original tweet, click on the image).
#OurNHSPeople
Join us on Monday 9th September at 7pm; Navina Evans, Andrew Fosterand Prerana Issar are hosting a tweet chat on what people in the NHS need from their leaders. It will be an important, lively discussion and will help shape the NHS People Plan. Everyone is welcome. Follow the hashtag: #OurNHSPeople.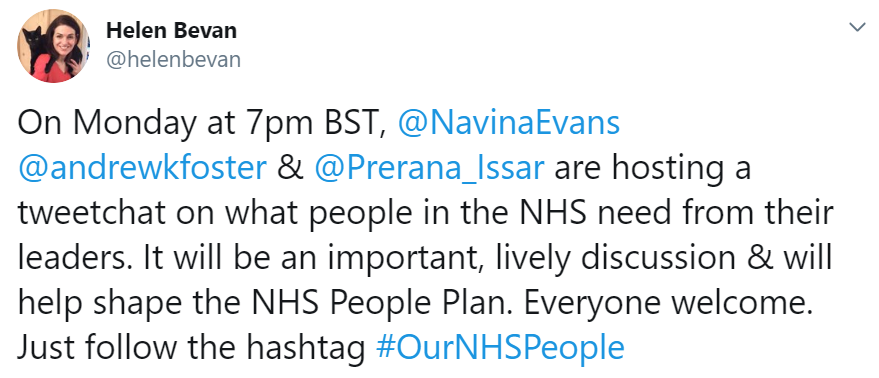 #Improve4Patients
Thank you to everyone who joined in with Hugh McCaughey's third #Improve4Patients tweet chat, about the potential for quality improvement. You can read the report of the chat here - there is a wealth of brilliant insights.
NHS Expo 2019
Team members presented at #Expo19NHS this week about how and why ideas and innovations spread. Read Diane's blog about the session, and find out more about the topic - the post includes a link to the slides.
Rosie is currently on stretch assignment, where she is working on leadership for personalised care. They hosted a session at NHS Expo this week, where past participants of the Leadership for Empowered Communities and Personalised Care shared their tips for leaders implementing personalised care. Emma's tip was to wear your lived experience like the cape of a super hero. Compelling advice for those change agents trying to bring about change! #s4ca
Bev was at Simon Stevens' session at Expo - he said he would want to know that the hospital had a specialist learning disability nurse if he had a learning disability and was in hospital.
#ProjectD
Dozens of people from ambulance services from across the UK gathered in London this week to celebrate difference across the ambulance sector. It was a brilliant day with insightful speakers, candid discussion, and activities where participants co-produced solutions for helping everyone across the ambulance sector feel valued. You can read more about the day via this thread, and keep up with activity via #ProjectD.
We had a full house for the #ProjectD ADE, and the high energy was maintained throughout the day.
Oli Evans from North East Ambulance Service was amazed by the energy and dedication from those that attended the #ProjectD ADE. The sentiment was echoed by Asmina Chowdhury, and David Hammond, while Anna Parry was enthused by the film making.
Caroline Hastings from North West Ambulance Service found the lived experience presentations a powerful experience.
Mark Johns, from North East Ambulance was moved by the 56 Black Men Campaign that was shown in Pam Brown's presentation. Challenging stereotypes and changing narrative were key conversations at the #ProjectD ADE.
We are really looking forward to the next #ProjectA ambulance improvement virtual meeting (using Zoom) which will be hosted by Anna Parry (Deputy Managing Director, Association of Ambulance Chief Executives) about wellbeing in ambulance services and the progress made over the last six months. It is open to all and takes place on the 10th September at 10am for an hour. Please email Lynsey as per the flyer below, if you would like to attend.
An amazing #ProjectA tweet chat about ambulance improvement took place on the 14th August, asking 'What does improvement mean to you?'. Here is the report of the core themes that emerged.
Innovation and Change
In health & care improvement, we often try to redesign complex processes (e.g. urgent & emergency care), as if they were complicated - and it doesn't work. Complex isn't higher-order complicatedness. It is a fundamentally different kind of system. Click here to read more.
Helen has been thinking about change and resistance to change. People don't resist change, but the way change gets done to them.
Helen has been thinking about the follow up of powerful workshops.
Connectivity and Communication
What can we learn from George Orwell's rules for great writing for effective communication with patients? Read Leigh's blog.
Helen has been thinking about the importance of informal influencers.
Helen has been thinking about the importance of collaboration.
Research suggests that senior leaders are typically unaware of how out of touch they are with the views & experiences of others. They consistently believe that "junior" people speak up to them more than they do. For advice on how to change this situation, click here.
Helen is a big fan of conversational leadership. If we spent more time creating spaces for people to have the conversations that open up possibilities and less time on making people do things, we'd achieve greater progress in change. Click here for more information.
Helen has been thinking about the power of global connectivity.
Is your NHS Chief Executive on Twitter? If so, they ought to be on the Twitter list that David Foord keeps. People use this list to connect with NHS CEOs on social media so if they are not on the list, they could be missing out. Here's the link.
Development
Harvard Business School & School of Public Health is offering a free virtual programme on creating an organisational culture of health. Designed for businesses but relevant to other sectors, click here for more information.
Jane Hart runs an annual survey of the top tools for workplace & other learning. It's fascinating to see the changes each year. You can take part in the 2019 survey here.
unknown

x

500
More posts by NHS Horizons
Recent posts from NHS Horizons Insights