The Horizons team features many influential Twitter users. This curates a wealth of insights, knowledge, and information about transformation in health and care from other thought leaders across the world. (Tip: to read an article or watch a video mentioned in a tweet, click on the red text. To view the original tweet, click on the image).
#OurNHSPeople
Recently hundreds of people in the NHS joined a tweet chat to talk about how we can improve the way we work in teams. People in the NHS are collaborating across boundaries (teaming). This is a report curating what participants said. Thank you to everyone who contributed to the lively conversation!
Earlier this week there was a tweet chat about what people in the NHS need from their leaders. Thank you to everyone who share their ideas and insights. We'll be compiling a report.
Helen's been thinking about the autonomy in the NHS People Plan.
If you are a senior NHS Leader in Workforce/HR/People this Twitter list is now active and needs adding to. Check out the list here. If you should be on the list please tweet your handle to @HorizonsNHS with the hashtag #NHSPeopleLeaders. For more information about what Twitter lists are and how they work, please see the blog post by Leigh.
What the team has been up to
Twitter lists are a method of organising the people you follow - they can be a brilliant way of cutting out some of the noise, and making Twitter work for you. Find out more about how to find lists, subscribe and set up your own lists in the blog post.
The team took part in a virtual conversation thinking about leverage points when action planning. Helen shared thoughts about importance of moving from "inward mindset" to "outward mindset", thinking about wider systems and behaviours that advance collective results.
Here are Claire's reflections on the conversation mentioned above; read the thread for more explanation on the graphic.
Zoe has started a user group for people interested in Liberating Structures – these are really useful (and fun) methods for creative thinking, planning, strategising, improving performance, generating and spreading ideas. The user group meets both virtually, and face-to-face in the Midlands – if you're interested, click here to register your interest, or get in touch with Zoe.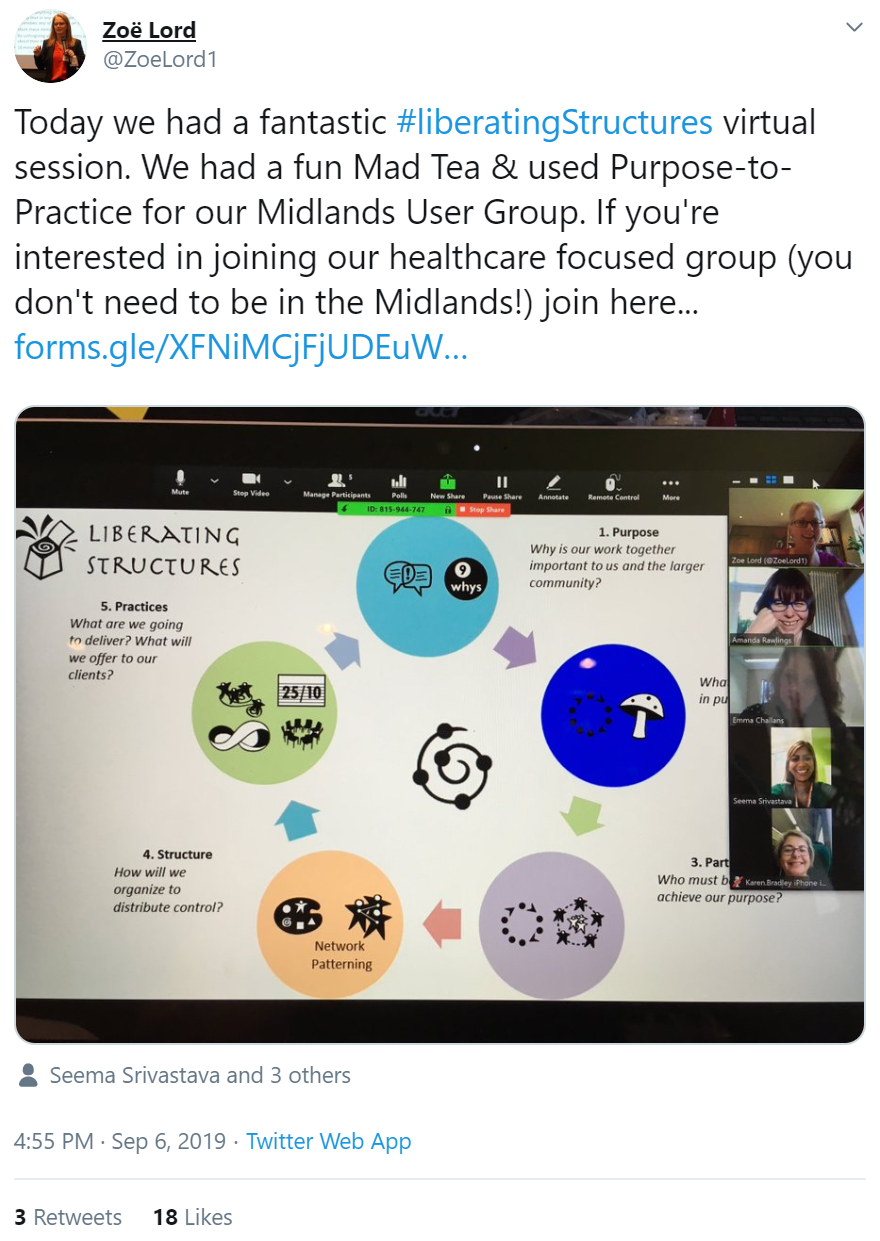 Zoe and Ian helped out this week at the College of Policing with the 'Fast Track to Inspectors' course. Neither of them got arrested, which is a relief! The discussion with Police colleagues about 'New Power' and ways of working really resonated, whilst also having to think about the every day difficulties the police service encounters. There are increasing links between #ProjectA and some of the work of College of Policing, so we valued the time enormously that we were able to spend with the course delegates.
Bev facilitated a session at the Midlands Frailty Collaborative learning event on the human dimensions of change.
Many of the Horizons team are volunteers; here Bev shares her experience of benefiting from a volunteer when she was in hospital as a child, and how that inspired her to volunteer too.
Bev was part of the #ThankYouFriday Golden Jubilee celebrations at Poole Hospital. Follow the thread for more about the day.
Change Reflections and Resources
Helen has been thinking about how change initiatives can go wrong because of the lack of a shared purpose.
Helen has been thinking about ways to make virtual communities thrive.
To make big change happen, we first must overcome some of the myths that undermine it, eg: 1) It has to start with a bang; 2) You need a charismatic leader & a slogan; 3) Build a coalition; 4) You end up with the vision you started with. Read more.
Many leaders think that being mistrusting &/or cautious of others is about seeing reality as it is. But this mindset can create a dangerous downward spiral in relationships & systems, particularly in times of change. Read the post to discover why trusting matters.
Helen loved this podcast. It is titled "How to be a Radical Centrist" - someone at the middle level in an organisation which is a powerful place for making change happen. It talks about "creating change from the belly of the beast". Bring it on!
Helen recommends the Improvement Fundamentals course 101. It's a brilliant virtual programme, it's free and it's open to everyone. Click here for more information and the link to join.
#TeamCNO
This week Bev facilitated a session with the September cohort of their Return to Practice course.
Bev spotted an opportunity for #NHS employees to become #NHSApp Ambassadors. Find out more information.
#TeamCMO
This week Kathryn facilitated a session in which Heads of Midwifery practised using Public Narrative techniques to strengthen the case for maternity continuity of carer. Hugely inspiring contributions.
The Transforming Perceptions of Midwifery programme is getting ready to launch a series of 30 Day Challenges. This week Bev and Camilla met with Claire Mathews, Deputy Head of Midwifery to shape the plans.
Bev had a meeting to shape some #LiberatingStructures activities for the second Professional Midwifery Advocates conference on the 20th September.
#ProjectA
There was a fantastic improvement session via Zoom this week, facilitated by Anna Parry (Deputy Managing Director of the Association of Ambulance Chief Executives). Anna gave an update on wellbeing collaborative including the Wellbeing Pledge, RUOK initiative, PTSD research, and the introduction of Schwartz rounds across ambulance services. Anna is encouraging views from all; please get in touch with Anna if you would like to be involved. We are looking forward to the follow up Zoom which is scheduled for February, where we expect to hear the experience from those directly involved in Schwartz Rounds (Yorkshire Ambulance Service, London and East of England).
Helen took part in the virtual wellbeing improvement session mentioned above. It was a highly interactive, lively session, and no one needed to travel. We need to work more like this in the NHS.
The next improvement Zoom session is scheduled for 9.30am on the 16th September. Erin Payne (Head of Quality Improvement for Yorkshire Ambulance Service) will be giving an overview of the QI Fellowship that is up and running in YAS. There will be lots of opportunity to ask questions, and the session will include a real experience piece from a recently graduated QI Fellow. All are welcome, here's the details about how to join.
And Finally...
We like a bit of fun in the Horizons team! #ProjectA and #ProjectD change agent Ollie's post on 'Peter's Laws' raised a smile, as well as getting us thinking about change agents sometimes see the world. Thanks Ollie.
unknown

x

500
More posts by NHS Horizons
Recent posts from NHS Horizons Insights