The Horizons team features many influential Twitter users. This curates a wealth of insights, knowledge, and information about transformation in health and care from other thought leaders across the world. (Tip: to read an article or watch a video mentioned in a tweet, click on the red text. To view the original tweet, click on the image).
Ageing Well
The team was proud to faciliate the #AgeingWell event on Wednesday. It was a brilliant day full of enthusiasm, you can see more tweets about it in this Moment by @AgeingWellNHS.
There was a great buzz for the event even before it started!
Hanna has joined the team on sabbatical from the US. She joined the Ageing Well event this week.
#ProjectA
Thank you to everyone who took part in last night's tweet chat, which was about what can be done to help ambulance staff feel more able to contribute to improvement. The responses have been amazing! A report of the outputs will follow. The next chat will take place on Thursday 16th October at 10am.
A demonstrable example of how connections can grow and lead to joint work as Sasha, Jordan and Dan look to have a virtual learning session and discussion on Safety 1 and 2 and human factors in ambulances.
An amazing thread from Caroline Poole showing how we in Horizons look to connect the system to itself. As a result of the tweet, we are looking to set up a joint call where we can discuss how we align and support the ask for paramedics to join an AHP QI community.
#FutureMidwifery
Bev's latest blog shares our exciting plans working with midwifery ambassadors to be a career of choice:
Change and Improvement
Helen shared her thoughts on what she said was one of the hardest scenarios for a change agent.
Helen shared how to make large scale change succeed.
Helen facilitated a workshop this week. She shared that magic happens when we create the space where people can learn, share and problem solve together.
Colleagues in Somerset produce a fantastic monthly Improvement Evidence Update. Helen always finds some gems in these that represent new knowledge.
Diane asked how people describe spread of innovation and improvement? The graphic shows what Horizons' emerging thinking is.
Diversity
Helen has been reflecting on the importance of leadership from diverse expertise and experiences.
Bev shared the importance of language. How we say things can not only influence how others respond, but also how they feel.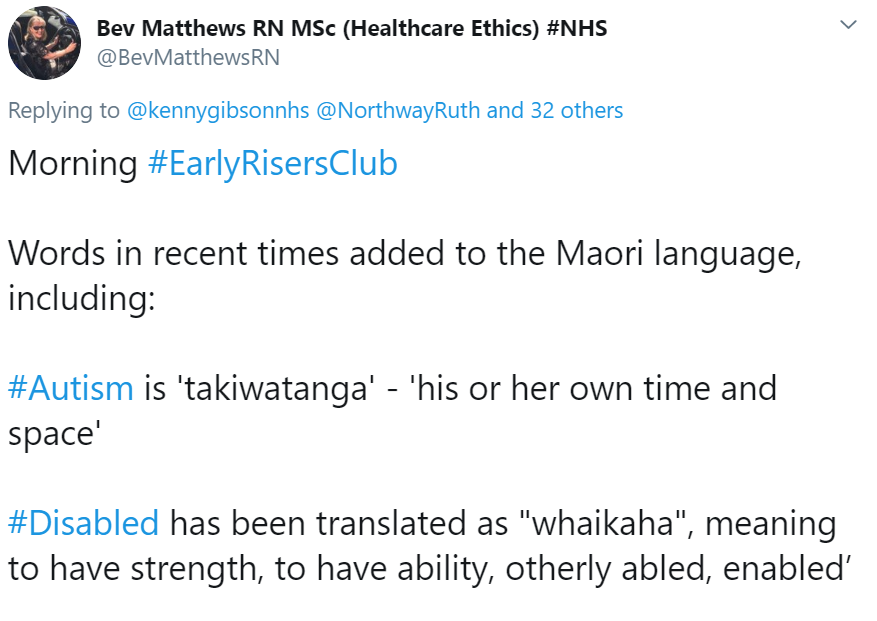 Leadership
Boston Consulting Group has published an interesting framework for the new public sector leader. There are three pillars to the role: they are transparent leaders; they lead the network & they have an impact on the country. Click here to read more.
A key role for leaders of change to make the change profoundly meaningful for people, thought Helen.
Many managers judge their team's success by people's ability to focus on the task in hand. Yet research has found that the most important predictor of success in a group is the amount (not the content) of social interaction, read more here.
Leigh has been writing up the third #OurNHSPeople tweet chat, which is about what people in the NHS need from their leaders. This sketch note by @Haypsych resonates with a lot of what the tweet chat participants have said.
Teams
Have you tried "Randomised coffee trials" or "coffee roulette" to connect people across the organisation randomly & bust silos? Here's what ideo did based on research that triads (3s) are better to spark creative collaborations & community than dyads (2s). Read more here.
Helen shared her thoughts about the meaning and outcomes of "staff engagement".
Wellbeing
Leigh shared 6 ways to stay healthy when you're stressed .
Leigh shared a great sketchnote by @scriberian describing 10 ways to be happier!
unknown

x

500
More posts by NHS Horizons
Recent posts from NHS Horizons Insights