The Horizons team features many influential Twitter users. This curates a wealth of insights, knowledge, and information about transformation in health and care from other thought leaders across the world. (Tip: to read an article or watch a video mentioned in a tweet, click on the blue text. To view the original tweet, click on the image).
#OurNHSPeople
Thank you to everyone who joined us last night for the #OurNHSPeople tweet chat about improving safety and support for colleagues in the ambulance service. We'll be compiling a report detailing the outcomes and outputs; in the meantime, you can check out tweets from the chat in this link kindly created by London Ambulance.
Ambulance Culture and Leadership Network
Last week Ian and Kathryn facilitated an Accelerated Design Event to forward the work of the Culture and Leadership Network of the national Ambulance Services.
#YearoftheNurseandMidwife
To inspire future generations to consider nursing and midwifery as a first choice career option we need to dispel outdated myths. My Daddy Is A Nurse was written and illustrated by Butterfly Books with a design group of nurse ambassadors and launched by our Chief Nursing Officer Ruth May this week. Horizons is proud to have been involved in inspiring the creation of the book.
If you work with children aged between 4 and 7 you can enter this draw to win FREE copies of the book. Click on the picture below, like and retweet the tweet for your chance to win!
Primary School teacher Mrs Linekar tells us that it's important to facilitate wonderful experiences for young people to inform their thinking on the breadth of career opportunities for them in nursing and midwifery in this blog.
Nurse Zara Head first inspired us as part of the 30 Day Blogging Challenge we led in July 2018. Here she launches the Doncaster GPN Strategy.
"Our interactions and experiences will become the narrative of their experience by those we support and care for for many years to come - we can influence whether it's a good one." Watch this video of of the Chief Midwifery Officer Professor Jacqueline Dunkley-Bent speaking about transforming maternity services.
#AgeingWell
The accelerator sites have now been launched for Urgent Community Response: 7 sites to test, learn and share the impact of #2Hour2Day response and reablement for #community care.
Change
Globally, we are moving to the network effect, a new paradigm where value gets created/distributed outside traditional enterprises. Find out more about demystifying network effects.
Horizons is testing methods to "scale down" and "scale up" at the same time. Find out more here.
Leadership and Teams
When employees are open with each other but not management it is a sign of a sick organisation. Side conversations happen when people feel like their leaders don't want to hear differing views.
Research shows there's often a big gap between how much managers appreciate their team members (a lot) & how appreciated people feel (not a lot), small actions can make employees feel appreciated.
People want to be treated like people. They don't want to be treated like workers or employees or human resources or machines.
Mindset
Researchers identified four kinds of mindsets that enable leaders to perform their roles more effectively.
Do you approach life with an open mindset or a closed mindset?
Here is a list of 150 positive values from Jurgen Appelo. They can be useful when thinking about own own values and those of our organisation.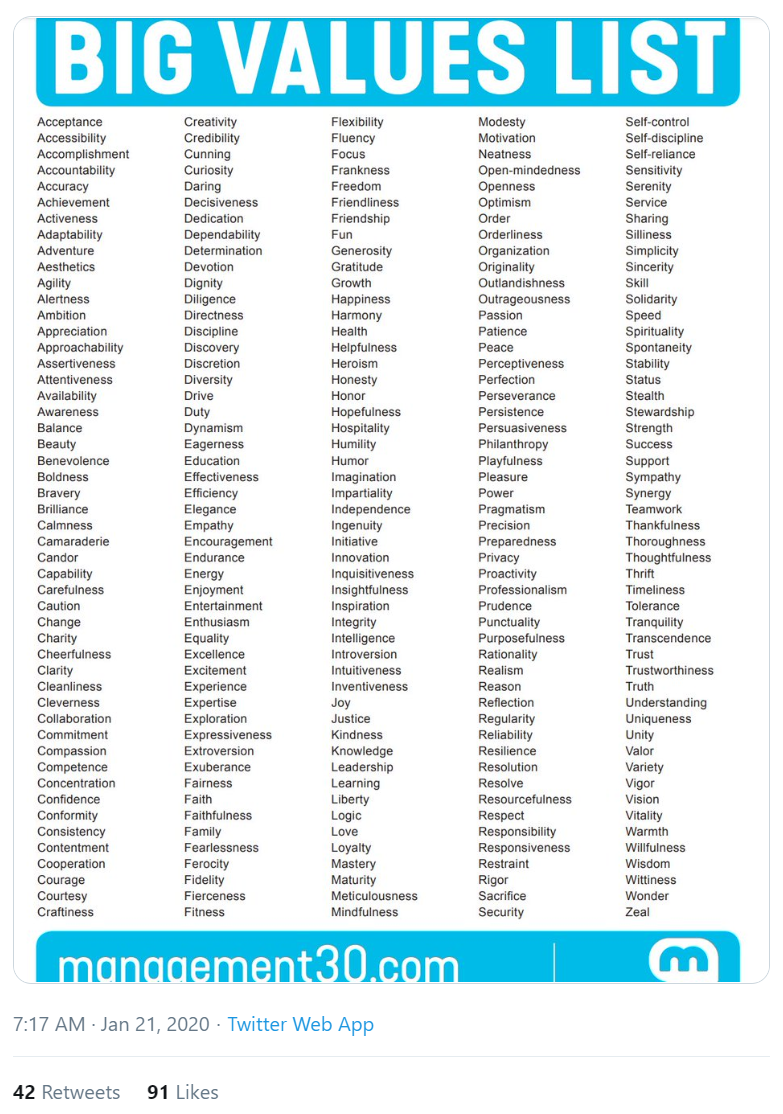 unknown

x

500
More posts by NHS Horizons
Recent posts from NHS Horizons Insights