The Horizons team features many influential Twitter users. This curates a wealth of insights, knowledge, and information about transformation in health and care from other thought leaders across the world. (Tip: to read an article or watch a video mentioned in a tweet, click on the blue text. To view the original tweet, click on the image).
#YourNHSNeedsYou
There has been a call sent out for trained clinical staff such as nurses and midwives who are either working in non-clinical roles or who are retired to sign up to fight against coronavirus. Here's Chief Nursing Officer Ruth May with more information:
#VirtualCollaborate
The @NHSEngland Improvement Directorate ran its all-staff away day virtually rather than face-to-face last month. 280 people took part & there were many benefits. Events like this need to be interactive & engaging so find people with know-how on virtual hosting & facilitation to help you. For more information, read our colleague Olly's blog about the Improvement Directorate virtual away day, which includes a range of tips to help you to run your own event.
This week we held a virtual training session with colleagues from East of England Leadership instead of the planned physical Unconference. We enjoyed exploring future opportunities for virtual collaboration with them; many attendees were new to virtual collaboration technology, and all did brilliantly!
We appreciate participants' positive feedback from the session.
Thank you @ELFT_QI & @ElftQA for sharing pictures of your active, engaging & highly productive virtual team meeting. Everyone wore hats. Let's challenge the mindset that virtual is less interactive or less effective than face to face.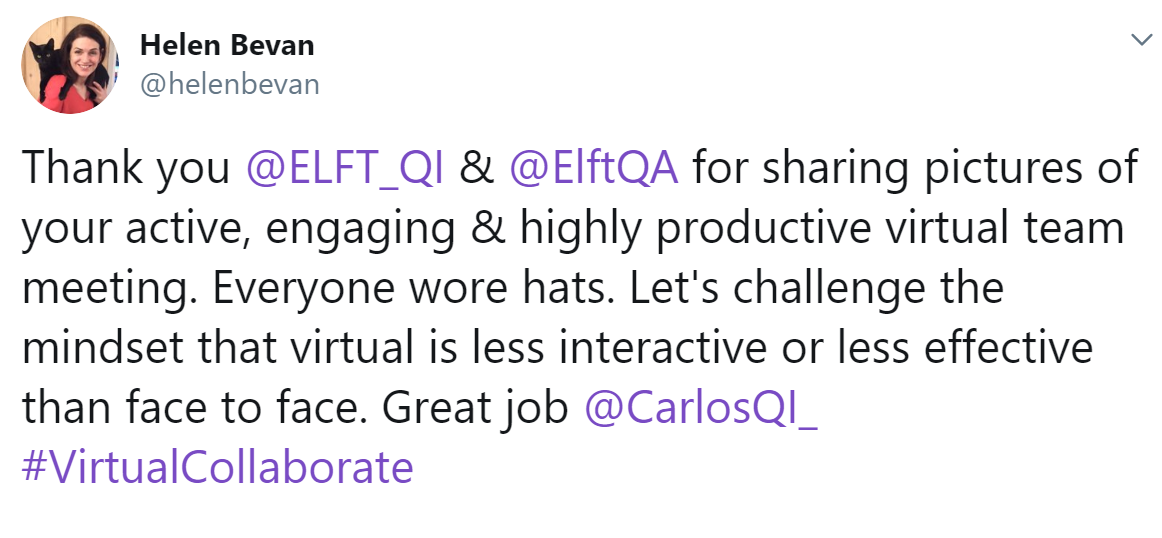 Here's some excellent advice for shifting your face to face meetings & events to online from @BetterEval. There are click links to a lot of helpful resources:
Helen has been asked to tweet some guidance on how to design/host/facilitate virtual meetings. This is from @nancywhite . Often when people start with virtual they often over-focus on technicals & don't think enough about the basic kinds of things set out here.
Many of Helen's Twitter friends are seeking advice on switching meetings from face to face to virtual. She is posting some articles she has found useful. This one is from @HarvardBiz 2015: "How to run a great virtual meeting".
"How to embrace remote work": another great free resource on switching from office-based to virtual working. This comes from @trello & it contains many gems of wisdom from a lot of people who work successfully this way:
There's a wealth of resources to help people getting used to remote working for the first time, such as these handy tips.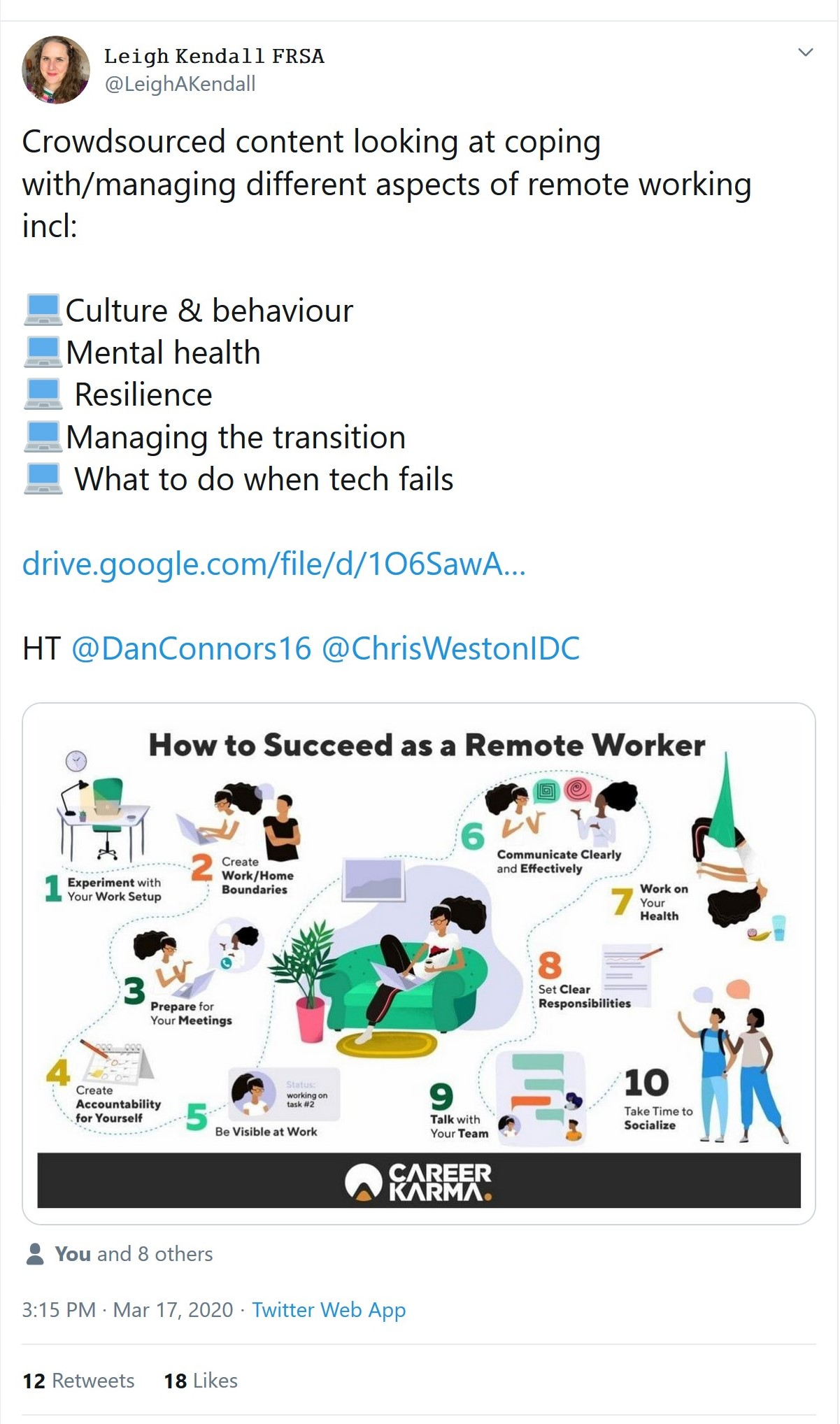 Help create the guide to remote working. The idea is the better we're are able to do this, the more effective it is, with less risk of spreading illness which benefits everyone.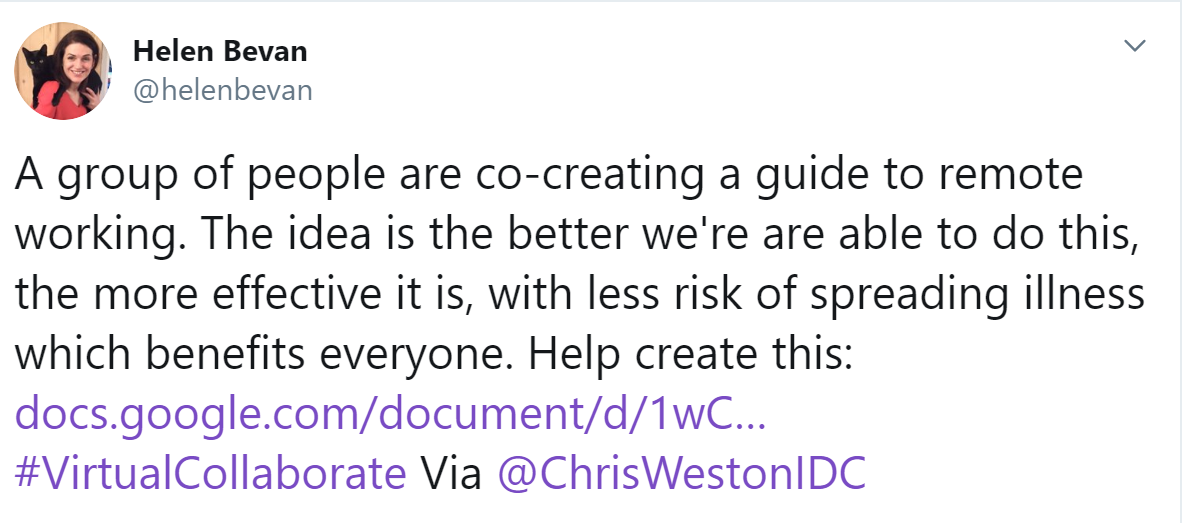 Excellent 30 min film on how to successfully shift from office based to virtual home-based working. Everyone who's making this change should watch this film; how to create home-based routines; stay connected; maintain your mental health etc.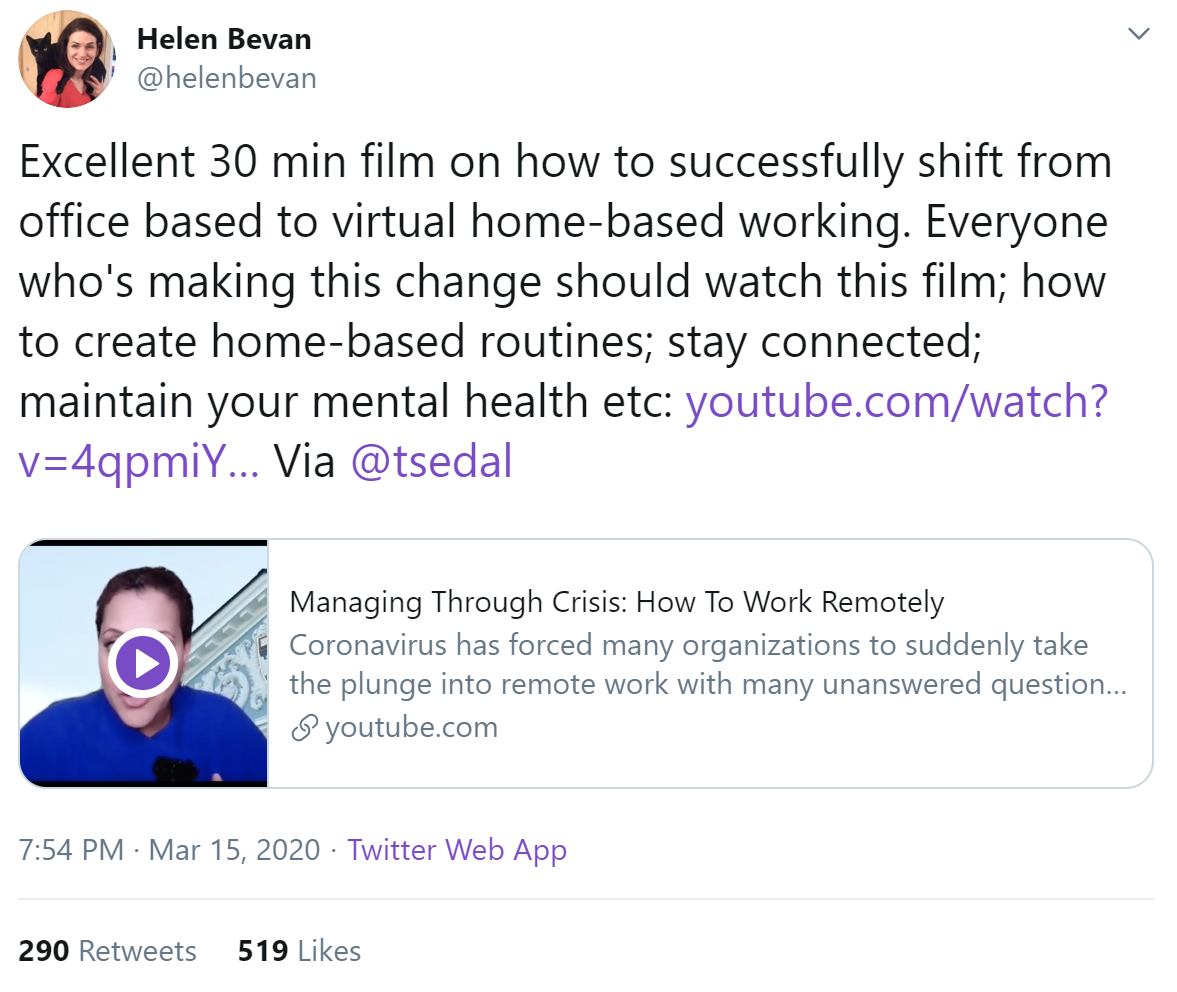 The Covid-19 outbreak is pushing organisations & teams into virtual working arrangements at a large scale. Often we don't have prior experience & are having to adapt to this situation instantaneously. Here's an "emergency remote work kit".
A very helpful new article from @HarvardBiz . A guide to managing your (newly) remote workers.
What do remote workers need? One of the key things is a sense of belonging. As leaders, we need to work hard to create that with some of our newly-virtual teams. Here's some good advice.
Helen has learnt the importance of creating a sense of trust, connectedness & willing collaboration in virtual teams. Here's some good advice from @nsettlemurphy on "ice-breaking" in remote teams:
For effective virtual working, learning to use the technology is one thing; learning how to build trust & ensure psychological safety online is another. Here's a wonderful resource on being emotionally intelligent in our virtual activities.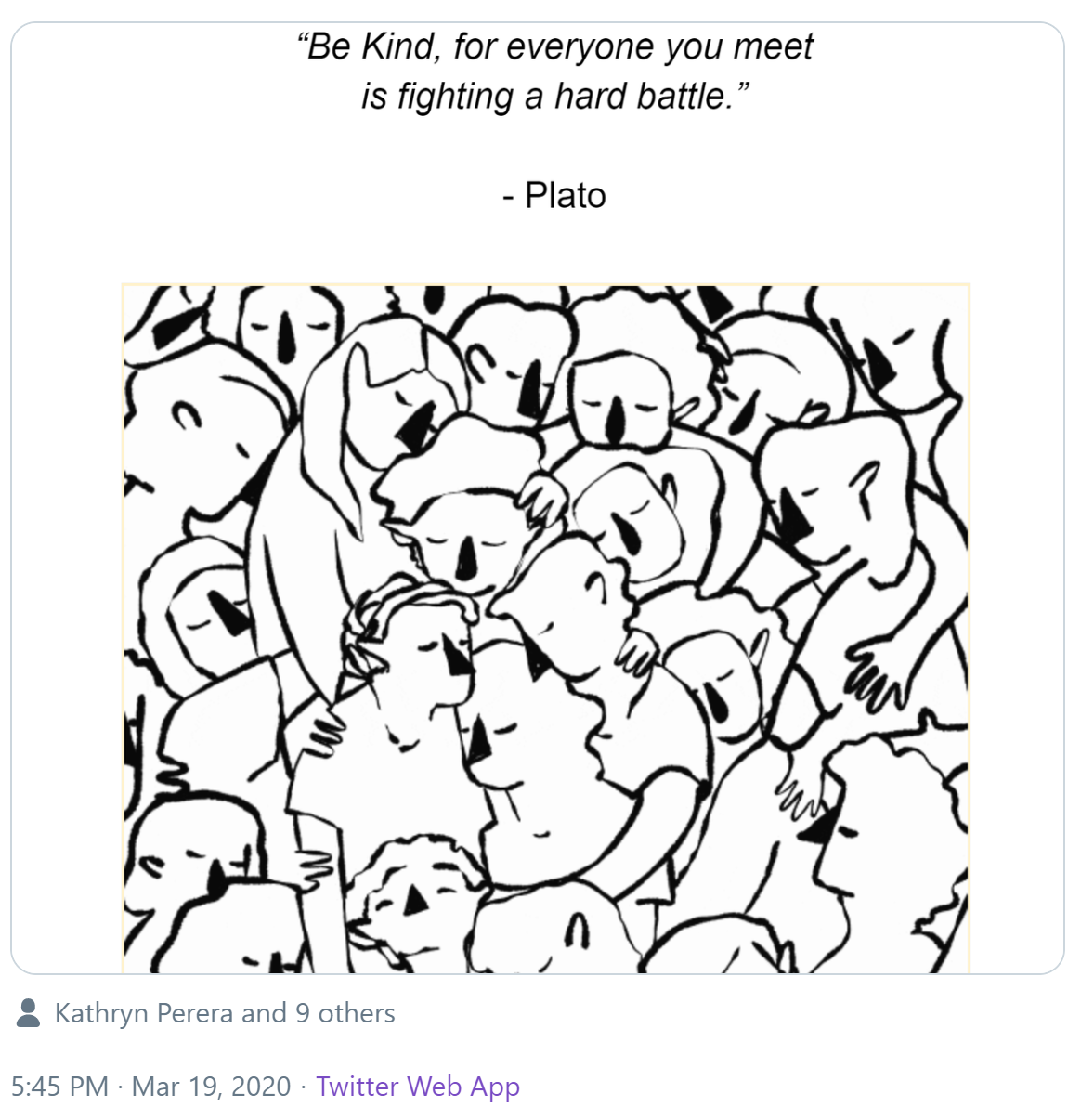 If you're used to being part of a face to face team & you're suddenly all working on your own at home, take a look at some of these sites for virtual team games. They might help you stay connected in a positive way.
Some people think "facilitation" means the methods that experienced trainers use in workshops. Yes AND facilitation & facilitative leadership are skills that every leader will need in future so organisations can flow with changes & thrive. Read more.
#AgeingWell and support in communities
If you are a #community provider please join the @ageingwellNHS community forum to share and learn together. The latest publication on how to release capacity to support #Covid19 preparedness and response is now posted. Join by emailing ageing-manager@future.nhs.uk
The new plans for people being discharged from English NHS hospitals during the Covid-19 outbreak: how discharge should happen and what support should be available to people being discharged into their communities.
As many NHS services are preparing for increased cases of Covid-19 as well as taking numerous measures to avoid unnecessary spread of the infection, knowing when and when not to use NHS services is crucial for flattening the curve and avoiding hitting overcapacity.
Social Distancing
There's been some important messages clarifying what social distancing means in conjunction with government advice:
Even better check out this sketchnote for a more accessible way to understand what social distancing means:
Social distancing doesn't mean that we can't stay in touch with others, rather it means that we need to be more creative about how we get our daily dose of vitamin-social. There has been lots of great advice about how to stay connected with others so that the isolation stays physical.
These NHS staff have stayed at work for you. Please stay at home for them.
Wellbeing
Coronavirus can also carry distressing mental health implications, for example for those suffering with health anxiety or OCD. We really liked this BBC article which gives some top advice for dealing maintaining both health and well-being.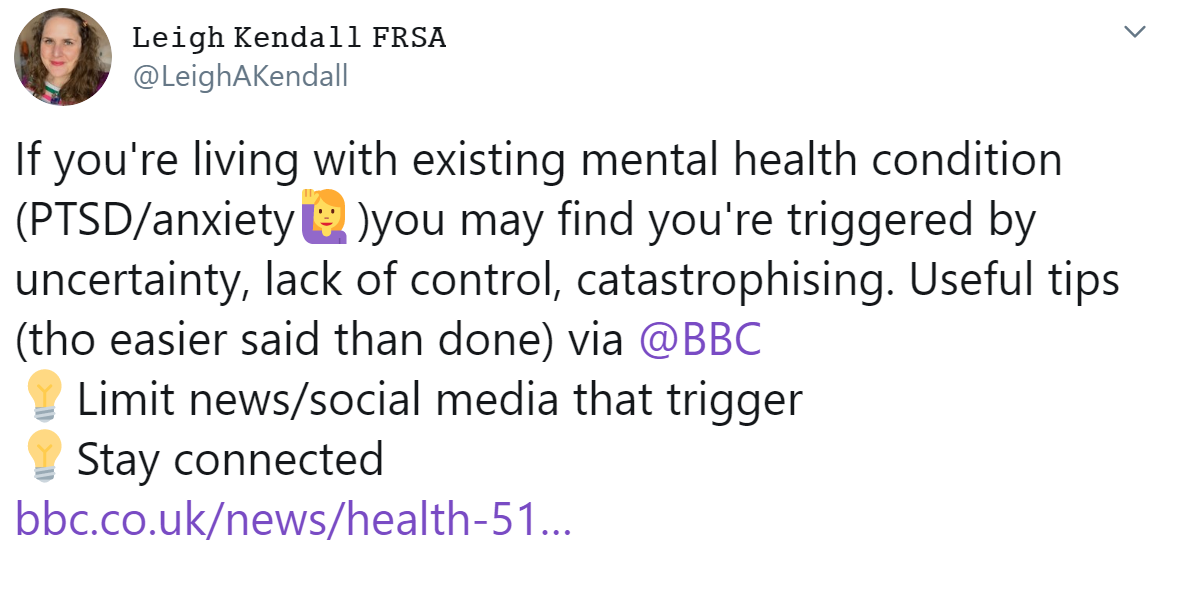 Helen recommends the profound narratives that @davidnabarro @WHO Special Envoy for #Covid19 is publishing. The latest is "Emotional rescue - songs for our times"- about the process of change we face & how we can come through it better & stronger:
In the past, when people & communities have faced difficult times, they've got through it by supporting each other with kindness & compassion. Now's that time again. Please sign the kindness commitment and spread the word.
Social Media
The importance of easily accessible credible of information at times like these cannot be understated, particularly as alternative narratives and theories (i.e. fake news) can proliferate quickly in new-power ways. This list set up by Trisha Greenhalgh has been really useful for us in quickly accessing the beset info:
unknown

x

500
More posts by NHS Horizons
Recent posts from NHS Horizons Insights