The Horizons team features many influential Twitter users. This curates a wealth of insights, knowledge, and information about transformation in health and care from other thought leaders across the world. (Tip: to read an article or watch a video mentioned in a tweet, click on the blue text. To view the original tweet, click on the image).
#YourNHSNeedsYou
This weekend, a number of staff volunteered time to speak with doctors and nurses returning to practice in the NHS as part of responding to the Coronavirus crisis. If you are a nurse or doctor not currently working in the NHS and would like to return, find out more here.
Helen shared a big thank you to all helping to process the applications from nurses and doctors who are willing to come back to the NHS.
As we are facing the greatest potential health risk for a hundred years, and our NHS needs you to volunteer! Find out how you can help. There is a huge range of volunteer roles available.
"Now is not the time to be complacent, now is the time to act responsibly to quicker turn the tide on this." Your NHS needs you to stay at home.
An eLearning package on respiratory care and assessment developed by Gloucestershire Hospitals - they are happy to share it with any other organisation.
#ClapforOurCarers #ClapForOurNHS
Last week the streets of the UK were filled with people showing their appreciation to the amazing staff of the NHS at 8pm. Our Horizons colleague Zarah shared her video:
Prerana Issar, Chief People Officer for NHS England and Improvement also shared her family taking part in #clapforourcarers.
#PerceptionsOfMidwifery
Last week's Midwifery Ambassadors virtual forum was another success, supporting each other through difficult times and inspiring change from all over England.
The importance of acceptance of our reactions and being kind to ourselves/others an important priority, especially in times like this.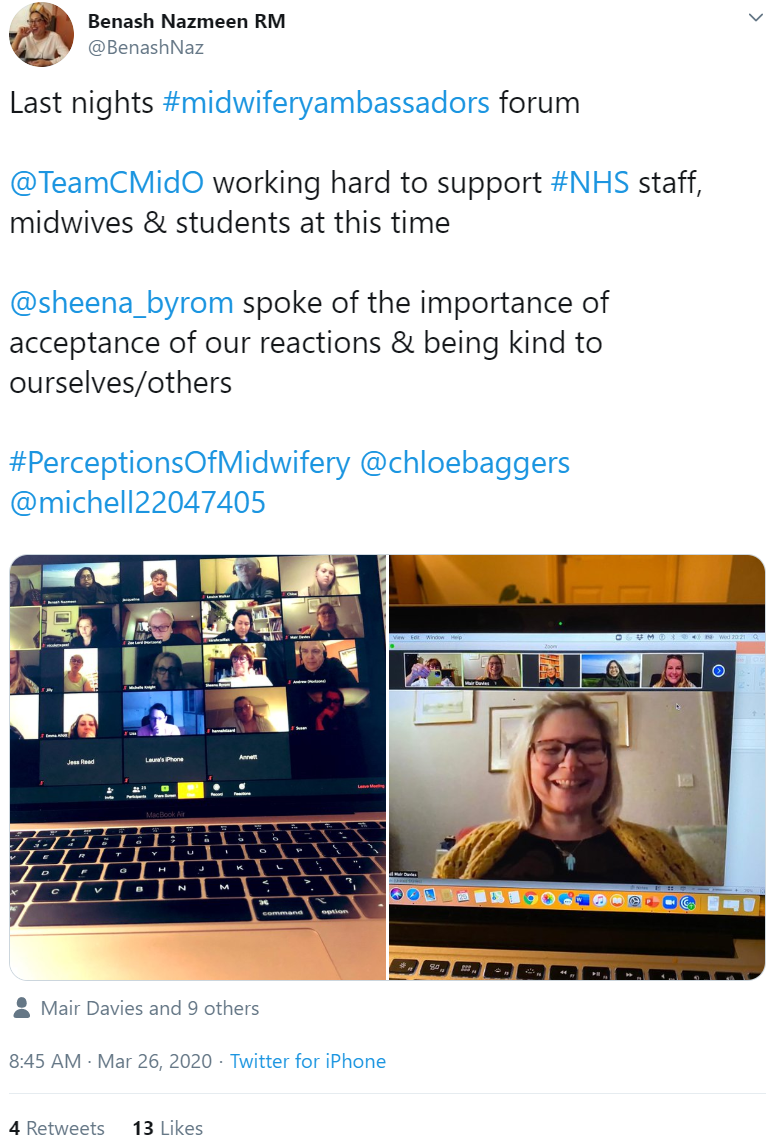 #VirtualCollaborate
If you are transitioning from working in an office to working remotely we have curated a huge range of resources to help you smooth the process.
Here is some advice from the Good Governance Institute on how the NHS Board meetings are being shifted to virtual.
Learn about virtual facilitation through this content created by Rachel Smith.
In order to virtually support the outbreak a group of facilitators for Pandemic Response group have collectively developed a work in progress resource guide. Led by Nancy White.
Now most of us have been remote working for a while, it might be a good time to look at 'good practice' advice.
Here is a practical free resource for remote working, from the Hargeaves Institute.
Leading groups online: a down & dirty guide to leading online course, meetings, training & events during the Coronavirus pandemic.
There are a lot of WhatsApp groups have been set up as part of the #Covid19 response, some of them very large and chaotic. Here are 10 ground rules for a large WhatsApp group.
Wellbeing
NHS staff are able to access health and wellbeing apps such as Headspace, Unmind and Big Health for free. Prerana Issar, the Chief People Officer for NHS England and Improvement explains why this is so important in this video. More information and how to access the apps is available here.
Can you complete this survey for a global study on how citizens are preparing and coping with #Covid19?
The Intensive Care Society has some great resources on sustaining wellbeing of people who work in Intensive care during/beyond the Coronavirus response.
Leigh shared some tips on how to protect your mental health during the Coronavirus outbreak.
When it comes to wellbeing of our workforce, resilience is a team sport. here is some excellent advice on managing your team while social distancing.
The discomfort we are feeling in the face of Covid-19 is likely to be grief. How can we manage this? Read the article.
Some practical wisdom on managing the anxiety that comes from self-isolation.
Inclusion & Diversity
During this crisis diversity and inclusion is critical now, to challenge us to look at problems and issues differently.
Social Media
The power of social media is vast! Helen shared that her cat Rolf (the Warwick University campus cat) was asked to promote the #Covid19Study which allowed the study to be whizzed around the world.
There is a lot of false information being spread via social media. Here are some tips to help stop the spread of misinformation from Center for Countering Digital Hate.
Leadership
A great toolkit by Healthcare Improvement Scotland on hibernating a quality improvement project.
Here is some advice for leaders at this critical stage in the response to Covid-19 from Dr Jen Frahm.
Leadership during crisis shows that people are often over-managed and under-led. The four most common traps in leading through crisis.
The Center for Creative Leadership are offering a free download of its book on effective leadership through a crisis.
Leadership in the Time of Coronavirus, a free e-book filled with great designs by gapingvoid.
And finally....
unknown

x

500
More posts by NHS Horizons
Recent posts from NHS Horizons Insights