The Horizons team features many influential Twitter users. This curates a wealth of insights, knowledge, and information about transformation in health and care from other thought leaders across the world. (Tip: to read an article or watch a video mentioned in a tweet, click on the blue text. To view the original tweet, click on the image).
NHS People Plan 2020/1
The NHS People Plan was published this week. It focuses on how we can all better look after each other, grow our workforce, develop our people, and make the NHS the best place to work. Read it here.
Please join us at a tweet chat next Tuesday 4 August, 5pm to 6pm or Wednesday 5 August 11am to 12pm. We'll be discussing how we can use the ambitions set out in our NHS People Plan to make real and lasting change and keep #OurNHSPeople at the heart of everything we do. #WeAreTheNHS #NHS.
Join us for the next #Caring4NHSPeople virtual community session to find out more about the NHS People Plan, and how together we can put it in to action. Joining details are available here.
Life and Work After Covid
As we start to restore services and recover from COVID19 it's important to not simply shift back to our previous normal. This week Bev joined clinicians of the RCP Quality Improvement Faculty talking together about delivering QI coaching in a changing environment. Read Bev's slides.
Many teams aspire to a different future beyond #Covid19. The danger is that we end up with forecasting (incremental changes based on the present), rather than foresight (a radical, transformed future). Here's a great resource for foresight by Colab Alberta.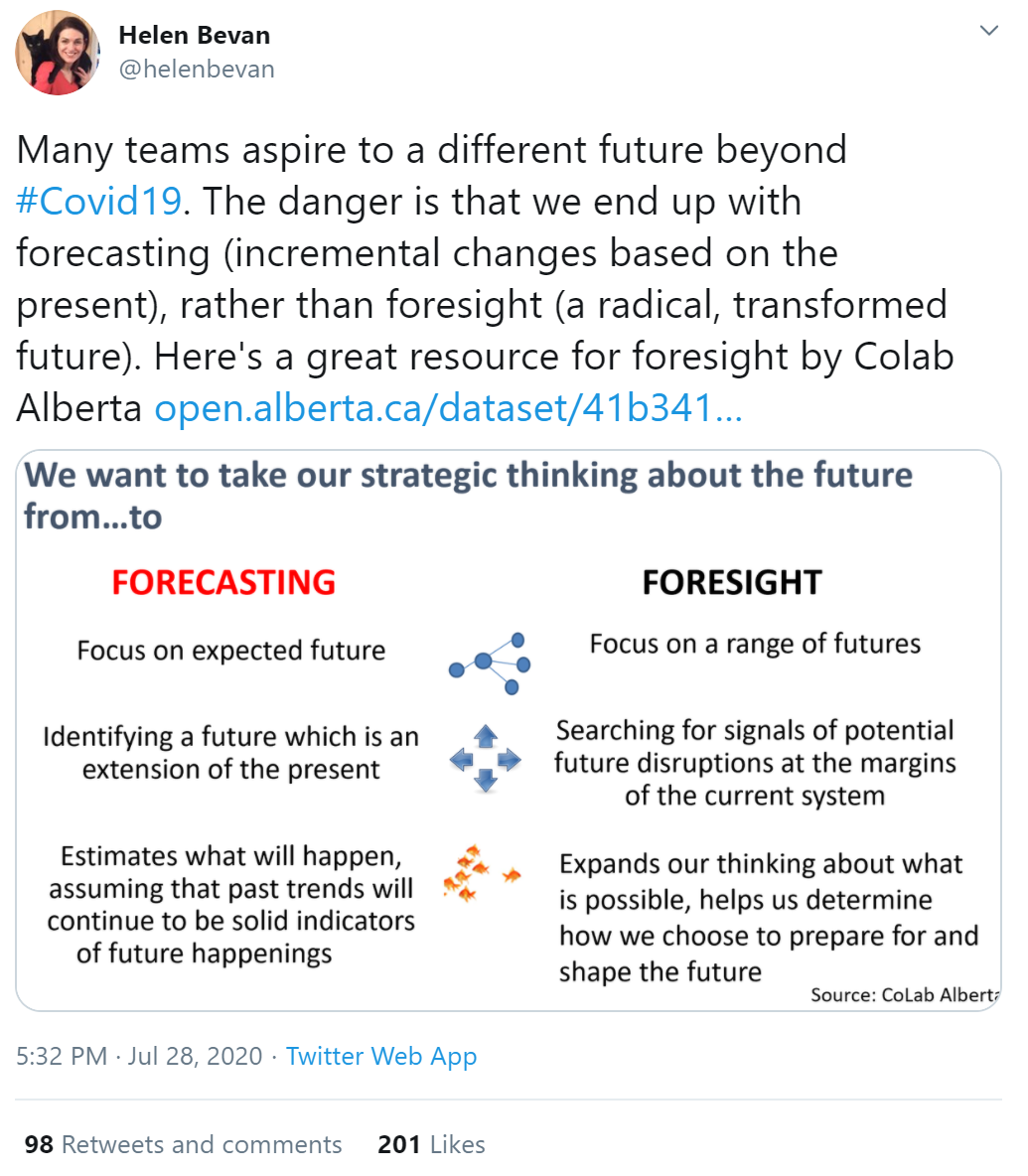 Many conversations about new ways of working beyond #Covid19 involve unlocking people's agency (their power to make a positive difference). This free book "The Socially Dynamic Organisation" by @julianstodd is a helpful read.
In our world beyond #Covid19, where we 1) can't go back to "business as usual" & 2) focus more on the wellbeing of our people, do we need to rethink "efficiency"? Does efficiency cost too high a price in terms of burn out, safety etc? Read more.
Collaboration and Change
Want to improve collaboration in your organisation or system? There are certain patterns that tend to show up in collaboration &, if we can see & effectively leverage them, our collaboration is likely to be more efficient & productive. Read the post.
Collaboration is important to address complex problems in the turbulent/uncertain world beyond #Covid19, but it's not enough. We also need systems thinking: finding solutions in the many circular, interdependent relationships in the system. Read the article.
Too often when we're designing new ways of doing things, we aspire to involve everyone who has an interest from the start (a good thing) but we don't take enough account of imbalance of power (not a good thing). See a field guide to power literacy.
This article applies systems principles to attacking racial inequality & injustice. We can't focus actions solely at the point in the system where problems manifest. To create wide-scale,lasting change, we must intervene deeper in the system.
There's never been a better time/opportunity for making big, positive changes happen than now. Mid-level managers & supervisors: you have far more power for change than you probably recognise. You can change the conscience of your organisation or system, as this article describes.
Working alongside @StephLeonard_ as a Director ("trustee") of @actbuildchange is one of the most rewarding things Kathryn does. A chance to be coach, learner, challenger and inside/outside an organisation that's changing the world. Are you a trustee? What do you love most about it?
Wellbeing
Do you have great intentions for getting up to stretch regularly, or not looking at emails outside of working hours...but the intentions never become reality? Leigh will be using these self-nudge tools to make them happen. Read the post by Hayley Lewis.
After four months of imposed virtual working, many of us remain super busy & very tired. Actually being busy all the time is an inefficient (& not very fun) way to accomplish our dreams. In this post are six questions to ask before saying yes to the next task:
It's SO important to take proper breaks. Yet research shows that people working from home as a result of #Covid19 are less likely to take breaks. Here's some of the evidence as to why taking proper breaks makes us more creative, productive & impactful.
Have you met Esther? Esther is the persona used in the Swedish health system to drive #PersonalisedCare. @GoranHenricks shared their work with leaders across Sheffield accountable care partnership this week
#VirtualCollaboration
Three things virtual meetings offer better than face to face. Read the article.
Dr will Zoom you now: "Remote consultations & use of technology offer some great opportunities to make significant improvements but making the most of this opportunity means understanding the patient experience". Read more.
Do you manage corporate social media? How to know when your account should be quiet - which means pausing regular content, not 'going dark' - & why...and what you can learn about your audience engages with your content. Read the article.
Leadership
'Enabling leadership requires a mindset shift such that 'my role is to think about how I can facilitate & enable adaptation, emergence & change', rather than directing people what to do'. Read our colleague Diane Ketley's post about why an enabling leadership style is needed for innovation, spread, and adoption.
How engaged is your team? @Ashridge_Biz offers a research-based survey on team engagement. You sign up, your team members fill in the survey. You get a report back, including a benchmark with "typical" responses. The whole process is free.


unknown

x

500
More posts by NHS Horizons
Recent posts from NHS Horizons Insights