The Horizons team features many influential Twitter users. This curates a wealth of insights, knowledge, and information about transformation in health and care from other thought leaders across the world. (Tip: to read an article or watch a video mentioned in a tweet, click on the blue text. To view the original tweet, click on the image).
#NHSPeoplePlan
The premise of the #NHS People Plan is simple: all #ournhspeople are important. Our tweet chats revealed a strong sense of purpose around how we can use the actions in the plan to build a flexible, more compassionate culture, & the challenges and opportunities ahead. Worth a read.
#YearoftheNurseandMidwife
The human spectogram of perceptions is written with the Ellen McMahon and her work with young people, looking at adapting tools from physical events to the virtual space.
#VirtualCollaborate
It's a myth that face to face workshops get better outputs/outcomes than virtual ones: eg, when we do small group/breakout work in virtual, the output quality (using say, Google Docs or JamBoards) is much better than written flipcharts.
Microsoft has held its Ignite conference to share tech developments. MS Teams is a top priority. Easier set up of breakout rooms is coming soon. Currently it takes us facilitators 10x as long to set up breakouts on Teams compared to Zoom so it's good news.
A free e-book from MURAL on facilitating remote workshops. It has many helpful, practical tips that can be adapted whether you're facilitating virtual sessions on Zoom, Teams, Webex etc. You have to give your email to download it.
Here's a great Q&A on leading virtual meetings from The Grove Consult. The questions include: "How do we handle virtual meeting fatigue?" and "What if meeting participants are all on different types of computers, with different accessibility to applications?"
Leadership & Teams
Many teams are using the Stacey complexity model to plan for a world beyond #Covid19. It's useful for thinking about a future where there's little agreement about what's happening and/or the best thing to do. A helpful (updated) version. Thanks Lindsey Messervy.
How can we help keep our teams motivated as the timescales for #COVID19 & crisis working get extended? These authors discuss the three main psychological needs that leaders can help their team members meet: relatedness, competence & autonomy.
We're moving into an era where change increasingly happens across systems and boundaries; skills for collaboration become recognised as core skills for change. So its great to see this (free) new toolkit from the Q community.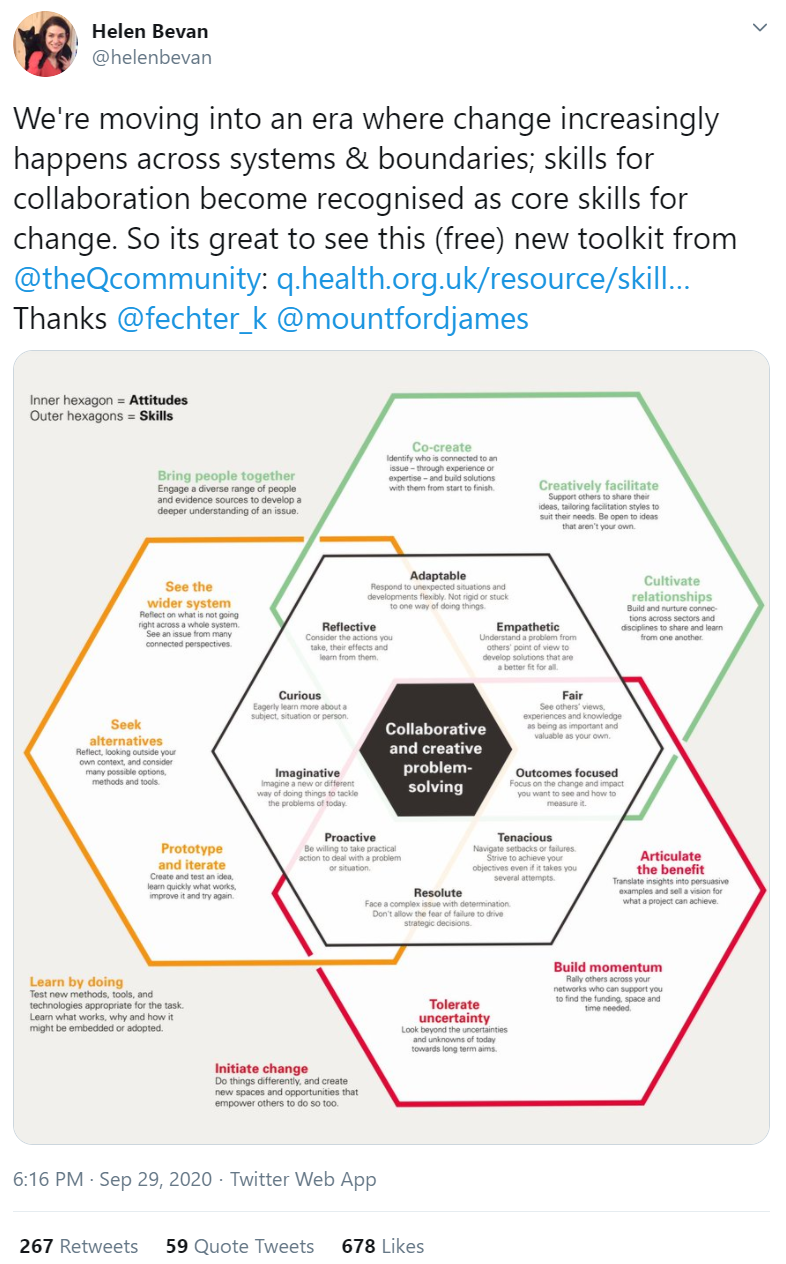 We will create better, more sustainable solutions if we follow the steps in a basic design process. So I love the way that Julie Woodard sets them out in a sketchnote graphic.
At our current time, there's such uncertainty. Maybe as leaders we need to flip our thinking & lead our organisations & teams not towards predictable goals but toward a greater capacity to handle unpredictability. Here's a framework from Sahana Chattopadhyay.
COVID19 and Recovery
There's a wealth of learning captured about beneficial changes in health and care as a response to #COVID19. Helen shared that she is not surprised that Victoria has the Twitter handle @Librarianpocket as that's what this feels like in the best possible way! Well worth watchingthis videocast.
And Finally...
As Flu season is round the corner, make sure you're booking on to getting your flu vaccine. Helen shared a picture of getting hers!
As we approach the weekend, Helen shared a hope that those of us who are not scheduled to work on Saturday and Sunday can take a proper break. "I am not a hero if I deny rest; I am only tired". With thanks to Sherrill Knezel.
unknown

x

500
More posts by NHS Horizons
Recent posts from NHS Horizons Insights