The Horizons team features many influential Twitter users. This curates a wealth of insights, knowledge, and information about transformation in health and care from other thought leaders across the world. (Tip: to read an article or watch a video mentioned in a tweet, click on the blue text. To view the original tweet, click on the image).
#Caring4NHSPeople
Next week the (now award winning) #Caring4NHSPeople wellbeing webinar will focus on supporting managers and team leaders to support each other during winter.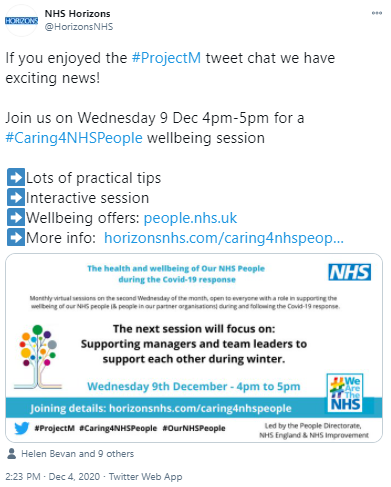 International Day of People with Disabilities
Thursday was International Day of People with Disabilities. Here are some tweets we loved from the day:
Across Horizons accessibility is an important part of our design thinking. Bev has been working with Matthew James who is deaf and chairs the Deaf and Hard of Hearing Network across NHS England and NHS Improvement, to ensure we consider invisible disabilities for our #VirtualCollaborate sessions. Here's the blog for #IDPWD2020.
A lot of colleagues also took part in #PurpleLightUp, here's Leigh from Horizons doing just that!
Quality Improvement
A must read if you work in QI, The December QI Evidence Update - two slides of info packed with updated from the last month complied by Andrea Gibbons and Jess Pawley
Working Remotely
"Listening well is hard. Listening well remotely is even more difficult and can be time consuming." Great advice from Dan Connors via Harvard Business Review about how to best listen when working remotely - and to demonstrate you're listening.
Why is it that we wave at the end of a virtual meeting on Teams or Zoom when we wouldn't dream of doing that at the end of a face to face meeting? And why should even more people take up waving in virtual meetings?
Leadership and teams
One thing leaders of change are often bad at is organisational endings and dealing with loss. This guide's aimed at non-profits, many of which are being devastated by #Covid19. It's useful for any team experiencing restructuring or closure.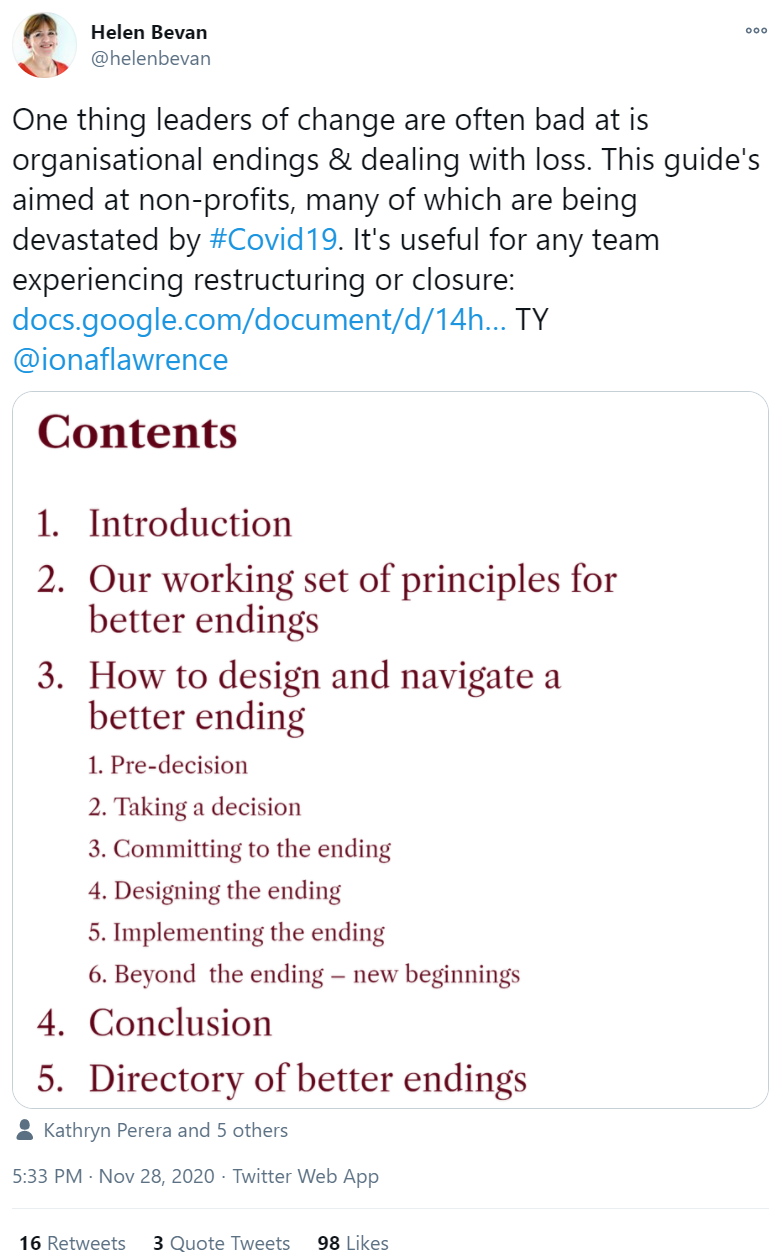 An idea for virtual team building. Ask everyone to complete the "four tendencies" survey before your team meeting. Discuss the results and value the differences. Are you an upholder, questioner, obliger or rebel?
A set of principles for teachers working with young people in online learning. Helen said that it strikes her that these principles apply as strongly for adults at work, whether we're leaders of virtual team meetings or facilitators of virtual workshops.
As leaders, we often don't recognise how our personal subconscious values influence how we make plans/decisions & achieve our goals. Take this survey to understand your values on growth, ideas and people; and then compare results with team colleagues.
Some people think you only get influence as a leader through position, and therefore if you're not a senior leader, you have no influence. You're more likely to be influential because of the way you behave in the world and connect with others
Learning and resources
We need more drawing (especially sketchnotes) to enhance learning. That's not just a message for a few artistic people. We can make drawings far more mainstream: having summary sketchnotes at the beginning of board & committee reports & research papers.
A new (free) publication on unlocking change across systems. It makes a powerful case that we need to focus on purpose, power, resources & relationships. Helen says it gave her some new perspectives on large scale change
Helen spoke at the Healthcare Anchor Network, USA. Global connection brings the gift of new ideas/resources. See this "Healthy schools toolkit"with great methods for social network analysis, systems thinking and messaging.
Opportunities
Join the NHS #Covid19 vaccine team. Your country needs you! Thousands of roles are needed, including vaccinators, as well as volunteers who can support delivery. Sign up here
The University of Leeds is offering a free 2-week virtual course on "collaborative working in a remote team" via Future Learn. Lots of people could benefit from this. 44,000 have signed up so far and it's getting rave reviews: sign up here.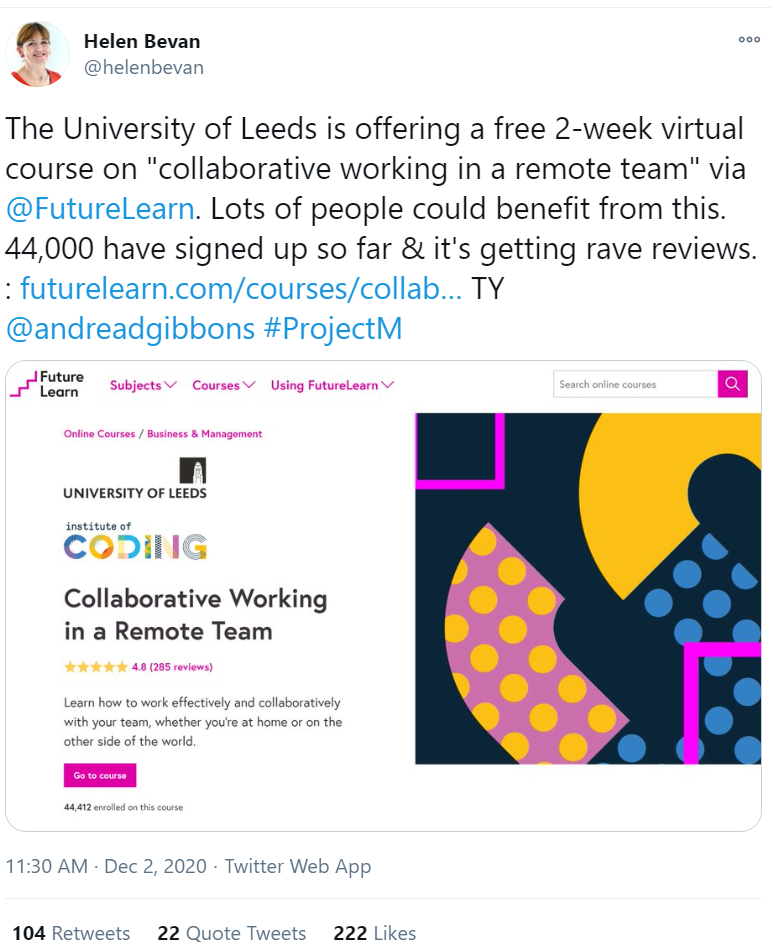 Anyone who leads the very important work supporting patients to transition out of hospital, should join this new nationwide network. @KateSlater2 (who can be contacted at kate.pound@nhs.net) is a brilliant community organiser so anything she sets up will be worth being part of.
And finally...
Take a damn break!
unknown

x

500
More posts by NHS Horizons
Recent posts from NHS Horizons Insights