The Horizons team features many influential Twitter users. This curates a wealth of insights, knowledge, and information about transformation in health and care from other thought leaders across the world. (Tip: to read an article or watch a video mentioned in a tweet, click on the blue text. To view the original tweet, click on the image).
The School for Change Agents
We've been receiving brilliant feedback about The School for Change Agents. You can work through the five interactive modules at your own pace. Not signed up yet? Sign up now.
Participants in the School for Change Agents are having a good experience. Its @FutureLearn platform calculates how positive people are feeling (AI-based sentiment analysis). At the end of week 2 they're at 100% positive! There's still time to join.
We have also made this Podcast that accompanies and continues the conversations from School. Our third podcast is live - listen here.
As a change leader, Helen has mostly focussed on "new power" ways to make change happen. But the reality is when you're part of a large complex system you have to be able to operate in "old power" ways to progress change. We must work with both.
#OurNHSPeople
The situation unfolding in India is very distressing and hard hitting, in this thread our Chief People Officer, Prerana Issar shares her reflections.
#Caring4NHSPeople
Feeling included & that you belong has a positive impact on an individual's health & wellbeing. We hope you can join our next NHSEI People Directorate event (Wednesday 12th May 4pm to 5pm) where we'll be discussing inclusion. Sign up here.
#Improve4Patients
"It's vital that everyone knows the vaccine is safe and effective and – along with all of us continuing to follow social distancing guidance – the best way to protect yourself, your neighbours and your loved ones" - Read the post by Bola Owolabi
Diabetes Prevention Week
Join Professor Jonathan Valabhji, National Clinical Director of Diabetes and Obesity and a panel of experts in the diabetes field for 'Preventing Type 2 diabetes in 2021 and beyond: A virtual event for healthcare professionals'. Monday 10 May, 5pm to 6.30pm Book your place now.
Wellbeing
Feeling aimless? You might be languishing - a sense of stagnation, a 'hangover' after the intensity of Covid. How to cope and reset? Flow. Focus on a small task. Set boundaries, give yourself headspace.
The first of several on the #100RepeatTweets list by the brilliant @SonyaWallbank. Our leadership behaviour can increase the risk of burnout for our teams. Sometimes circumstances force us to be red leaders but green leadership gives us better functioning, supportive teams.
Research shows when we express thanks to another person, it doesn't just impact on that 1-to-1relationship but can have a ripple effect on a whole team or community. Now, more than ever, we must spread the ripple.
Self care is one of the least selfish things we can do at this time of challenge/transition. When we take care of ourselves in multiple dimensions, we create our best state for being able to support others.
"There is nothing more beautiful than seeing a person being themselves". Do we as leaders enable this at work? Do we create a sense of belonging based on the unique things that each person brings, rather than expecting them to fit in with the dominant culture?
Each month the Greater Good at Berkeley produces a Happiness Calendar with a positive action for each day. The theme this month is taking care of our mental and physical health. You can subscribe to get the calendar each month for free.
Remote working
Are you exhausted at the end of a long day of constant meetings by Zoom or Teams? Virtual meetings are more draining & tiring than face to face. Here's an explanation for "Zoom fatigue" from neuroscience.
40% of remote workers report suffering from physical & mental exhaustion through prolonged screen time & lack of face-to-face interaction in the workday. Virtual work fatigue shares a common problem with distracted driving: multitasking.
Virtual working can make us irrationally fearful. If we only connect over Teams, Zoom or phone, we're more likely to misinterpret situations, see negative meanings & threats. Here's some ways to keep your perspective & avoid this fear.
Helen shared that as an extrovert she finds hours of virtual meetings each day exhausting. She thought solitude was easier for introverts. Lockdown has shown we need to rethink introvert vs.extrovert differences.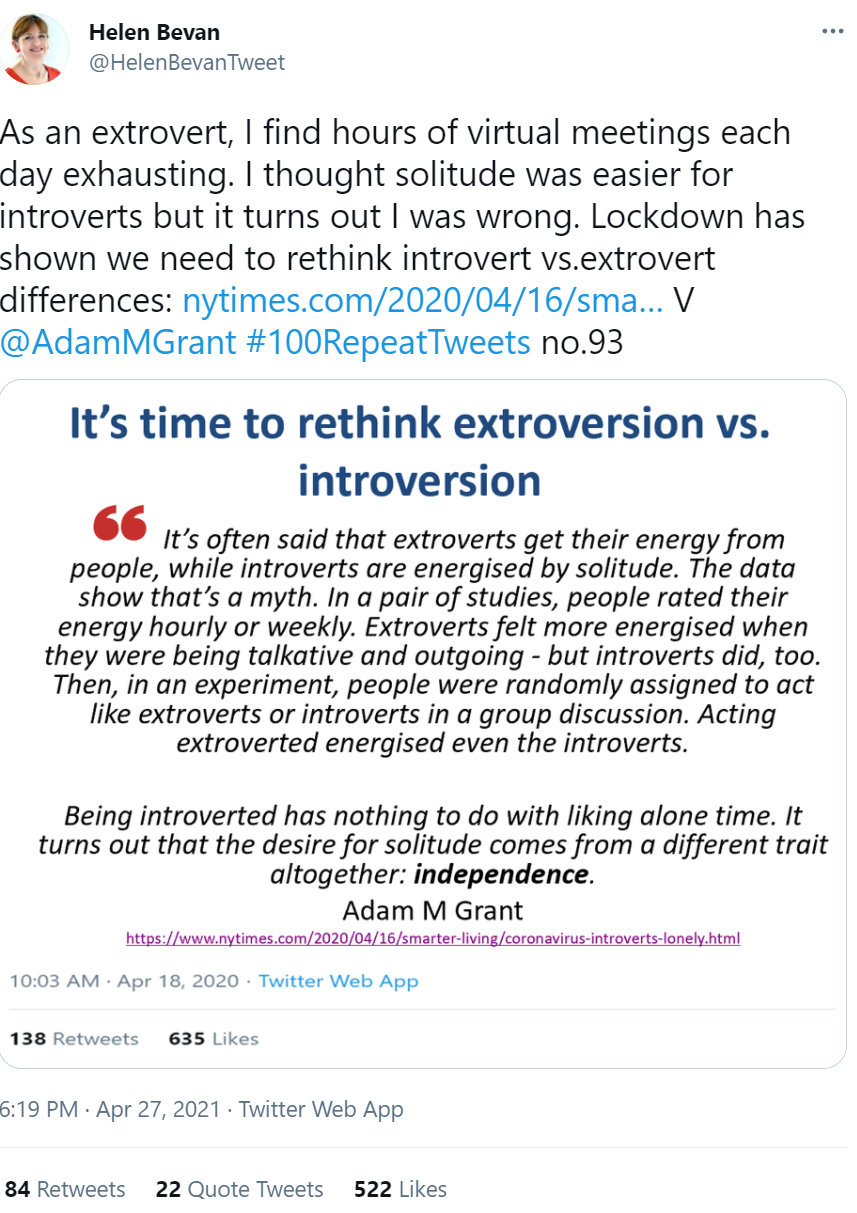 As leaders, moving towards a world beyond the pandemic, we need to develop new skills, such as making "hybrid" presentations to both face-to-face & remote audiences at the same time. There's a lot to think about to do this really well.
Change
Helen has been in discussions on the need for simplicity of message in large scale change. Reminding her of research done by Gallup News change fails because what starts as a few priorities for senior leaders becomes multiple priorities when it gets to the frontline.
Leading complex change? If so this brief introduction to Adaptive Space based on Mary Uhl Bien's work may be of interest. More details here.

When we are problem solving or redesigning services, we tend to add new features rather than taking components away. If we want powerful designs with more simplicity, we have to create the space & provocation to think differently.
When we're planning action for change, we should consider where we can create the greatest leverage. It's likely to be below the waterline. This new article gives much insight on identifying leverage points for taking action.
Senior leaders often get in the way of their own large scale change efforts. Some advice: 1) Big change is harder than you think; 2) Don't overestimate your people's capacity; 3) You have to tell the story of why the change matters to you.
Helen had a read of an article about Goodhart's Law": When a measure becomes a target, it ceases to be a good measure."
Leadership & Teams
Six strategies for leading through uncertainty: 1) Embrace the discomfort of not knowing; 2) Distinguish complex from complicated; 3) Let go of perfectionism; 4) Resist oversimplication/quick conclusions; 5) Don't go it alone; 6) Zoom out
As part of Helen's 100 most liked tweets, this wonderful sketchnote around progressive workplaces made an appearance by Hayley Lewis.
No. 89 of Helen's #100RepeatTweets is from the brilliant Hayley Lewis again. It's her blog in support of middle managers who are some of the most effective (& underrated) change agents in our organisations & systems.
If we want deeply engaged people across our organisations, we need to unleash the most important factor in building the culture we want: our managers. If our managers aren't engaged, the rest of our people won't be either.
The pandemic experience has shown the importance of compassionate leadership. We need to move to "wise compassion", based on leadership competence, deep understanding of what motivates people & leading others to achieve priorities.
Article from DDI World USA on types of unconscious bias at work. Tackling these kinds of biases can elevate our leadership practice, help to create diversity & improve our outcomes. Originally via Jeppe Hansgaard.
Helen has been having a look on the net for an informative, easy to read article on "Theory X & Theory Y" (a classic framework on leadership mindsets). Why is it that nearly every article with a graphic of a leadership figure uses a white man in a suit? Other kinds of people are leaders too.
Why does "empowerment" make Helen feel uncomfortable? Leaders seek to empower patients/frontline people but too often, it gets done to people, on the leader's terms, not through co-production. Empowerment reinforces the imbalance of power more than reduces it #100RepeatTweets no.92
No. 91 on Helen's list of #100RepeatTweets is by Sylvia Duckworth. Sylvia is such an impactful artist. Helen swopped the graphic to this one on listening as it's so important in our virtual world. Why not use this to give feedback to others on your Zoom/Teams call? Words: Holiday Phillips
How can we as leaders build healthy communities, ones that thrive, where people grow & magic happens, short & long term? Your "community" may be your team, organisation or system. Here are ten principles from Margaret Wheatley, in a super piece by Fabian Pfortmüller
What the team has been up to
Last week, our colleague Zarah hosted a session about Ramadan for the Horizons team. We looked at why Ramadan is important and some FAQs.
This week the Horizons team supported Matthew James to create the conditions of inclusion for #OurNHSPeople across NHS North East and Yorkshire. Follow the thread for some highlights of the event.
#Quality2021
Want to find out about the power of tweetchats for health & care improvement - live? Our colleagues Helenand Leigh along with our National Director for Improvement Hugh McCaughey are going to be presenting at the Quality Forum in June. Find out more here.
Resources
A free toolkit: 25 creative problem solving methods. Many of Helen's favourite tools are included. We need these kinds of methods, alongside classic improvement methods, especially for thinking differently beyond Covid.
The Finnish Timeout Foundation offers fab free resources for groups to have constructive dialogues. For inclusion & diversity, voices must be heard. The goal isn't assimilation (everyone thinking the same) but insight & valuing difference.
A new personality/psychometric assessment from Adam Grant (one of the most influential organisational psychologists on Twitter) & colleagues. It's based on "the latest personality science". It's free & you can share & compare with others in your team.
unknown

x

500
More posts by NHS Horizons
Recent posts from NHS Horizons Insights