The Horizons team features many influential Twitter users. This curates a wealth of insights, knowledge, and information about transformation in health and care from other thought leaders across the world. (Tip: to read an article or watch a video mentioned in a tweet, click on the blue text. To view the original tweet, click on the image).   
Spread and adoption
Are you trying to increase the spread and adoption of innovation and improvement? Read how the principles work in practice here.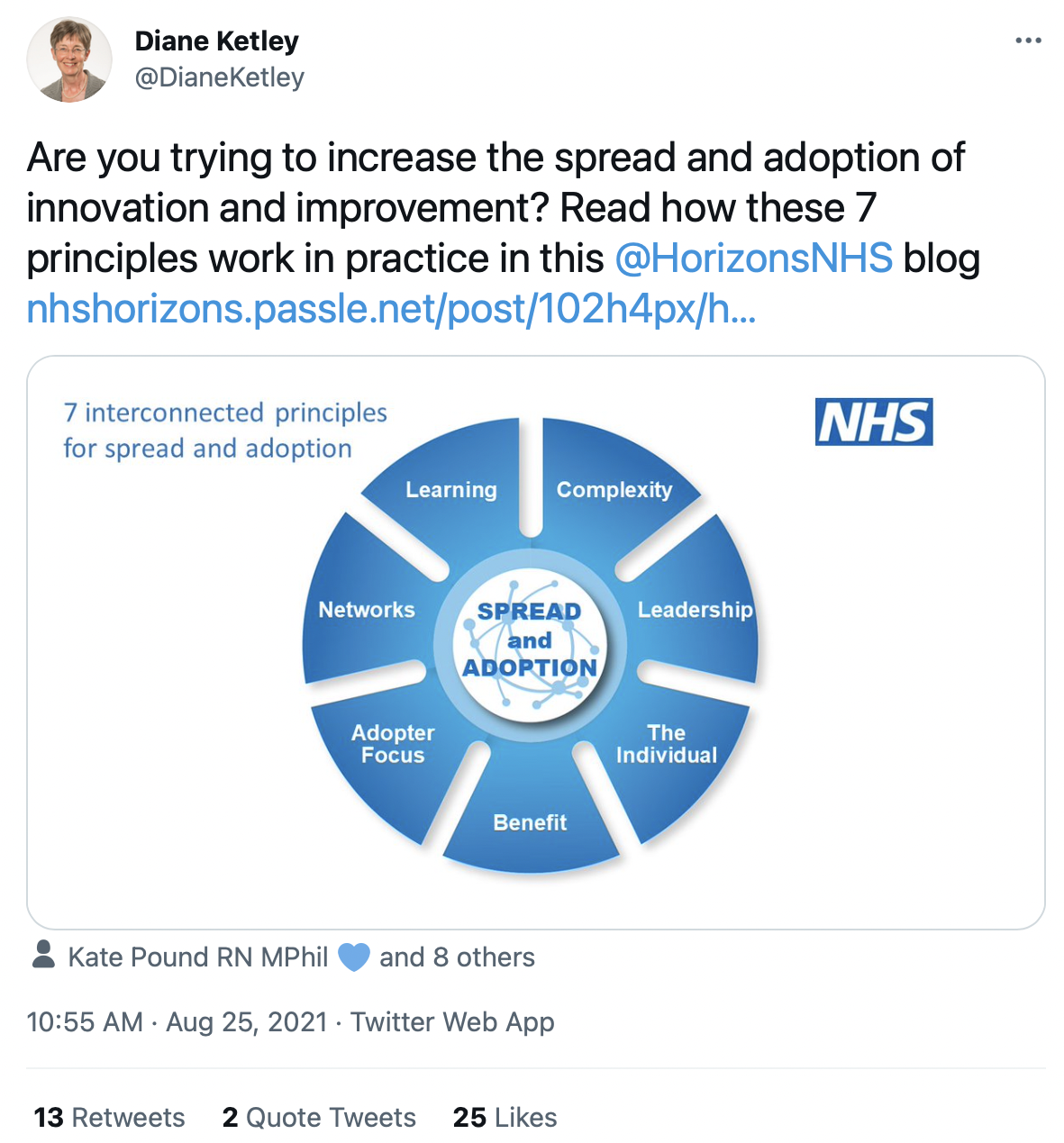 As we shift our improvement focus from organisations to places & systems, we need design principles for change that reflect the complexity of the situation. Click here for a helpful free guide to the key principles of system design.
See how the Horizons team believe system convening, along with adaptive spaces, can enable the spread and adoption of innovation and improvement.
#ImprovementMethodOlympics
Check out all of the amazing #ImprovementMethodOlympics influencers.Thank you to everyone who took part! 
It's been wonderful to see all the debate, sharing & learning from the #ImprovementMethodOlympics. We want to capture some of this whilst reflections are still fresh. If you took part in any way, please fill in this short survey.

Helen shared a great example of how the #ImprovementMethodOlympics has given participants the opportunity to share insightful resources. To find out more about the Rachel Tindall's article on the practicalities of co-design in Mental Health click here.
If you were inspired to develop your improvement skills by the #ImprovementMethodOlympics, here's an outstanding free opportunity to develop your Lean process improvement capability. Click here to find out more.
Innovation is seldom about brand new ideas. It's more likely to be the result of someone taking an idea from one context & applying it to another. The inspiration/idea for the #ImprovementMethodOlympics came from Helen's cat & the train enthusiasts community on Twitter.

Wellbeing
You're welcome to join us at the next #Caring4NHSPeople event, which will be about how relationships can affect our health and wellbeing. Wednesday 8 September, 4pm to 5pm. Details here.
It is so important to feel appreciated and show appreciation in the work place. If you want to find out more on how to build a culture of appreciation, click here.  
Social media is one of the most useful tools in the modern day, however, it can lead to some very negative implications when we compare ourselves to others. It is so important to remember that you only see what people want you to see on their social media platforms. Here is a brilliant graphic and quote of how we should all act in regards to social media.
Leadership
As we move to more integrated care & partnership working across teams/systems, we need open leadership: the kind that's outward looking & collaborative & helps people thrive. @openorgproject has created a new definition of open leadership. Find more on this here.
In this ever-changing world, there is so much complexity and uncertainty. If you want to learn more about how to adapt to these changes check out the article 'Is Your Organization Surviving Change — or Thriving in It?' by @KotterInc. Find out more here. 
If we're seeking to change/transform/improve a system, we have to address issues of power within the system: our own power as facilitators & the relationships & collaborations in the system. If you want to find out more, why not attend @AnnasQuestions and @adamkahane free session on the 9th of September. Click here to book your ticket.
Resources
Here are some brilliant and inspiring models of participation, co-design & co-delivery.
For anyone who leads/facilitates workshops or planning sessions - virtual or face to face. @SessionLab has over 900 methods in its free library of facilitation techniques. Find more information here.