The Horizons team features many influential Twitter users. This curates a wealth of insights, knowledge, and information about transformation in health and care from other thought leaders across the world. (Tip: to read an article or watch a video mentioned in a tweet, click on the blue text. To view the original tweet, click on the image).
#AHPsDay
On Thursday @BevMatthewsRN led a brilliant session with @DudleyGroupNHS for #AHPsDay.
It was great to see so many people learn how they are able to make a change themselves.
The School for Change Agents
"The School for Change Agents is for anyone has been curious about methods and practices for making change in the world". Hear more about #S4CA from one of our co-presenters @KathrynPerera . School is free to join and starts on 15 November Sign up here.
Rules of the road for change agents: 1) Stay alive (literally & figuratively); 2) Start where the system is; 3) Never go uphill; 4) The idea needs legs & to be "good enough"; 5) Light many fires; 6) Keep an optimistic bias; 7) Stay tuned in. Click here for more insight via @IISCBlog.
Listening is a very powerful tool for change. But we have to do it properly or it can backfire. This means: 1) Give 100% attention or don't bother 2) Don't interrupt 3) Don't judge 4) Don't impose solutions 5) Ask more questions 6) Reflect. Find more information linked here. Via @HarvardBiz.
Why we need to spend so much time in the early days of a change initiative getting people on board & building shared purpose. We want people to be "investors" at the start of the change, not "buying in" down the road. We'll save ourselves so much effort later on. Graphic by @tnvora.
Stay and Thrive
On Tuesday the team along with colleagues across the country had the first drum beat call. It was brilliant to see the so many participants and engagement that came from this meeting!
Spread and Adoption
On the @NHSEngland website, there's a treasure trove of resources on "leading the spread and adoption of innovation and improvement". It's based on the latest research and practice of spread with 100s of great links. Click here to see the guide by @DianeKetley.
We hope you can join us November 11th at 4pm to discuss systems convening and the spread and adoption of innovation. It'll be a practical and interactive session. #NHSSpread Click here for more details.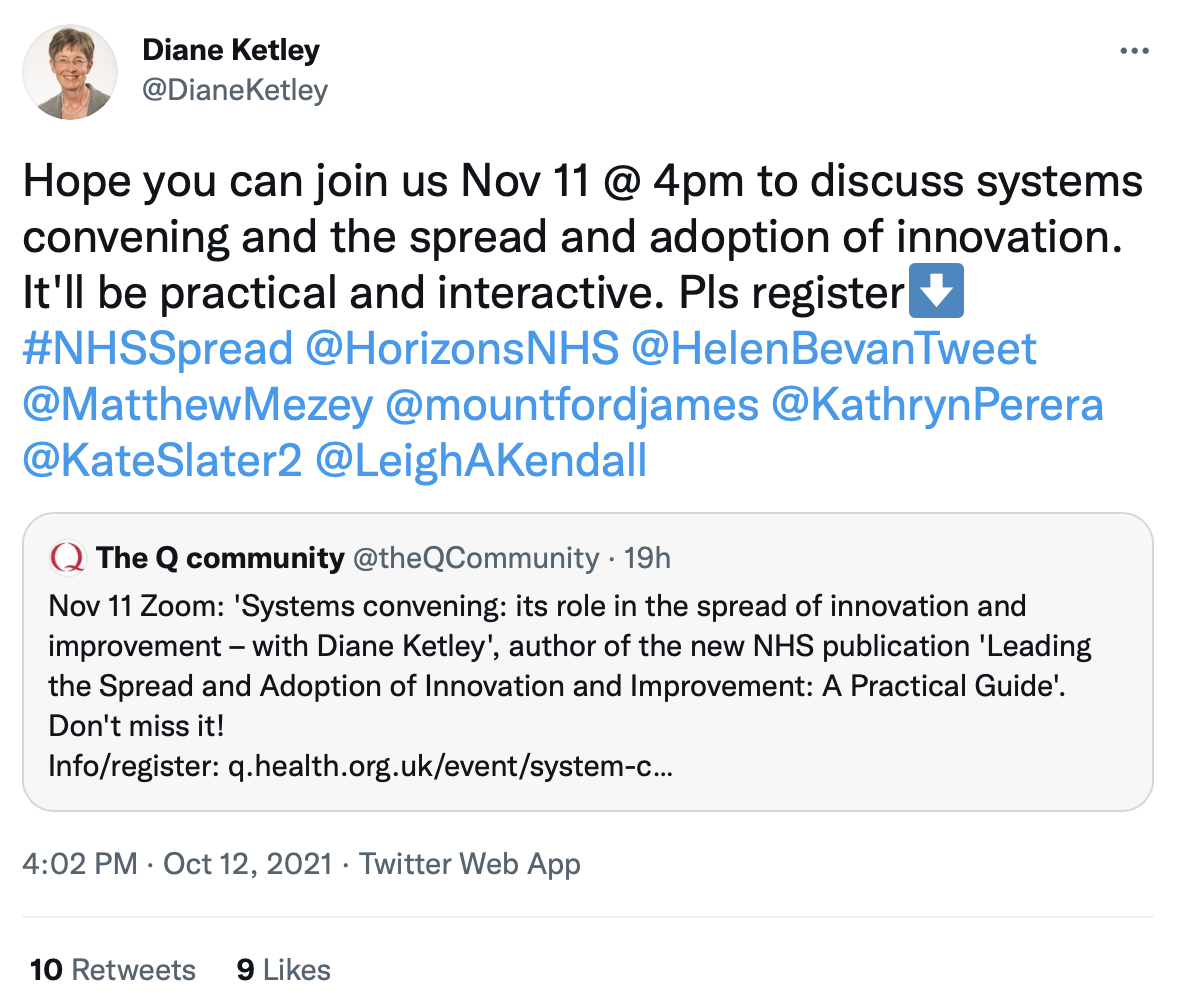 Complexity - one of the 7 interconnected principles for spread and adoption is first in a series of weekly @HorizonsNHS blogs, linked here. More info on 'Leading the Spread and Adoption of Innovation and Improvement: A Practical Guide' can be found here.
Here Helen is reflecting on the spread and scale of change currently and how we move from a mindset of "rolling out" pilot projects to enabling change in systematic ways though people in complex systems. A brilliant graphic via @LouWaters_QI &@DrAmarShah
Its brilliant to see the impact of @DianeKetley's Spread and Adoption guide and how useful readers are finding it!
Wellbeing
There's a belief that advancing age means a decline in our mental abilities. But new research suggests that key brain functions underlying aspects of cognition like memory, decision making, navigation, maths & language improve in older adults. Click here for more information on this, via @jhagel.
Another brilliant Wellbeing Wednesday session this week! It was about leadership and how to inspire others in a difficult world. One of our excellent speakers spoke about principles of employee social prescribing, which you can see in the tweet below. If you missed the session and would like to watch the recording, click here. We hope you are able to attend the next session on 10th November and will be about compassion heals bullying.
There was a lot of conversation during the session on how we can create change and build our own agency and power. Here is a snippet of some of the useful tips from @HelenBevanTweet.
Virtual Collaborate
We've come across some useful tips with @MicrosoftTeams that we like to share with @HorizonsNHS - especially when they save us time & help make virtual work easier! We hope you find them useful too! Here we share about Teams messages. #VirtualCollaborate
Here Helen explains that she was shown flipchart in virtual meetings by @lynnecazaly on her visual facilitation course. Now Helen's flipchart appears often online. We don't have to swop to virtual tools for all activities. We can bring real things in real rooms into camera. Graphic by @VisualEmer.
Improvement
We create"good stuff" when we knit knowledge & work processes together. Social media, networks & informal communities are often great knowledge sources, for the practical wisdom that really does change the world. The knitting process is a learning process. A brilliant graphic by @OzolinsJanis.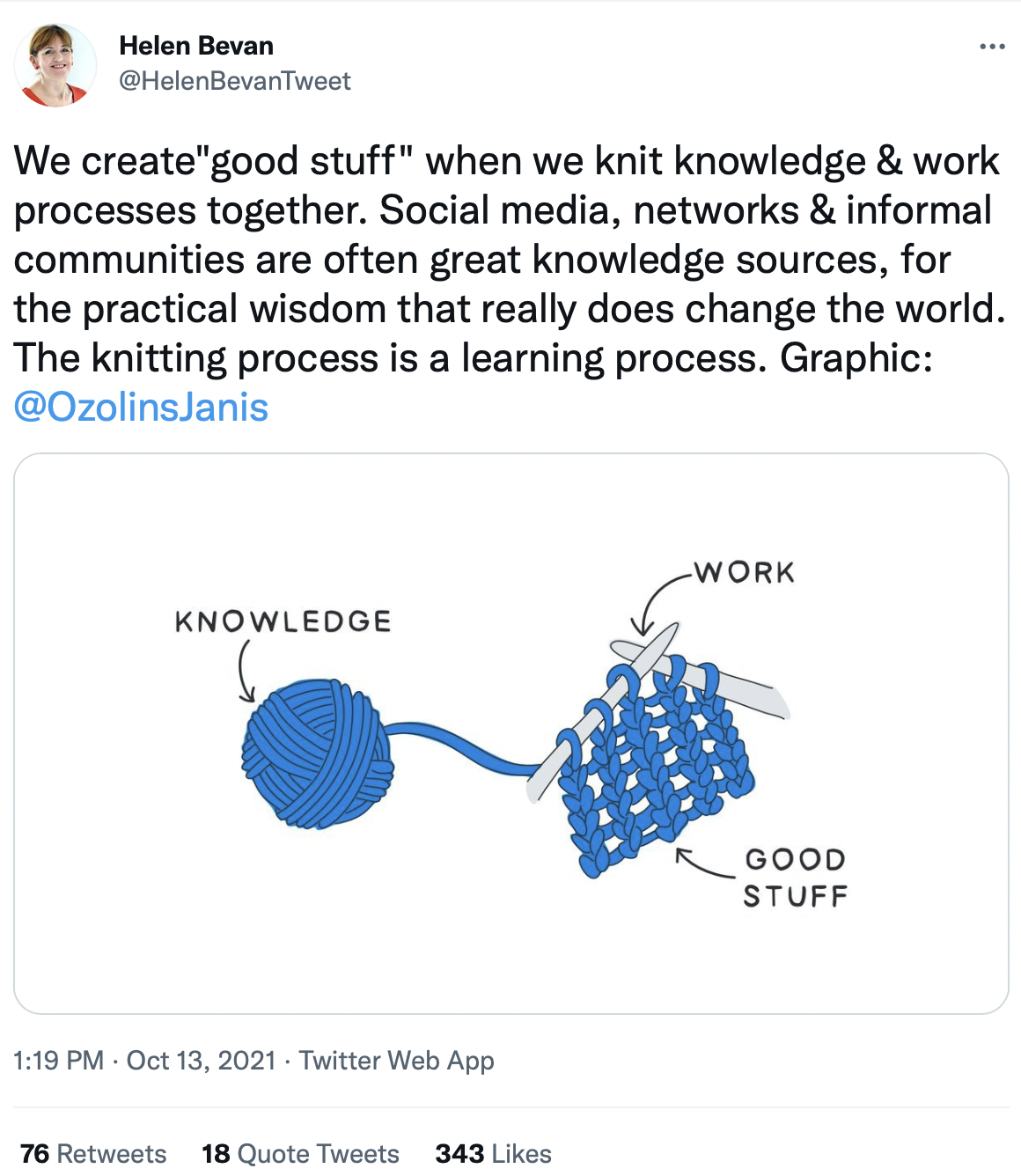 There's increasing evidence that organisations where people are connected & talk to each other across silos can learn & adapt more quickly & get better outcomes. We need "dialogic organisations" where conversations happen as acts of change. Click here fore more information.
Leadership
New research on the shift to relational leadership: from what leaders do to what leadership produces, from leadership that "happens inside people" to leadership that happens between people, from dependent to interdependent leadership. Find more information on this in the link here, via Charles J Palus.
As we move towards more complex systems working, there's an increase in leadership development frameworks that include "vertical development" - the ability to think at a higher level, inter-dependence, comfort with paradox etc. This one's by @rhughesjones linked here.
More on vertical development for leaders from @rhughesjones, linked here. As the health & care system moves from a primary focus on organisational leadership to more focus on systems, the prevalent leadership mindset needs to shift too from "achiever" to "collaborator"
Mid level leaders are often the key people keeping our organisations going yet many times don't get the credit or development. Here's @reflectservices challenging middle managers to unlock their power by "unlearning" what they know & how they do things. Click here for more insight.