The Horizons team features many influential Twitter users. This curates a wealth of insights, knowledge, and information about transformation in health and care from other thought leaders across the world. (Tip: to read an article or watch a video mentioned in a tweet, click on the blue text. To view the original tweet, click on the image).
The School for Change Agents
In the School for Change Agents @Mymy_DelRos shares her compelling experience of being an internationally recruited nurse; the challenges & opportunities.
Remember it's still not too late to join the School for Change Agents! Sign up here for the #S4CA to find out how you can make a difference!
There are many ways to build change agency. Check out this brilliant blog where @LeighAKendall explores the ideas on the useful sketchnote that can be seen below further. Click here for the blog.
#Caring4NHSPeople
On Wednesday, the Horizons team helped to facilitate December's Wellbeing Wednesday session. The topic was menopause and how to support staff wellbeing in the workplace. Click the Tweet and follow the thread to catch up on what happened during the session. If you are interested in the slides used during the session click here.


Virtual Collaborate
The newest member of the Horizons team, Leon, has shared this very useful tip in this week's Tech Spotlight. It is extremely useful if you're a frequent user of Microsoft Teams, want to develop you skill of Teams, or are new to the application. All you need to do to access these training videos is type '/help' in the command bar.


IHI Forum
On Wednesday, Helen led a session at #IHIForum with @LeighAKendall and @HughMcCaughey on how to run a tweetchat. The session was live and had a lot of engagement, do check it out on Twitter. Just search the hashtag #IHIForum.
We led a live tweet chat too. There's loads of brilliant engagement, pop to @Sch4Change to check it out!

The activity spike on the right hand side shows what happened to the #IHIForum hashtag as a result of the tweet chat. Never underestimate the power of a tweetchat!
Leigh shared that she enjoyed presenting with @HughMcCaughey and @HelenBevanTweet about the power of tweet chats for improvement at #IHIForum.
If you're interested in finding out more about the potential of tweet chats for improvement here's the slide deck from the IHI Forum session.
On Sunday Helen led a session with @ck4q at #IHIForum on taking an improvement approach to the wellbeing of our people. We discussed the importance of energy for change. More information on the 5 energies for change written by Horizons colleague @rosielhunt. Click here for more information.
Quality Improvement
@andreadgibbons and @improvjess do a brilliant job compiling the monthly quality improvement evidence update. Here's December's update, which is full of news and research!



NHS Race and Health Observatory
The NHS Race and Health Observatory has carried out a stakeholder engagement exercise to inform our use of collective terminology as an organisation. We have developed a set of principles, drawn from the conversations we've had on this topic over the past months. Click the Tweet and follow the thread to learn more.


Spread and Adoption
Diane was delighted to announce the winner of the random draw for a 1-1 session with her about spread and adoption is Sonal Mehta, Partnership Lead (VCSE) #NHSSpread

Thank you to everyone who attended @DianeKetley webinar on spread and adoption last week. As promised, slides and a recording of the session are available for anyone who missed it - or would like to watch it again! Click here to view.


Wellbeing
How to stop "us vs. them" and create a "we" culture where all are safe, welcome and productive: 1) Show enthusiasm for the whole team 2) Keep learning about other cultural groups 3) Prioritise cultural data 4) Broaden the definition of "culture". Click here for more insight.
A powerful challenge to accepted definitions of "empathy" by @brenebrown . No, it isn't enough to "walk in your shoes". We need to learn to really listen to your story about what it's like in your shoes and believe you even if it doesn't match our own experiences. Via @anna_annabav.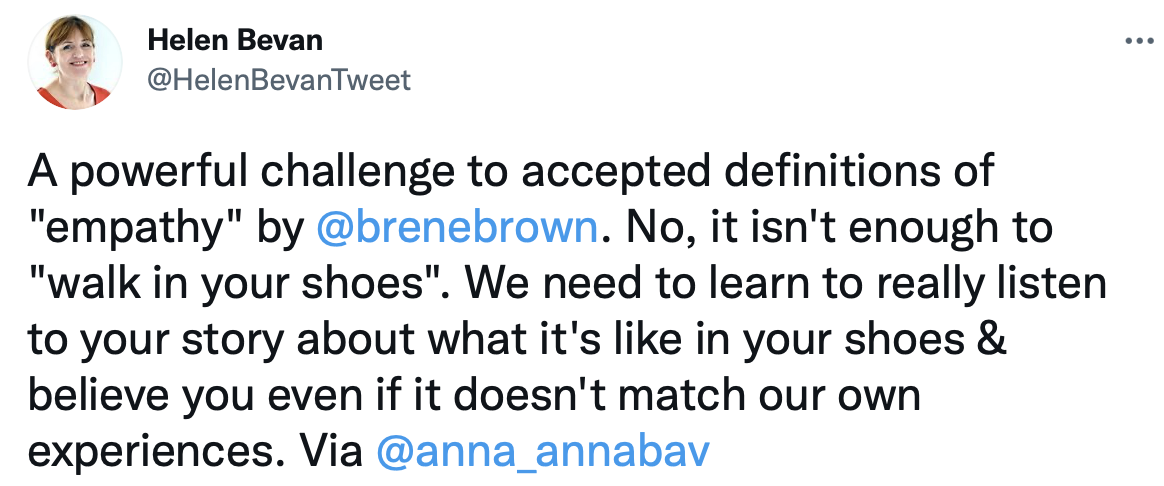 A deadline is a double-edged sword. It gives us focus & momentum & helps achieve our goals. It can also lead to stress, fatigue & crush creative thinking Too many deadlines create a sense of false urgency, resulting in reduced productivity. Use deadlines wisely. Thank you @OzolinsJanis.
Improvement
If we wanted to transform services so that they were truly "people-centred", what would it take? We need radical new thinking and new ways of organising services if we are to achieve this says Steve Schefer, for more insight, click here. Thank you @ComplexWales and @rethinkingserv.
Those of us working in health and care improvement often focus on a specific problem/aspect of a care process. We can benefit by thinking bigger picture about the overall nature of a care service. I've been reading @LouDowne for a service design perspective: find more on this here.
Often in quality improvement (QI), we invest in training for skills in QI but people need QI skills in real time in clinical settings. That's why coaching for QI is so important. This guide, written for a specific context, is relevant widely: click here to read more on this.
Helen is a fan of Tuesday's tips from @jeanmariespeaks. Often when we listen, we do so in judgement and are just waiting to be able to jump in and respond. If we can fight the urge to judge and instead listen with curiosity, we open our minds to possibilities and breakthroughs can happen.
Here is a beautiful graphic by @grantdraws. If we keep waiting for things to change, it might be a very long wait. Rather, it may be time to move out from the shadows into an uncertain light, towards a different future.
Leadership
In a world that is less about hierarchy and more about collective sharing, communities of practice are playing an increasingly important role. As leaders of change, we need to be able to convene, lead, collaborate and get results through communities of practice. Click here to read more on this.
And finally, a team update...
We are so happy that @LeonBrowning16 has joined the @HorizonsNHS team. Leon is a technical wiz and he is going to help take our work in virtual collaboration from strength to strength. We are encouraging Leon to get active on social so please follow him on Twitter.