The Horizons team features many influential Twitter users. This curates a wealth of insights, knowledge, and information about transformation in health and care from other thought leaders across the world. (Tip: to read an article or watch a video mentioned in a tweet, click on the blue text. To view the original tweet, click on the image).
The School for Change Agents
Congratulations to Jane, Kenny and all the other change agents who have completed School and become Certificated Change Agents!
Thank you to Laura for her kind recommendation.
This beautiful sketchnote by @sherrillknezel reminds Leigh of the comments by @Sch4Change participants she has been enjoying reading regarding what happens when we truly listen to each other. Sharing of our stories has incredible potential to connect us, and to move hearts & minds. #S4CA
Do you ever wonder how to use social media effectively?
Check out this brilliant sketchnote by @LeighAKendall on her 10 top tips for social media success, which is used in week 4 of the School for Change Agents!
#StayAndThrive
Horizons has been proud to support #StayAndThrive, which is about supporting our internationally-recruited nurses. Read Ed's thread to find out more.
Diversity and Inclusion
A beautiful blog by our colleague @BevMatthewsRN about the importance of recognising invisible disabilities and making reasonable adjustments - as the blog describes, those adjustments can make all the difference.
Virtual Collaborate
Over the last few months we have been sharing some brilliant tips and tricks that fit with @15s30m mindset. Here is another in the tech spotlight series: changing the file open preference in @MicrosoftTeams has transformed @BevMatthewsRN's working life! Give it a go!
Wellbeing
When leaders create three key conditions they get better outcomes from people. 1) Autonomy: do not micro-manage or enforce bureaucratic rules 2) Competency: give positive feedback 3) Relatedness: build teams with a sense of belonging. Click here for more insight.
Creativity, the ability to look at complicated situations and identify novel solutions that solve problems or rewrite old rules, is key right now. Our role as leaders is to foster it and make sure we're not the ones suppressing it. Click here for more insight.
Feeling tired, that you've lost certainty? Considering experience of Covid it's no surprise that we're experiencing a flux of emotions. This sketchnote by @tnvora explains the phenomenon of Pandemic Flux Syndrome as discussed in @amyjccuddy interview with @BreneBrown
Helen recently posted a graphic from @EmmaNeuropsych on how pandemic fatigue feels. It spoke to so many people. Emma has published a free eBook on how to stay calm in a global pandemic. It is a wonderful combination of science, wisdom and beautiful sketches. Click here to see view the sketches.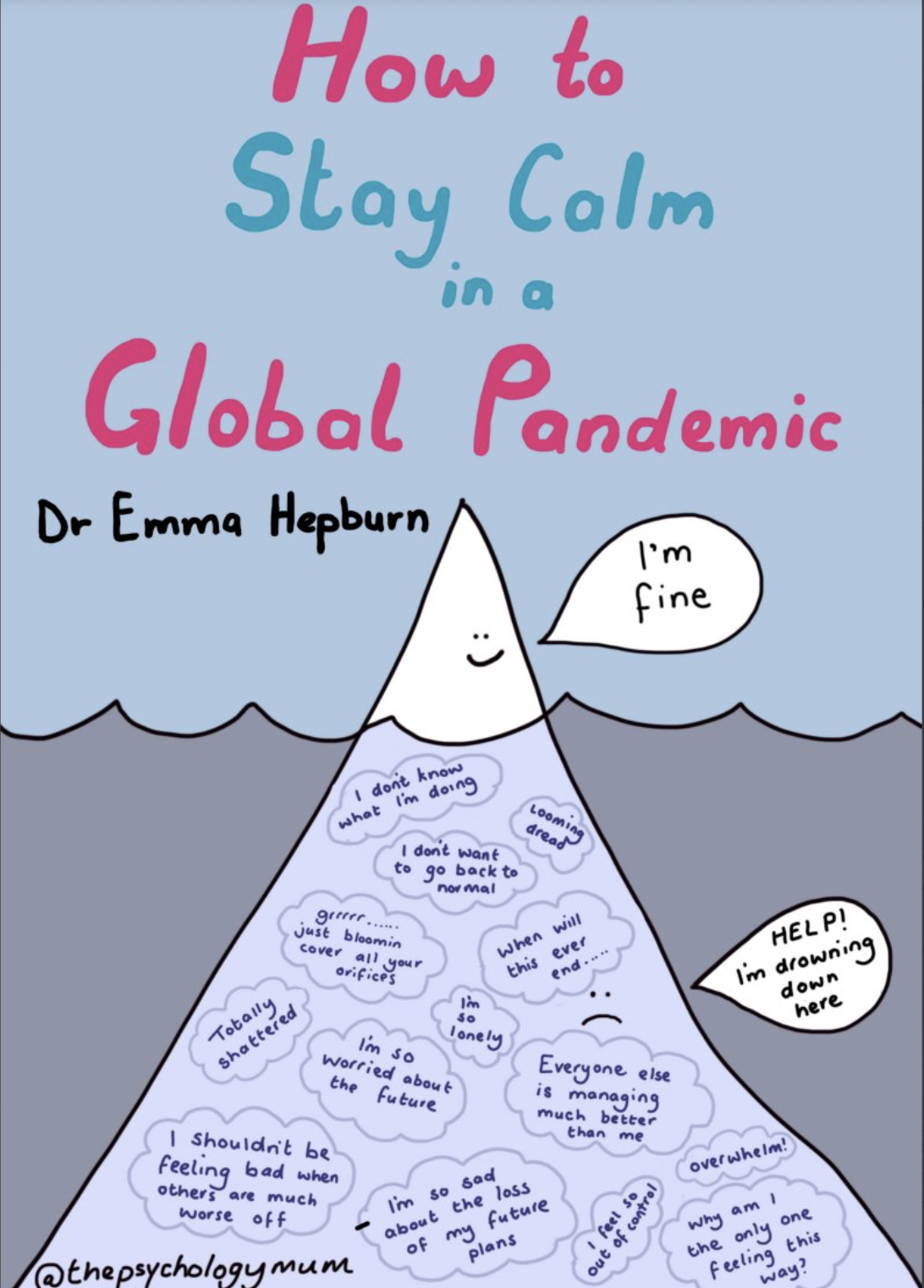 The brilliant @EmmaNeuropsych has just re-released her marvellous "How to stay calm in a global pandemic" eBook, updated with new pictures that just make you stop and think about yourself. It is free, however, Emma does welcome donations here.
Emma has put together details of support services that are available over Christmas.
Improvement
The expansion of NHS "virtual wards" is bringing so many benefits. It means that many people who would otherwise would have to be in a hospital ward get safe, high quality, personalised care at home, supported by great clinical teams & innovative technology. Read more. TY @tara_donnelly1
Too often, we treat our improvement or change methodology or project templates like a recipe & we wonder why they don't always work. Could be we're working in a complex environment & the "recipe" doesn't take account of the full context. Read more.
Our ability to have the power for change doesn't just depend on having a seat or voice in decision making meetings. Building shared purpose & collaborating for action with others is often a more effective way to make change happen. Thank you @mklein818.
Often, people in senior roles in organisations and systems are least able to envision a different future. It's why we must link with or listen to people on the edges of the system who are picking up the signals of how the future could be already. Read more on this here.

Being an inclusive leader means creating a space for different (often conflicting) views & experiences to be aired & making it safe for everyone to speak up without fear of criticism or ridicule. Juggling different perspectives is a leadership & team superpower. TY @OzolinsJanis
During the pandemic, those health and care organisations with a systemic approach to quality were more agile and able to implement improvements quickly. Every organisation should have a quality management system. Free webinars from @theqcommunity open to all - click here.
And finally...
The Horizons team would like to wish everyone a safe and healthy festive season. We look forward to seeing you again in 2022.