The Horizons team features many influential Twitter users. This curates a wealth of insights, knowledge, and information about transformation in health and care from other thought leaders across the world. (Tip: to read an article or watch a video mentioned in a tweet, click on the blue text. To view the original tweet, click on the image).
The School For Change Agents
It is wonderful to see School participants getting their certificates and becoming Certificated Change Agents!
If you've become a Certificated Change Agent, do share your achievement on Twitter like Christina has - @Sch4Change #S4CA!
#Caring4NHSPeople
You're welcome to join us at the next #Caring4NHSPeople event, which will be about looking after you and your team's wellbeing. Date: Wednesday 12 January. Time: 4pm to 5pm. Click here for more information and joining details.
Wellbeing
This beautiful graphic from @sherrillknezel gave Helen a fresh perspective for Christmas Day. It is lovely to give Christmas gifts but receiving them is a positive thing too. Receiving is a form of listening, that connects us to each other.
A new US study on reducing burnout in health and care, here are the 3 themes:
1) Work culture prioritising person-centeredness over productivity and other performance metrics
2) Leadership skills/practices tackling bureaucracy
3) Professional development and  self care
Click here to read more.
We often use "empathy" and "compassion" interchangeably, but they're different. We should connect with empathy and lead with compassion. Compassion means having a good understanding of what the other person is experiencing and a willingness to act. Click here for more insight.




Improvement and Change
Moving focus upstream (predicting and preventing) is a powerful approach in population health. It's also what we should be doing in our daily health and care improvement work. Here is Helen's latest blog with @goranhenriks in our @bmjleader #CreatingTomorrowToday blog series.
Change and transformation are inherently relational: they depends on our ability to work with others to enable change. As leaders of change, we should strive to build healthy relationships for change every day as the foundation of what we do. Graphic by: @OutwardHousing#QITwitter
Those of us working in organisational/system change can learn greatly from activist thinking and practice. One of the best free practical sources is the @BTroublemakers toolbox. Here's how to build a spectrum of allies for change and improvement. Find more information on this here.
There are also some powerful tools for engaging large groups, virtually and online, and for mobilising for change on the Training for Change @TFCtrains website (for activists and community organisers but relevant for other change agents). Click here for more information on this.
Tuckman's stages of team development is one of the classic models. Okay, teams don't necessarily go through every stage in linear sequence but it helps us understand that, as leaders, we can't put a new team together and expect it to be instantly high performing. Thanks @Haypsych!
Internal complexity grows over time in most organisations. New projects add things to the system, not make them simpler. Maybe we need to build "subtractive change" (remove or stop doing things) into all our improvement work. For more information, click here.
Whatever else happened in 2021, Twitter has been a great place to share, learn and connect. Here are 33 slides that Helen made to go with tweets over the last 12 months, based on gems of wisdom from other people: Here's to much learning and collaboration in #2022!
#QITwitter is great! If you want to be inspired by, or learn from, the latest things that people in the health and care improvement movement are doing, just search the #QITwitter hashtag. Add the hashtag to your posts so other improvers can find your content easily. Open to all.
In making presentations, virtual or face to face, it's good to follow "Kawasaki's Rule":
1) Max 10 slides (people can't remember more than 10 concepts)
2) Max 20 mins (max attention span)
3) No smaller than 30 point font (so readable)
Find more information on this here.
Goal Setting
Are you reflecting on 2021 and assessing your goals for 2022? The questions that make up the SLIME method are really helpful. These will also be good as "we" questions for team meetings in the first week of January. For more insight click here.
An even simpler framework for reflecting on goals for 2022 (or for thinking about every day) via @wisdom_theory. It reminds Helen of the mantra from her wise coach: "Your time & energy are finite". If you say "yes" to a specific thing, it means I won't have the space for something else.
If there's one area for action to create a better place to work, with better outcomes in 2022, it's to create a culture of everyday, everywhere experimentation. We should be supporting everyone to try new ways, fail and learn. Click here to find out more.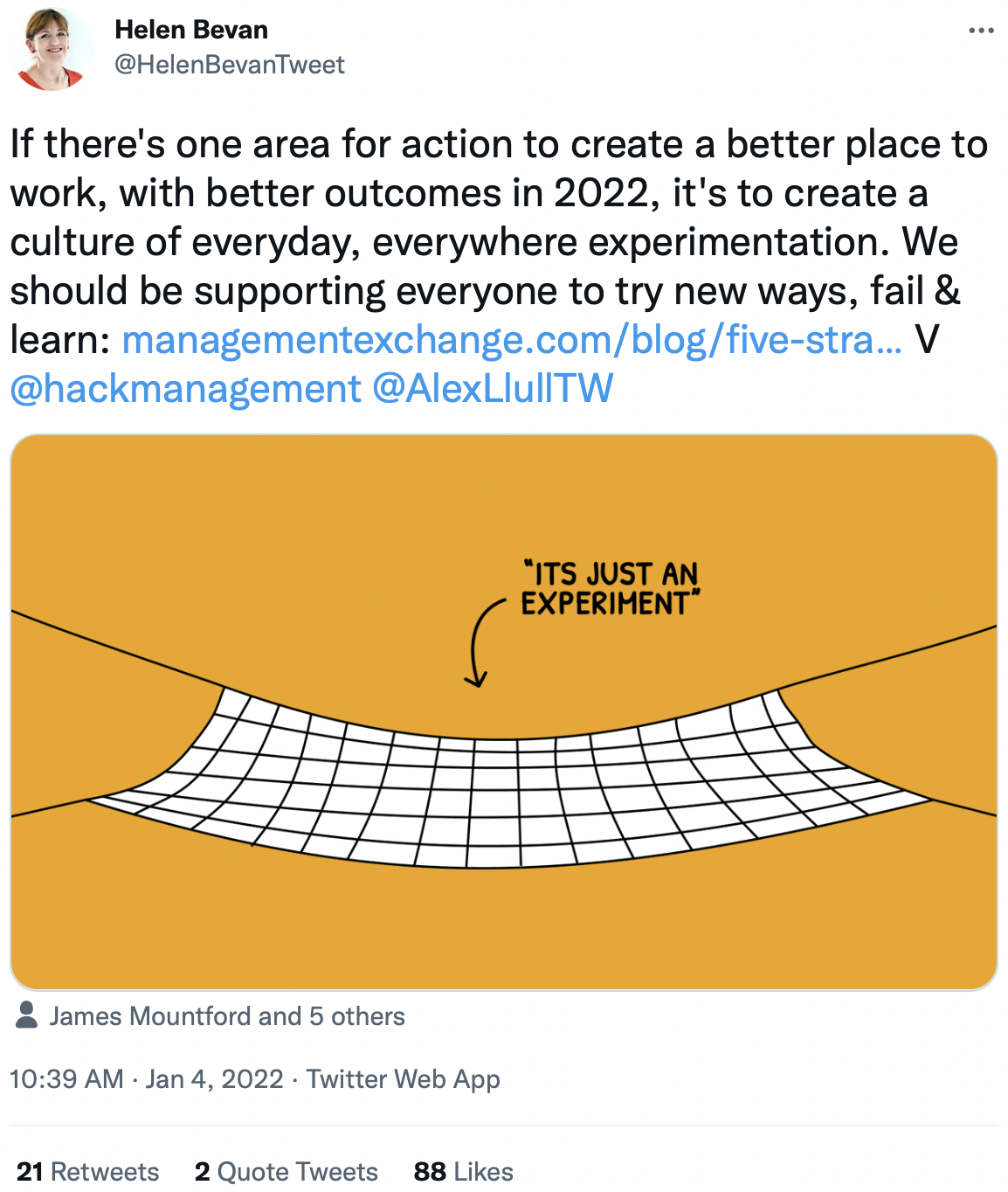 Virtual Collaborate
If you ever need to send an email that doesn't need to be sent just yet, check out this week's Tech Spotlight! This tip allows you to delay and pick the date and time an email is sent:

#AYearofTweets2021
Helen has been reviewing her Twitter analytics and identified the ten tweets she posted in 2021 that got the most reaction during the year. Helen reposted in reverse order, and they can be viewed below.
At number 10 is a post about making goals FAST, not SMART via @Haypsych #AYearofTweets2021.


Number 9 is about 25 little daily habits of managers and leaders that often go unnoticed, but can make a big difference. Can we do these in 2022? Via @firstround #AYearofTweets2021.

Click here for more insight on Helen's previous post on "the 25 micro-habits of high impact managers" that often go unnoticed, but can make a massive difference to the health or performance of a team, by @firstround. @tnvora did a brilliant job turning it into a sketchnote #AYearofTweets2021.



Number 8 is from March 2021, was a link to the first peer-reviewed article on Zoom/Teams fatigue from a psychological perspective. Nine months on, we're still feeling tired! Via @GreaterGoodSC #AYearofTweets2021.
Number 7 is from June 2021, was about the behaviours we need to demonstrate constantly as leaders if we want to be trusted. Trustworthiness is a leadership superpower. Via @smartbrief #AYearofTweets2021.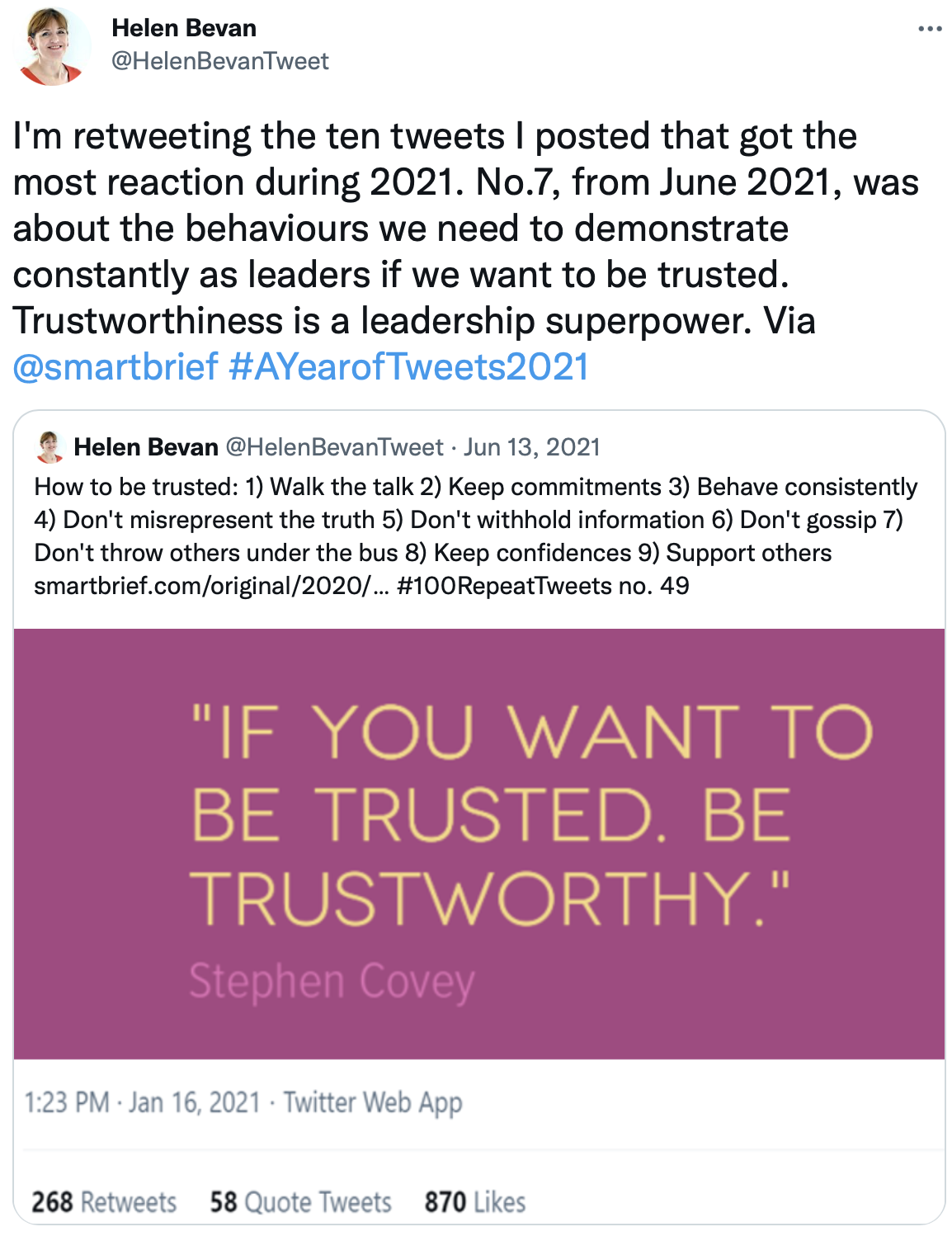 No.6 was what Helen tweeted when her Twitter account was unfortunately hacked in March. It has since been deleted due to the replies from scammers recommending fake anti-hack services. On to no.5 #AYearofTweets2021On to no.5 #AYearofTweets2021

No.5, from October 2021, was about a movement-inspired definition of leadership from Marshall Ganz. We will need plenty of this kind of leadership in 2022. Graphic by @lizandmollie#AYearofTweets2021.



No.4, from July, is about influence. Being high up on the org chart doesn't mean a leader is influential. If it did, top-down change projects would always succeed. Graphic by @tnvora #AYearofTweets2021

No.3 of Helen's #AYearofTweets2021 countdown was posted in December. It was this insightful graphic from @EmmaNeuropsych. So many people related to it. Just the sheer volume of responses tells so many of us that we are not alone in feeling super-tired right now.
No.2 was originally posted last March. I think the reason it got such a great response was a recognition of the need for a more emotionally intelligent form of leadership beyond the pandemic. Thanks for the graphic @impactWales #AYearofTweets2021.

Finally... The no.1 in Helen's #AYearofTweets2021 was the #ImprovementMethodOlympics final. PDSA Cycles won the gold medal after 16 polls, 12,699 votes and 5,464 tweets. These "Olympics" showed the opportunities to use different methods for improvement and how much methods really matter to people!

Team Updates
Some brilliant news for Helen! She has been named as a "top nursing thought leader".
An important reminder from Helen, its okay to slip up! #RememberYouAreOnlyHuman
We wish you all a very Happy New Year!
Whether or not we've set New Year's resolutions, we can make 2022 the year when we choose not to play small. Things may be tough at present, but there's so much opportunity and potential out there, particularly if we connect with others who want the same things. Thank you @sherrillknezel.