The Horizons team features many influential Twitter users. This curates a wealth of insights, knowledge, and information about transformation in health and care from other thought leaders across the world.
(Tip: to read an article or watch a video mentioned in a tweet, click on the red text. To view the original tweet, click on the image).
Programmes
The Horizons team has been proud to support the Empowering People and Communities Taskforce during the last year. The final workshop was held this week, and it included a celebration of the taskforce's achievements. Find out more by following #EPCT
Recently the team supported Addenbrooke's Hospital with their workshop on outpatient services.
Celebrating diversity and valuing difference is the October challenge for the Transforming Perceptions of Nursing and Midwifery Challenge.
Bev attended a workshop about how young people from black and minority ethnic (BAME) communities can be encouraged to join the nursing and midwifery professions.
There was live sketchnoting of the building blocks...
The Ambassadors have been busy spreading the word about nursing, and celebrating diversity:
Leading Change
How do you get your boss to agree to transformational proposals when your boss is focused on operational delivery? Here's some great advice.
This is how trying to support large-scale change in the health and care system feels sometimes...
The magic happens when everyone involved in change is speaking the same language.
Why sketchnotes are a powerful way to capture quality improvement ideas in healthcare.
Thinking Differently
Want to make smarter decisions? See this comprehensive list of references/sources on decision making:
Do you ever ask "so what"? An interesting post about how you can use this simple but very powerful question to help yourself and other people when making decisions.
A brilliant sketchnote showing the key points of Edgar H Schein's book Humble Inquiry.
Research shows that when we're forming beliefs, we're more likely to be influenced by the reactions we receive to them than we are by any data, logic, or reasoning.
The barrier between 'opinion' and 'fact' is narrower than we think. Read more:
"We can build bridges through having empathy for others' mindsets: being understanding, compassionate, negotiating differences. Remember that just because someone thinks differently to you, it doesn't mean they're wrong." A post by Leigh.
Artificial intelligence (AI) has the power to make or break everything from credit scores to elections - and yet many trust it blindly. This video from the RSA illustrates what algorithms are, and what can be done to make sure that their influence is positive.
In an increasingly complex world, there are often no single right answers but multiple answers. We need to manage polarities (tensions between opposing positions) rather than solve problems.
Studies show that psychological safety (when people feel they can speak up, question and offer ideas without fear of being punished or embarrassed) is the most important factor in team performance. Read the research summary:
Wellbeing
When we talk about 'resilience for change' maybe we are getting it wrong...
Ten ways to look after your mental health:
Nobody should have nobody. Read Kathryn's blog about how we can build connections with one another.
People need to live their lives on their own terms, and to be connected to others. Read the article by Harold Jarche:
For World Values Day this week Leigh made a pledge to keep spreading the word about the benefits of Parkrun, and to volunteer at the event too.
Leigh ran the Royal Parks Half Marathon for Tommy's this week - in this thread she talks about what the achievement meant to her.
Leadership
Our success as leaders depends on our relationships. To be the best leaders, we need to be the best humans. Read more: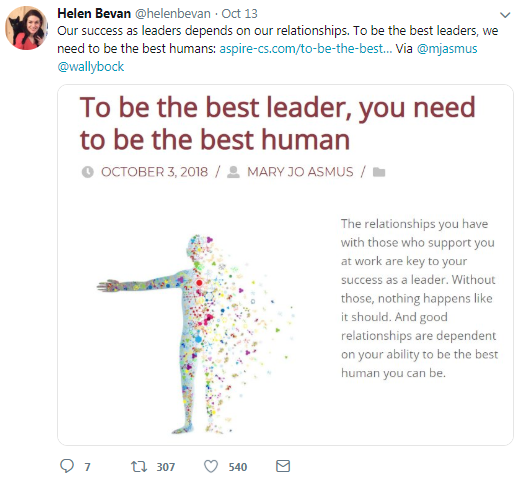 Appreciation is a wonderful thing!
Why it's important for managers to be cheerful!
There needs to be a revolution in the way that managers manage. Read the paper:
Using psychological research to change organisational culture:
There are some outstanding leadership role models in this collection of essays on system leadership in local government: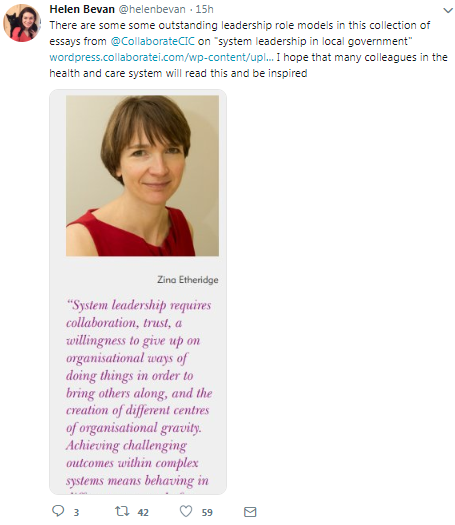 Research:
A fantastic article on the power of Twitter. It's available here.
New research from the USA suggests there is no relationship between the process measures that the hospitals studied are performance managed on and the patient outcomes they achieve:
unknown

x

500
More posts by NHS Horizons
Recent posts from NHS Horizons Insights