The Horizons team features many influential Twitter users. This curates a wealth of insights, knowledge, and information about transformation in health and care from other thought leaders across the world. (Tip: to read an article or watch a video mentioned in a tweet, click on the red text. To view the original tweet, click on the image).
#Improve4Patients
We're looking forward to welcoming you to the third of Hugh McCaughey's #Improve4Patients tweet chats, next Wednesday 31 July at 7pm. The topic for this chat is the potential for quality improvement; you can see the questions we'll be asking below. Everyone is welcome to join the chat!

#TeamCNO
A few weeks ago some of the Horizons team were in Wembley Arena along with #TeamCNO for the Rock Assembly, an event aimed to inspire young people into different career choices. To read our colleague Bev Matthews post about the day, click here.
Some hints and tips for anyone thinking about, or currently on a return to practice course. Click here to read.
#ProjectA
The planning of the project for the next six months is coming together, lots of exciting events are coming up including tweet chats, Improvement Zooms, guest speakers, and visits to trusts.
Please see the fabulous work of North East Ambulance Service (NEAS) care a brilliant improvement initiative. Watch more here.
Teams and Collaboration
If you regularly offer praise that is specific and sincere, you help create a psychologically safe workplace. To find out more, click here.
Loneliness and social isolation at work is becoming a big issue as digital working, open space offices and virtual teams become the norm. Click here to find out more.
Useful ideas for how to make remote working work for you in this sketchnote by Scriberia.
Globally, boundaries between customer/user experience and employee experience are blurring, with leaders focusing on overall human experience (HX). click here to read.
Leadership
As our world becomes more complex, we must transform from leaders who understand and protect boundaries to leaders who work across boundaries. Read more.
Leaders seek to "empower" people by giving them resources/knowledge but they don't create the conditions where this can be transformed into significant change in people's lives. Read more.
As leaders, we want to create psychologically safe environments for our teams where they can speak up without fear. The TRUTH framework can help, click here to read.
Your leadership style impacts team performance. Managing employees with pressure tactics create a 90% increase in employee turnover. You may be scarier than you think, find out more here.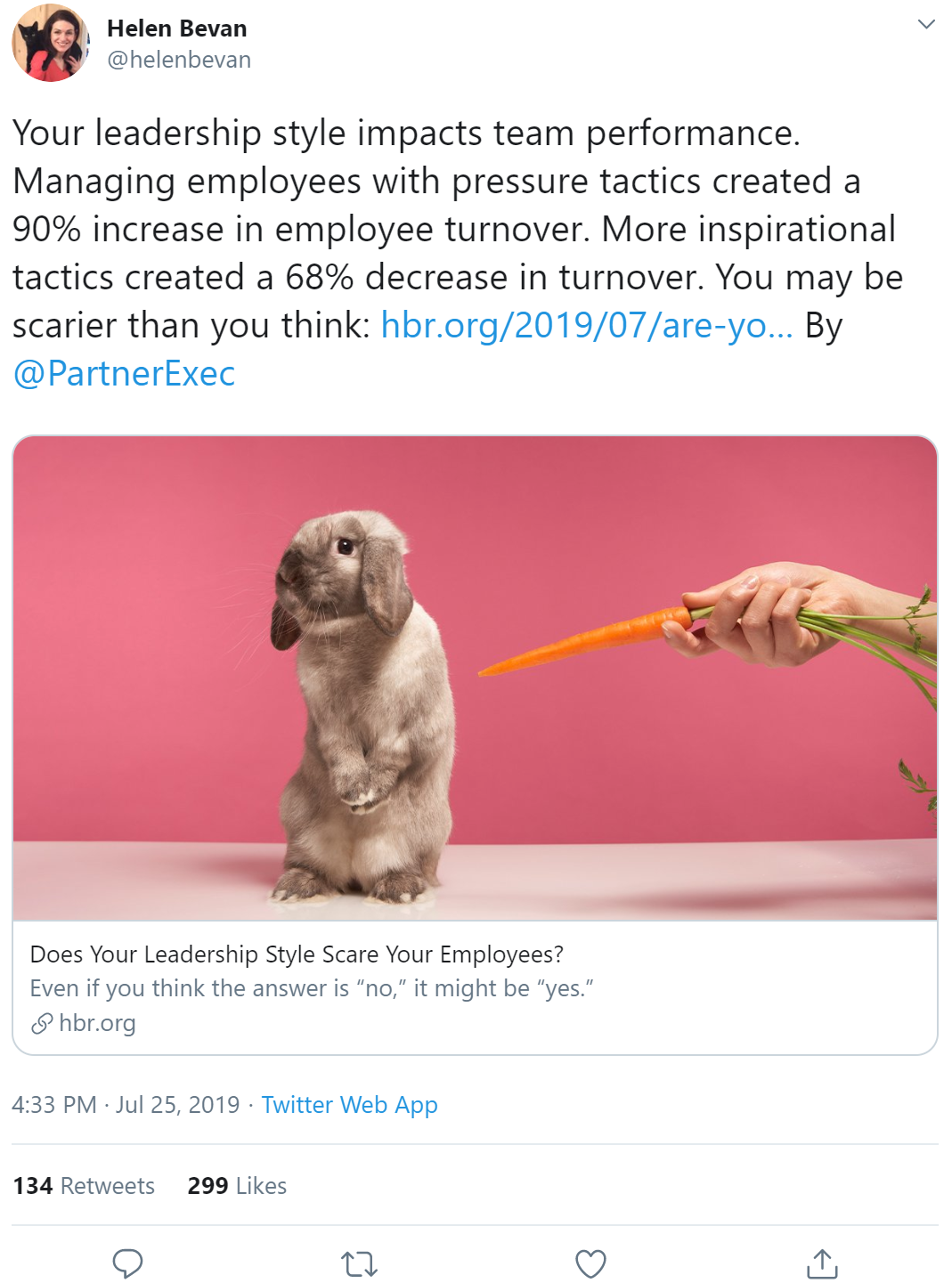 Very interesting article on what NHS boards have done in the wake of Mid Staffs failings on leadership and governance. It suggests 5 key roles and associated behaviours that NHS boards are taking on: Click here to read.
Rosie and Helen both attended the West Midlands Leadership Academy's event 'From conversation to commitment'. There were some truly inspirational speakers and enlightening conversations throughout the day. If you would like to join the Health and Care Women Leaders Network you can do so here.
We must give women a stronger voice at the leadership table and space for women to support other women. Prerana Issar is role modelling this, click here to read.
A shout out to Sam Allen, key speaker at West Midlands women and allies in leadership today. Sam supported and encouraged other women and tweeting key moments of event. What a fantastic role model.
It makes a big difference when women at work support and help other women grow. Research shows that women benefit from collaboration over competition and women who support other women are more successful in their careers. Click here to read more.
Diversity
The Horizons team is exploring how we can make our events as accessible as possible (both virtual and physical). There were loads of questions, ideas and actions shared within the team. If you are interested in joining the conversation please email: rosalind.redstone@nhs.net
Actively pursue diversity - including thought & experience. Break out of the echo chamber, find a spectrum of allies (including those with whom you disagree!). Inclusion allows us to learn from more people's ideas and broadens our horizons.
Innovation
We spend more than 80% of our time collaborating, and 70% of innovation comes from collaboration. Most digital collaboration tools don't deliver, why? Collaboration is about people not tools. Read this article for some great free resources.
When it comes to innovation, and the same applied to quality improvement, there's a range of powerful tools and methods but they can only make a difference if organisational culture embraces innovation mindsets, behaviours and ways of working. Read more here.
Social Media
"In the 'attention economy,' social media tends to favour emotive & sensational over factual content, negative over positive, outrageous over the mundane." How social media companies are tackling anti-vacc misinformation. Read the post.
unknown

x

500
More posts by NHS Horizons
Recent posts from NHS Horizons Insights