The Horizons team features many influential Twitter users. This curates a wealth of insights, knowledge, and information about transformation in health and care from other thought leaders across the world. (Tip: to read an article or watch a video mentioned in a tweet, click on the red text. To view the original tweet, click on the image).
The School for Change Agents
The School for Change Agents is back! This is a free online learning experience where you will build the skills and confidence to create change in an evolving environment. You will learn how to become a change agent by generating new ideas, pushing the boundaries, and leading others to do the same in your organisation. To sign up, click here.
#ProjectA (Improving Ambulance Services)
We are excited to be hosting a joint #ProjectA and #ProjectD tweet chat on Weds 16th October 10am-11am. Do join us we will be exploring why diversity and difference are so important in allowing ambulance services to thrive and improve.
Ian attended the North West Ambulance Service Mental Health day. There is some incredible work going on including suicide prevention strategies @ScouseMedic30, BASIC STEPs response to mental health calls @DarrenearleyS and organised by @gillandrummon2.
Dan tweeted to say that #ProjectA is having an influence far beyond anything that he could have imagined...
Dave Morgan tweeted about the power of connections. Click the image below to read the rest of the thread.
We wanted to share that #AmbulanceQ have been shortlisted for the #Qexchange 2019. #AmbulanceQ are a motivated and enthusiastic self evolving community focused on improving ambulances services. Check out their idea by clicking on the tweet and if you're a Q member don't for get to vote!
#TeamCNO (Nursing)
Dispelling myths about the diversity of careers in nursing is a key part of our #CNO work. Primary Care Nursing is often thought to be for those near retirement or who enjoy working in isolation - but that could not be further from the truth as this video shows.
What the team have been up to?
On Monday, Kathryn worked with colleagues in the Personalised Care Team to facilitate the national Personalised Care Collaborative.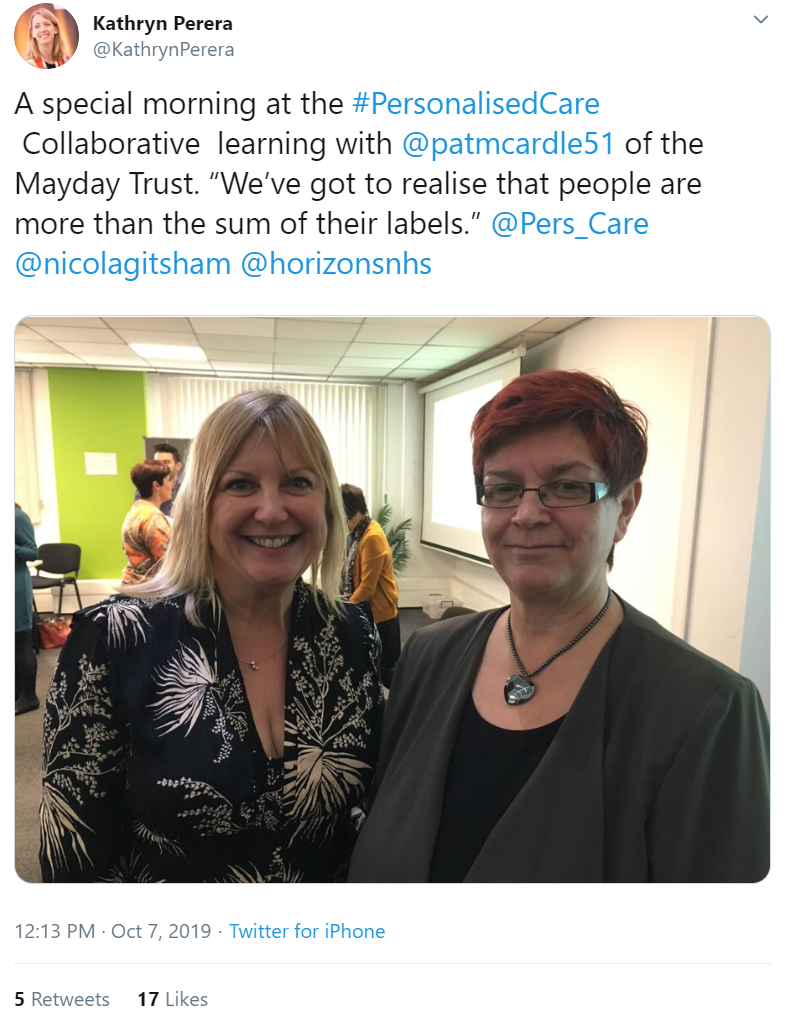 This week Bev, previously a transplant coordinator, presented at the Nursing Leadership Team Conference for NHS Blood and Transplant about developing communities and the #NightingaleChallenge.
For anyone interesting in learning more about the NHS, many of the Horizons team have joined the Future Learn course created by The Kings Fund: The NHS explained. To have a look at the course, click here.
Scale and Innovation
Helen shared a free resource systems leadership from the Harvard Kennedy School. It's applicable to any systems leadership context or challenge, click here for more information.
Scale and spread has been one of Horizons emerging thinking outlined in Helen's slideshare. Click here to view.
Helen has been thinking about the collaboration of Organisation Development (OD) and Quality Improvement (QI).
When we think about large scale change we create a compelling vision to help people towards a different future. Yet it is important to emphasise what will stay the same, to preserve "who we are".
Diversity
Rosie worked with the Disability and Wellbeing Network Network to organise two webinars for Dyslexia Awareness Week. She was able to share her story of dyslexia alongside Ruth May and Kate Pound to create awareness and talk about the strengths of people with dyslexia. Have a read of the report by clicking here.
You can also read Ruth's story and how you should be proud of your difference here.
Productivity and Wellbeing
Helen shared her views on productivity and time management.
If we supported people to be physically and mentally well at the point of transition, it would have an impact on their health in later years. Click here to read more.
And finally...
Why we should be hopeful. An essay that captures the spirit of Rebecca Solnit's book " Hope in the Dark". Click here to read the essay by Maria Popova.
unknown

x

500
More posts by NHS Horizons
Recent posts from NHS Horizons Insights