The Horizons team features many influential Twitter users. This curates a wealth of insights, knowledge, and information about transformation in health and care from other thought leaders across the world. (Tip: to read an article or watch a video mentioned in a tweet, click on the blue text. To view the original tweet, click on the image).
#ProjectA
Join us on Tuesday 11 February at 10am for a #ProjectA Improvement Talk around wellbeing in the ambulance services led by Anna Parry. For more information about the talk please contact Selina.
#PerceptionsOfMidwifery
The Midwifery Ambassadors forum focused on social influence and using Twitter in the best way.
In the short space of the hour, the midwifery ambassadors were able to show their twitter impact through the statistics shared by Bev.
Wellbeing
The benefits of lunch break are really important for wellbeing. We need to choose a rejuvenating lunch breaks.
It was #TimeToTalkDay this week, Leigh shared a graphic highlighting that living with mental health isn't a linear road from ill health to good health and if you experience a set back it doesn't mean you have failed.
Leadership
Helen shared an excellent free resource: Leading culture & systems change: how to develop network leadership & support emerging networks.
Helen also tweeted about reasons why we might want to retire the title of "manager":
Being experienced leaders, we know how to deliver results & make change happen, but we also face "success traps". We can be successful in one leadership context but it isn't always transferable.
Innovation and Improvement
You can show people data but if it doesn't fit their world view they will often ignore/deny it.This happens with change projects too. Humans are hardwired to dismiss facts that don't fit their world view.
The problem with change programmes and why we need "trojan mice" for change, rather than "trojan horses". People aren't sick of change, they're just are sick of change programmes.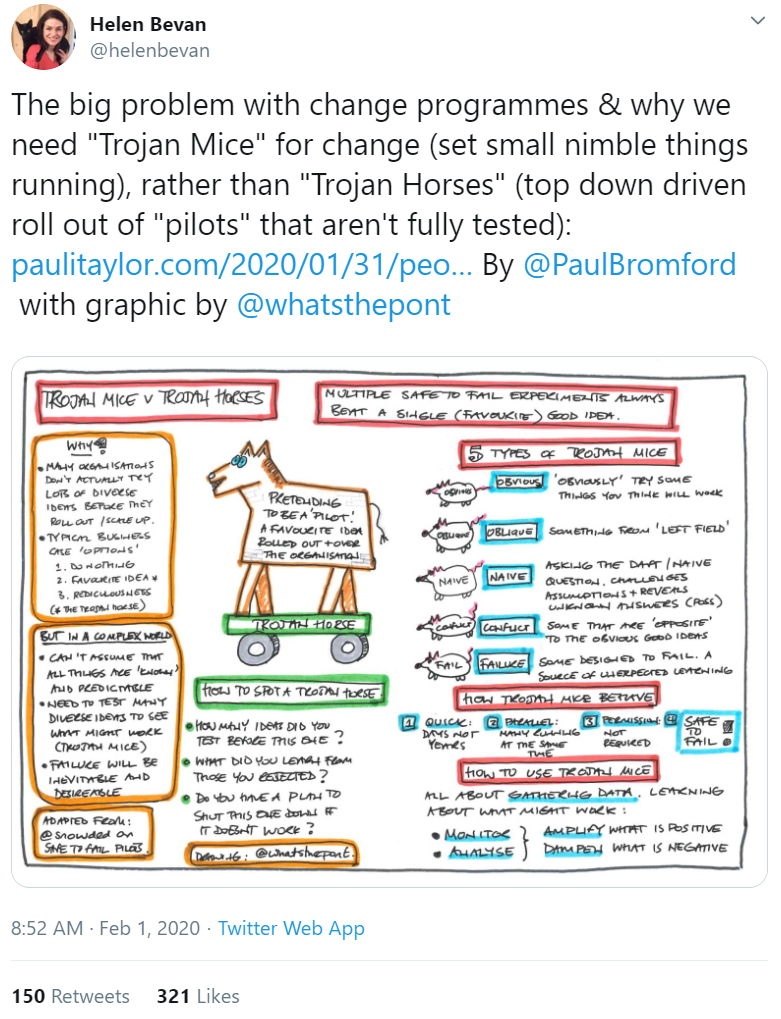 This week saw the birthday of Rosa Parks, lifelong activist for social justice. This sketch note shows lessons from the Montgomery bus boycott. Change Agents in organisations can learn greatly: we can't make big changes happen on our own by Sherrill Knezel.
If we want innovation and improvement at work, we need to be able to play. There are different ways we can play that are important for work, here are five behaviours to fuel more play and better ideas.
Helen shared that she is really enjoying a new book by Corporate Rebels: 'Corporate Rebels: make work more fun'
What the team have been up to
Every year, Thinkers 50 announces its list of leading global thinkers in change. The Horizons team is incredibly proud of Helen who has been recognised in the class of 2020!
unknown

x

500
More posts by NHS Horizons
Recent posts from NHS Horizons Insights