The Horizons team features many influential Twitter users. This curates a wealth of insights, knowledge, and information about transformation in health and care from other thought leaders across the world. (Tip: to read an article or watch a video mentioned in a tweet, click on the blue text. To view the original tweet, click on the image).
#Caring4NHSPeople
This month's wellbeing session focused on planning for the winter, preparing our staff. If you missed it - you can watch the recording here or follow the thread below.
We also had our second of a six part series of financial wellbeing sessions. This week focused on Hidden Figures, you can watch the recording here and follow the thread below.
#OurNHSPeople
Retention of our people is more important than ever. Helen Bevan and Bev Matthews are working with colleagues across North East and Yorkshire region to co-design an unconference focused on retention. The event is aimed at eg HR and Practice Development leads. Register here.
#ProjectA
Fantastic to see the National Falls Framework for ambulance services published by AACE - #ProjectA supported development of. Great examples of best practice and improvement initiatives on falls response pulled together by AACE on their website.
Want to learn how to enable spread and adoption in a complex setting? Read and watch the great Claire Roche and Ian Baines in conversations about convening the system to establish the Welsh Ambulance falls framework. Read more and watch here.
We love seeing when Horizons resources have helped out, thank you Claire!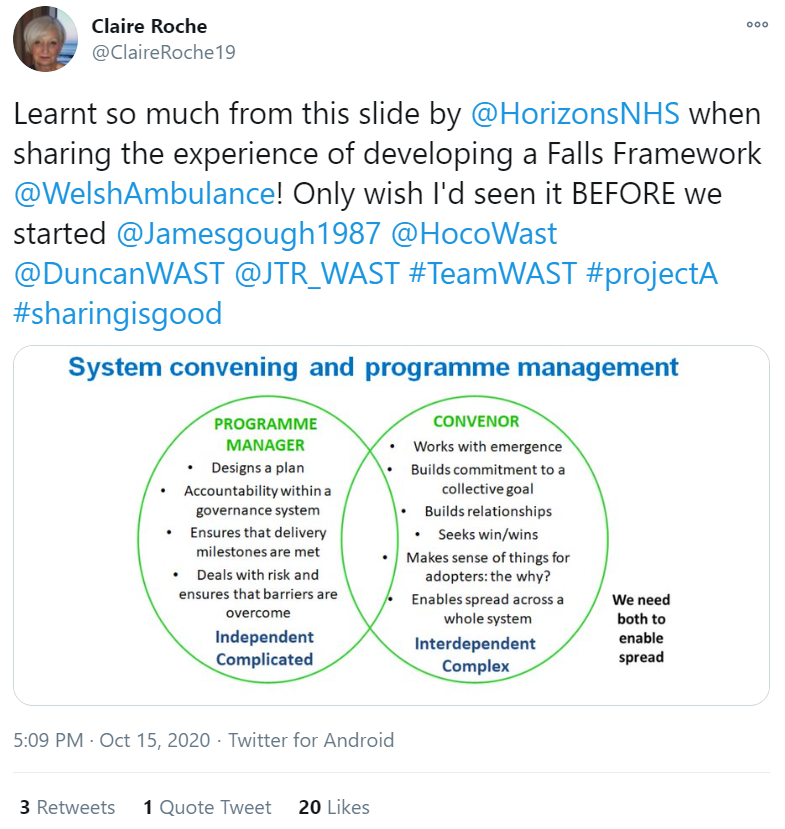 #BlackHistoryMonth
Being anti-racist is arguably more important than ever, it's not good enough to only be non-racist. Have a watch of this video that explains the reasons why being anti-racist is very different to non-racist.
If you missed the AACE zoom call on equity of care in BME communities, you can now watch the full recording here.
If you're interested in the history of racism in Britain, make sure you tune in to this podcast by Oliver Evans Mangwana.
What the team have been up to
This week the Horizons team had a great session with Debbie Sorkin talking about systems leadership. She shared a timely reminder of this clip on public narrative by Barack Obama.
#VirtualCollaborate
It's so important to set ground rules for meetings, both face to face & virtual. We get better outcomes. The graphic shows ground rules I use. Here's a brilliant piece by Nancy Dixon on ground rules for meetings where people have highly polarised views.
Leadership and Teams
"We're far too hesitant to express gratitude at work as we fear that others will see us as soft, weak or even incompetent for needing help". Why having systems for gratitude, where everyone is encouraged to express thanks to others matters.
If we inspire people to do & be their best, encourage & train them to do the right thing & get out of their way, many excessive, ill-conceived rules can go by the wayside. When "Rules" at Work Outweigh Common Sense.
Helen shared this wondeful graphic from Liz and Mollie. Here they capture perfectly what happens when we don't focus on building psychological safety.
It's hard to run a big organisation top down, so we end up with many policies/procedures. What if instead, we created a set of "simple rules" that everyone agrees to stick to & interprets in their own way? Find out how Timpsons do that.
Helen shared that Torbert's 2005 HBR article "7 Transformations of Leadership" influenced her practice more than any leadership article. It's been rewritten for 2020, read here.
Remote Working and Productivity
Helen shared this free e-book on Leading Dispersed Teams from the Center of Creative Leadership.
A must read thread for anyone interested in the future of remote working.
Feeling overwhelmed? Here are 10 office hacks to improve productivity.
Helen shared this great list by Simon Terry on Seven Ways to Make Work More Effective.
During COVID a lot of people are reflecting on their job roles and how they can make their jobs more engaging; this is called job crafting and can take many forms.
Learning and sharing
Last week was #DyslexiaAwarenessWeek; Rosie shared a very important and informative thread to spot, support and empower every dyslexic learner.
Too often when we create case studies for learning, we focus on teams that delivered their improvement goals. Research suggests that we might learn as much, or more from stories of failure. We need learning about both success and failure.
This video put a huge smile on all our faces. Fantastic Miss Reeves teaching her year 2 class about the importance of clear operational definitions. They have a lot to teach senior leaders about standard operating procedures.
And Finally...
A thought for the weekend from Helen, read the article here.
unknown

x

500
More posts by NHS Horizons
Recent posts from NHS Horizons Insights