The Horizons team features many influential Twitter users. This curates a wealth of insights, knowledge, and information about transformation in health and care from other thought leaders across the world. (Tip: to read an article or watch a video mentioned in a tweet, click on the blue text. To view the original tweet, click on the image).
International Women's Day
Have you signed up to sign up to the International Women's Day unconference on 8th March? There will be 64 brilliant unconference sessions - the full programme will be published next week.
#VirtualCollaborate
It's time to bring small talk back into virtual meetings. The "gathering time" we used to spend before & after face to face meetings was crucial to building relationships & key to great teamwork. We must find ways to recreate it in a remote working world.
Want to improve your virtual meetings? Some great ideas based on the behaviour change literature. It's a method called BEANS (behaviour enablers, artefacts & nudges). Helen shared that she likes the idea of a devil's advocate with a pitchfork icon on their virtual background.
An icebreaker to start a virtual meeting that actually is an icebreaker. Ask everyone to on this link.
Wellbeing
Why are we so often exhausted by hours of virtual meetings on MS Teams or Zoom?Because our brains are conditioned into wanting to be engrossed in whatever is happening on the other side of their screen & our experience now is different.
When we think about the "rest" we need at this stage of the #Covid19 response, it's helpful to think about multiple types of rest, not just sleep and time off work. Thank you for the framework @sylviaduckworth and @xonecole.
A new free eBook on "Staying energised: a companion for lockdown" is available from @gooddayatwork. It made Helen review her own strategies for keeping her energy levels up. It might be useful for everyone in your team to read this then discuss it together.
Social Influence
On Tuesday, the Horizons team ran their first Clubhouse session; it was about being change agents in the NHS. Clubhouse is a beta app that is currently by invite only; if you'd like to join please let us know as we have invitations to share within health and care! Join us next Tuesday at 7pm for more.
Aaliya shared her key notes from Tuesday's session.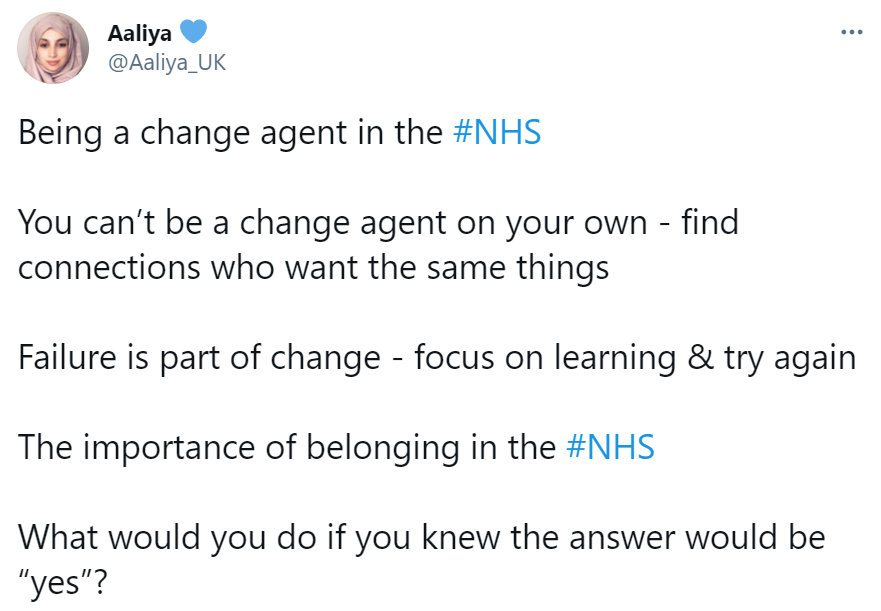 Helen, Goran Henriks and BMJ Leader hosted a tweet chat on "our shared purpose". The tweet chat was based on a recent blog that you can read here.
What the team has been up to
The Horizons team led a session on a community for large-scale vaccination centres this week. If you work for a large-scale vaccination centre and would like to join the community email here.
The National MSK programme launched this week. To find out more, follow the hashtag #BestMSKHealth.
Congratulations to all the Bevan Programme graduates! Our very own Laura Yearsley shared 10 take aways that the course taught her about leadership; find out more below.
Leadership
How often do we see this in health & care? Let's build a system that focuses "upstream", proactively supporting people to solve smaller problems & preventing bigger problems from ever happening. Our world's a better place when we think like this.
MARGE is such a powerful framework for effective learning. It's not just relevant to students & teachers in formal education, but for thinking about how we coach & create learning for improvement & change capability.
You can get a free of John Kotter's eBook for leaders: "Four principles to power lasting change". You have to give your email address to download it.
And finally...
Weekends in lockdown are tough. But it won't always be like this. Promise. Wisdom and hope from the brilliant @TwistedDoodles.
unknown

x

500
More posts by NHS Horizons
Recent posts from NHS Horizons Insights