The Horizons team features many influential Twitter users. This curates a wealth of insights, knowledge, and information about transformation in health and care from other thought leaders across the world. (Tip: to read an article or watch a video mentioned in a tweet, click on the blue text. To view the original tweet, click on the image).
The School for Change Agents
Did you hear the news? School is back on 15 November!
This post by our colleague @LeighAKendall explains more about how to sign up & what to expect. Huge thanks to alumni @lucough @DrStaceyHarris @aspirelearngrow @gvhawtin for your kind tweets! Thank you to our alumni for their kind comments too. Click here to find out more.
Opportunity to join the Horizons team
Are you a clinician working in the NHS or care sector? Would you like to develop your skills in quality improvement, transformation & large-scale change? You could be an NHS Horizons' clinical associate!
For more info and to apply click here. Closes 24th October.
Wellbeing
A reminder that the next Wellbeing Wednesday event will be next Wednesday, 13th October. It will be great to see you there! There is no need to sign up just click here for the joining details.
As change agents, it's important to build our "self efficacy": the belief we have the power to overcome obstacles & achieve our goals. One well-judged push can be the way to start toppling multiple obstacles, especially if other people are pushing as well . Graphic: @grantdraws
A lovely quote and graphic from @woodard_julie. So important to empower each other when possible.
Digital Community Health Services
On 13th October, Helen and some of the team will be helping facilitate a virtual session on the future of digital community health services. Are you a care professional or support worker in community services? Would you like to be part of this? It's important work & will be very interesting. Click here for more details about the event.

Tech Spotlight
Some more brilliant tips from this week's Tech Spotlight, with a focus on WhatsApp.
Spread and Adoption
Want to know more about spread and adoption? This blog with video summarises the 7 spread and adoption principles in recent 'Leading the Spread and Adoption of Innovation and Improvement: A Practical Guide', click here for the guide. #NHSSpread @HorizonsNHS
Great to see @DianeKetley join the Education Executive Members for their workshop; Diane spoke about the model for spread and adoption of improvement at scale. A model that aligns really well with experiences of academy trusts #EdExecs
Improvement
Facilitation skills - the ability to engage, support & guide people to learning insights & decisions - are a leadership superpower that's often underappreciated or misunderstood. They are skills that all leaders should invest in. Click here to find out more. Via @Forbes@SessionLab
There was a great response to Helen's last tweet saying that facilitation skills are a "must-have" superpower for leaders. You can download an outstanding free eBook on the power of facilitation by clicking here. Thanks @FacPower for your generosity in sharing this wisdom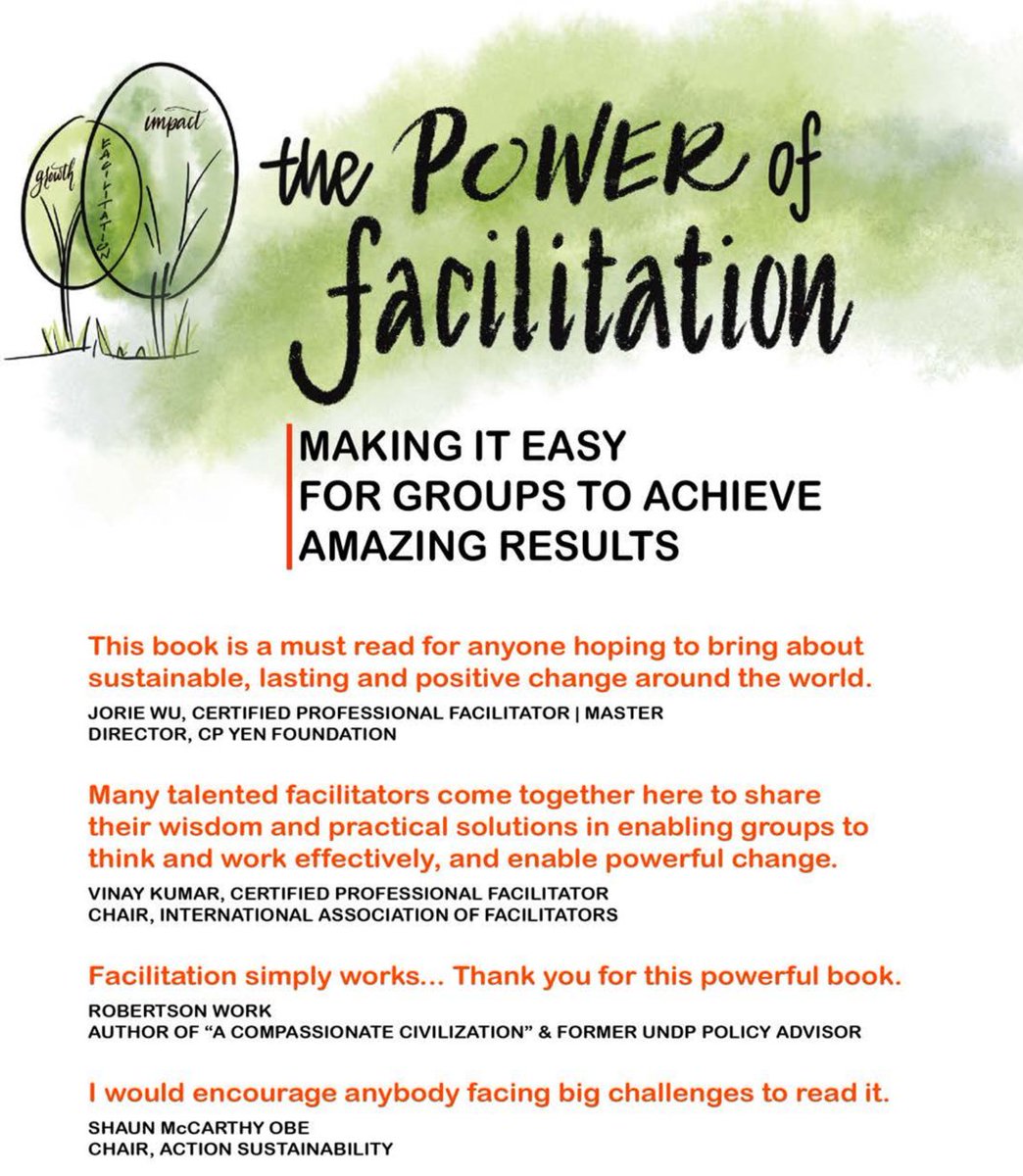 Continuing on with the recent theme of facilitation, @adamkahane (who has a new book out on "Facilitating Breakthrough") offers a free webinar on the 19th of October. A key principle is that transformative facilitators need to alternate between vertical & horizontal approaches. Register here for the event and to find out more details.
In health & care we mostly seek "clock" solutions (left hand side, solve problems, fix what's broken, quickly). Yet the answers we seek are on the other side of this spectrum- "cloud" approaches, targeting underlying mindsets & patterns: https://blog.kumu.io/the-complexity-spectrum-e12efae133b0?gi=1ec775cd5080… V @WeAreCoCreative
A fantastic opportunity for a fully funded PhD, creating new knowledge about the factors that lead to success in scaling up quality improvements in health & care. This is an important area which is under researched. Well done @LancsHospitals for sponsoring this learning. Find out more by clicking here.
This research article is a great example of how virtual health and care should be developed through co-design & partnership with people who use services. It's about rehabilitation telemedicine services at a tertiary cancer centre. Click here for more information.Thank you @RM_CancerRehab@gbrgsy.
Leadership
New advances in physics is building understanding of how the universe interconnects. Implications for leaders: 1) see things through the eyes of others; 2) trust connection more than control 3) become the future we want in the present. Click here to find out more.
As we shift our focus from organisations to systems, our need to work via trust becomes even greater as we can't rely on hierarchy or formal authority to make things happen. Research shows that trust is built & broken around three critical areas. Find out more here. By @CCLdotORG.
Douglas McGregor conceived "Theory X & Theory Y" in the 1950s. It's still relevant. Some leaders are Theory Y with their own teams yet Theory X when it comes to trying to make change happen in the bigger system. It's about control. An update can be found here. Via @JlcTaggart.
And finally...
Wonderful to see achievements like this from our fellow NHS colleagues! Congratulations @LynneWinstanley